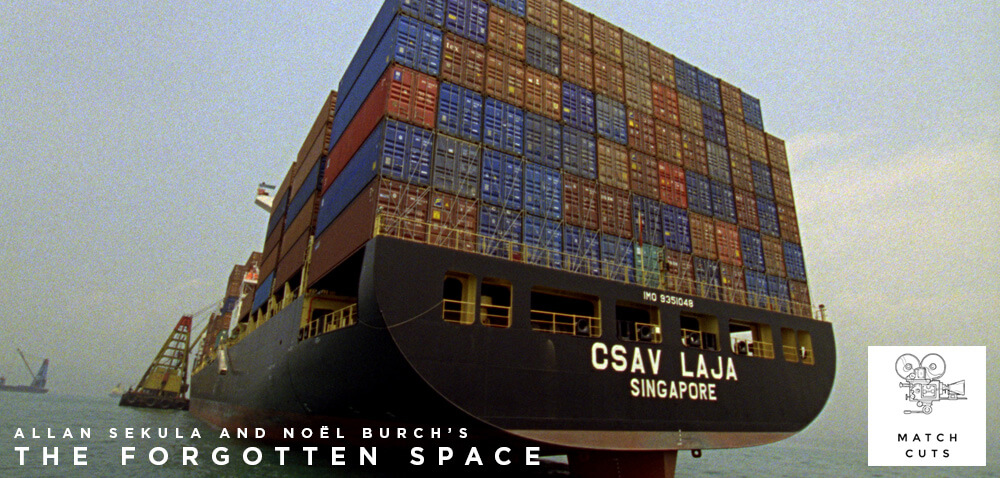 TUESDAY, SEPTEMBER 12TH
ONE NIGHT ONLY – 7:30 PM
INTRODUCED BY DAVID FRESKO
MATCH CUTS PRESENTS and Spectacle Theater present Allan Sekula and Noël Burch's THE FORGOTTEN SPACE.
THE FORGOTTEN SPACE
dir. Allan Sekula and Noël Burch, 2010.
Netherlands and Austria, 112 min.
In multiple languages w/ English subtitles.
The "forgotten space" of Allan Sekula and Noël Burch's essay film is the sea, the oceans through which 90% of the world's cargo now passes. At the heart of this space is the container box, which, since its invention in the 1950s, has become one of the most important mechanisms for the global spread of capitalism.
The film follows the container box along the international supply chain, from ships to barges, trains, and trucks, mapping the byzantine networks that connect producers to consumers (and more and more frequently, producing nations to consuming ones). Visiting the major ports of Rotterdam, Los Angeles, Hong Kong, Guangdong province, and many places between, it connects the economic puzzle pieces that corporations and governments would prefer remain scattered.
We meet people who have been reduced to cogs in this increasingly automated machine – the invisible laborers who staff the cargo ships, steer the barges, drive the trucks, and migrate to the factories, and whose low wages form the base of the entire enterprise.
Employing a wide range of materials and styles, from interviews to classic film clips, essayistic voiceover to observational footage, THE FORGOTTEN SPACE provides a panoramic portrait of the new global economy and a compelling argument about why it must change.
"An engrossing and provocative essay film… Various experts offer informative analysis, but the testimony of seamen, factory workers and residents of a California homeless encampment is at the heart of the film's guiding ethical and aesthetic principles, which have to do with the defense of human dignity in the face of a system that so often appears hostile or indifferent to it." —A.O. Scott, The New York Times
"THE FORGOTTEN SPACE begins as an investigative documentary and concludes as a mythopoeic essay on modernity and the sea." —Artforum
"Too political for mainstream taste, obligatory for everyone else." —Jonathan Rosenbaum, Film Comment
Text courtesy of Icarus Films
DAVID FRESKO is a Visiting Assistant Professor of Culture and Media at Eugene Lang College, the New School. He recently completed a Ph.D. in the Department of Art & Art History at Stanford University with a dissertation entitled "Montage—Praxis—Politics: Radical French and American Film of the 1960s and 1970s," which shows how filmmakers in France and the United States utilized the technique of montage to galvanize solidarity with political movements at home and abroad, above all those across the decolonizing world. His writing has appeared in animation: an interdisciplinary journal, InVisible Culture and The Global Sixties in Sound and Vision: Media, Counterculture, and Revolt (Palgrave Macmilan, 2014). David also holds an M.A. in Film and Media Studies from Emory University and a B.A. in Film Studies with a concentration in filmmaking from Wesleyan University, where he was trained in 16mm and digital film production. Prior to joining academia he worked as a documentary film editor and at the legendary Mondo Kim's on St. Mark's Place. 
MATCH CUTS is a weekly podcast centered on video, film and the moving image. Match Cuts Presents is dedicated to presenting de-colonialized cinema, LGBTQI films, Marxist diatribes, video art, dance films, sex films, and activist documentaries with a rotating cast of presenters from all spectrums of the performing and plastic arts and surrounding humanities. Match Cuts is hosted by Nick Faust and Kachine Moore.