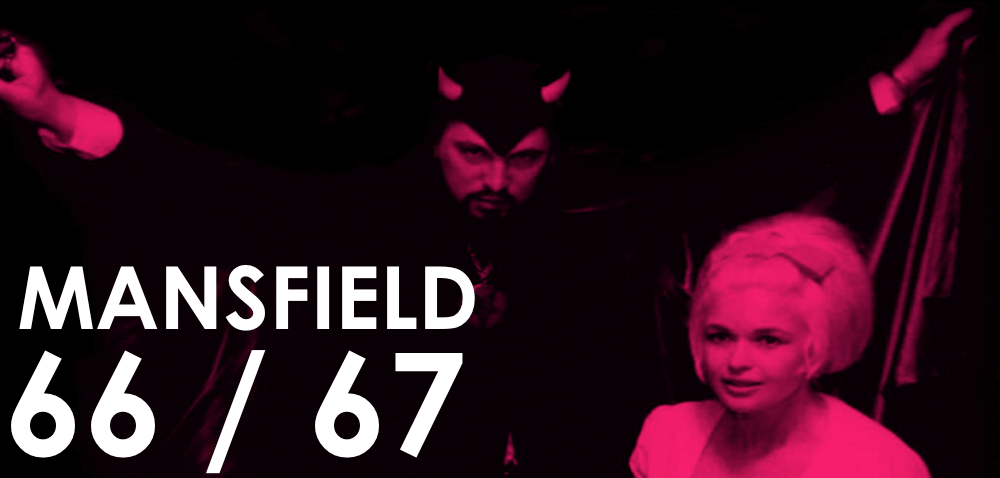 MANSFIELD 66/67
Dir. P. David Ebersole and Todd Hughes, 2017.
USA. 85 min.
FRIDAY, DECEMBER 8 – 7:30 PM **Q&A**
SATURDAY, DECEMBER 9 – 10:00 PM
SUNDAY, DECEMBER 10 – 5:00 PM

NYC Premiere!
2017 marks the 50th anniversary of Jayne Mansfield's fatal and legendary car crash, yet we are still left to wonder: was her life spinning out of control in the last two years of her life, or…did the devil make her do it?
Known as the "Working Man's Monroe" and the "smartest dumb blonde," Jayne Mansfield was a taboo-taunting, bodacious babe with brains and maybe, just maybe…a sexy Satanist as well? P. David Ebersole and Todd Hughes (producers of Room 237) dive into Mansfield's life and career, but especially her tumultuous final two years and her mysterious friendship with Church of Satan founder Anton LaVey. But this isn't your regular bio-doc: expect some campy (yet educational) song and dance numbers amid the tornado of rumors and speculations as to whether or not Jayne's death was actually caused by a malicious curse.
The film features interviews with the likes of John Waters, Tippi Hedren, Mamie Van Doren, and Kenneth Anger, who discuss the mark that Mansfield left, the ways in which she was ahead-of-her-time, and above all the mythology surrounding her life and untimely demise that made her such a fascinating figure in Hollywood Babylon.
---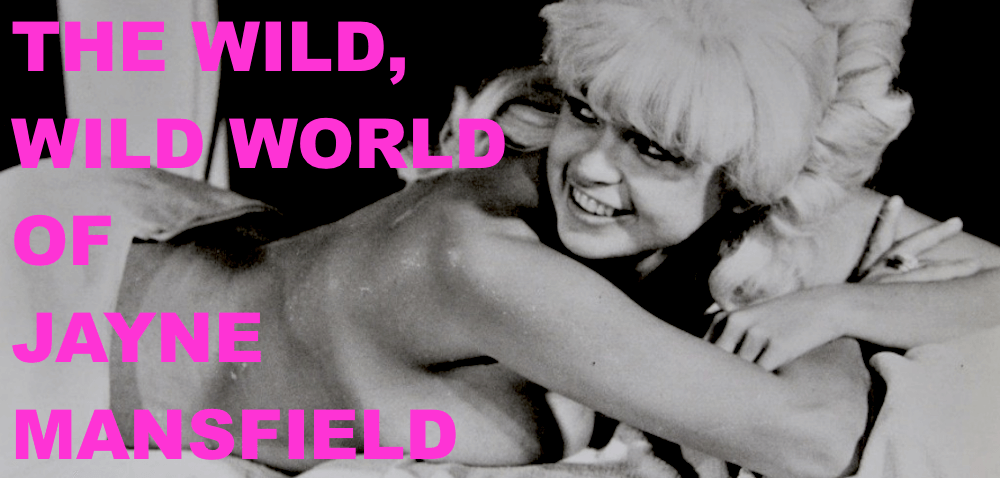 THE WILD, WILD WORLD OF JAYNE MANSFIELD
Dir. Charles W. Broun, Jr., Joel Holt, and Arthur Knight, 1968.
USA. 99 min.
TUESDAY, DECEMBER 5 – 7:30 PM
MONDAY, DECEMBER 11 – 10 PM
FRIDAY, DECEMBER 15 – 7:30 PM
WEDNESDAY, DECEMBER 20 – 10 PM
An example of true exploitation (in more than just name/genre), THE WILD, WILD WORLD OF JAYNE MANSFIELD was filmed sporadically over four years before it was hastily released to capitalize off of the actress' untimely and tragic death. It's part travelogue and part nudie flick, an unstructured and uncomfortable compilation of Mansfield's nude scenes from various films along with footage of her visiting the seedy and/or liberated underbellies of Europe and the U.S.: from Italian red light districts and massage parlors to topless bars in Los Angeles.
What may have begun as a tribute to Jayne's libertine spirit doesn't stick the landing. In fact, it trips and falls down when photos of the Mansfield's horrendous car wreck appear on screen, juxtaposed with the cheeky travel footage throughout. An eerie voice-over of Mansfield (but actually spoken by a breathy yet clearly inauthentic imitator) puts a creepy cherry on top of this problematic pie.