For one weekend only, Spectacle is thrilled to host firebrand documentarian Maggie Hadleigh-West whose film WAR ZONE burned down the house as part of our MIND YOUR OWN BUSINESS: CINEMA AGAINST STREET HARASSMENT program in 2015!  Our brief retrospective of her three features will include WAR ZONE, PLAYER HATING: A LOVE STORY (her deep-dive into Crown Heights hip-hop) and the NYC premiere of Hadleigh-West's latest, SICK TO DEATH! – a startling and compassionate dissection of the modern healthcare crisis in America. Maggie will be here at all screenings for Q&A – not to be missed!
---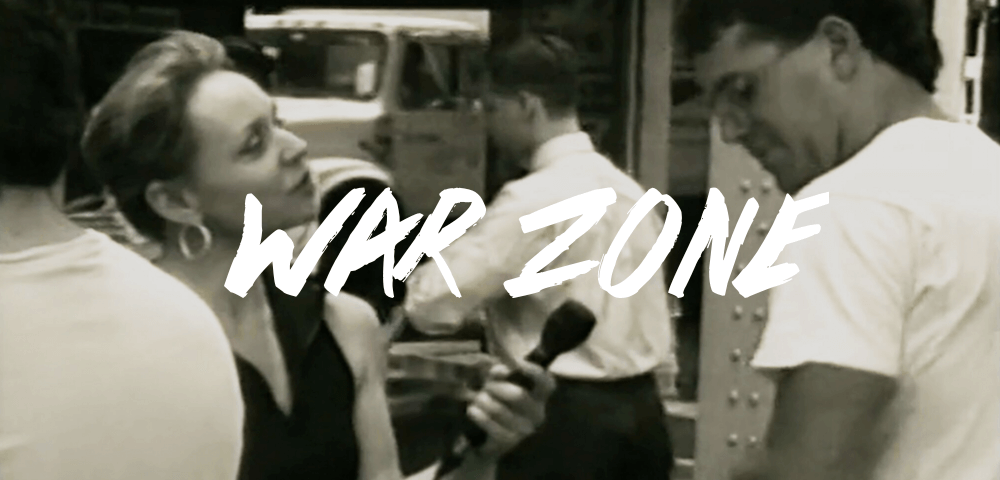 WAR ZONE
1998. 72 mins.
THURSDAY, JULY 26 – 7:30 PM
(WITH FILMMAKER Q&A! – This screening is $10)
ONLINE TICKETS HERE
Maggie Hadleigh-West's incendiary direct cinema documentary, WAR ZONE, is a battle cry for anyone who's been harassed, catcalled, and assaulted while rightfully claiming their slice of public space. Twenty years ago, West videotaped herself and other women in cities across America as they idly walked down the street. The zip codes may change, but not the trash on the sidewalks: an unending array of men openly propositioning these women, commenting on their appearances and trying to cut them down to size. Camera in hand, West returned fire, confronting them about their wonton disrespect and forcing them to explain their disgusting behavior. The results are cathartic, at times terrifying, and enraging above all.
WAR ZONE is about sex, power and what happens when men—either knowingly or unknowingly—threaten a woman's right to walk undisturbed on the streets. What exactly do catcalls, leers or a whole litany of other behaviors mean to a woman? And why do men engage in these behaviors? Shot all over the US, Hadleigh-West turns her camera on men in the same way that they turn their aggression on her. WAR ZONE is 76 minutes of explosive footage as the filmmaker places herself in very real danger by daring to ask the men on the streets why they are treating a complete stranger in a sexual way…
"Shrewdly building a canny tale of humor, hostility, and, ultimately, physical violence.  War Zone is a charged 76 minutes that asks the questions on the mind of every woman who knows the anger and frustration of not being able to walk down the street undisturbed." – Hazel-Dawn Dumpert, LA Weekly
"Everything she shows is fascinating, revealing and provocative." – Jonathan Rosenbaum, Chicago Reader
---

PLAYER HATING: A LOVE STORY
2011. 95 mins.
FRIDAY, JULY 27 – 7:30 PM
(WITH FILMMAKER Q&A! – This screening is $10)
ONLINE TICKETS HERE
PLAYER HATING: A LOVE STORY follows Brooklyn rapper Half-a-Mill and his crew The Godfia Criminals, as they struggle to launch Milion, in an effort to attain money, success and recognition through music. PLAYER HATING delves intimately into the lives of young "thugs", and takes the viewer into an underground world of poverty, alienation, gangs, violence and music that most audience members have an inkling of, but few rarely see—unless they've lived it.
"Player Hating– Someone else is about to shine, and you'll do anything to keep that motherfucker from getting his cheese — it can be as subtle as negative flow (lyrics) or as extreme as trying to clap (shoot) him."– Trent Bond, Half's Manager and former NYPD Detective
"With intimate handheld cinematography and a rough naturalism that matches her story's tough urban environs, the director charts the ups and downs of Half-a-Mill and a few of his many crew members, all of whom boast loyalty to their violent neighborhood…" – Nick Schager, Village Voice
"Hadleigh-West's documentary about Crown Heights rapper Half-a-Mill, his crew, and their desperately poor milieu is less about the music biz and celebrity culture than it is about the economic and emotional war zone of the projects." – New York Magazine
"PLAYER HATING: A LOVE STORY sidesteps any handwringing or moral pronouncements about the gun- and drug-saturated "thug life," instead presenting an intimate portrait of this tight-knit group that speaks for itself…" – Sara Stewart, New York Post
---

SICK TO DEATH!
2017. 85 mins.

(BOTH SCREENINGS WITH FILMMAKER Q&A! – This event is $10)
SATURDAY, JULY 28 – 5 PM – ONLINE TICKETS HERE
SATURDAY JULY 28 – 7:30 PM – ONLINE TICKETS HERE

After drinking radioactive iodine to kill her overactive thyroid, Hadleigh-West catapults into illness only to run smack into the medical corruption that is shredding the fabric of American life.
In SICK TO DEATH!, Hadleigh-West exposes her own disturbing, yet determined, thirty-year struggle to regain her spiraling health. After seeing hundreds of doctors who either disregarded her symptoms, misdiagnosed or under treated her, Maggie discovers that her life-long thyroid problem was a fully understood medical issue as early as 1914, yet it's been obscured by systemic medical corruption, pharmaceutical greed and physician negligence, leaving more than 750 million people sick and suffering world-wide.
Follow her as she brazenly uncovers the medical corruption and negligence that obscures medical practice – only to find yet another disturbing personal revelation. SICK TO DEATH! is both a call-to-action and a quirky film, which seeks to understand and change this disturbing medical reality.