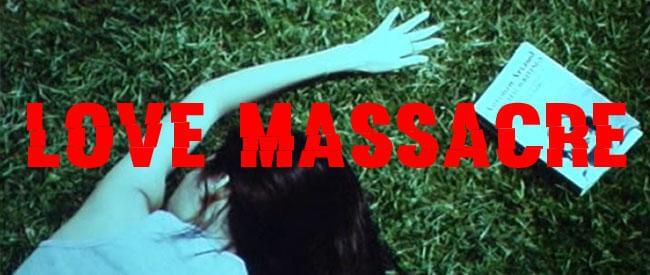 LOVE MASSACRE (AI SHA)
Dir. Patrick Tam, 1981.
Hong Kong. 91 min.
SATURDAY, FEBRUARY 4 – 7:30 PM
FRIDAY, FEBRUARY 10 – 10 PM
TUESDAY, FEBRUARY 14 – 💔  7:30 PM  💔
SATURDAY, FEBRUARY 18 – 10 PM
Hong Kong New Wave forerunner Patrick Tam's second film LOVE MASSACRE was decried on release for its dissonant genre mashup and thin plot, entirely missing its beauty as a formal exercise in color and framing. The oversight is understandable – featuring two of Hong Kong's most famous stars, Brigitte Lin and Charlie Chin (who, at the time of filming, were embroiled in a love-triangle scandal), audience expectations were set for a straightforward romance. Instead, the film's split is blunt as its title implies, and after an initial San Francisco pas de quatre between young beauty Ivy (Lin), her obsessive (and ironically named) roommate Joy, Joy's boyfriend Louie (Chin) and Joy's brother Chiu Ching, the film follows Chiu Ching back to Hong Kong and into slasher territory. Promising to return and marry Ivy, Chiu Ching's revealed to already have a wife, his former doctor in fact – Chiu Ching suffers from the same vague mental illness that destroyed his sister.Determined to be with Ivy at any cost, Chiu Ching hacks a bloody path back to her, holing up in her claustrophobic apartment building and taking on her housemates one by one.
Tam sees his first seven films "as exercises, as attempts at cinema, not as complete and accomplished works," and of LOVE MASSACRE in particular that "the form and content are schizophrenic." A hands-on perfectionist, Tam's dismissal of his own film belies its clever use of genre. Brutal violence and obsession undercut traditional 'love' at every turn – despite good intentions, nice guy Louis rescues no one, and the love of a patient wife doesn't save Chiu Ching. Tam's San Francisco is strangely empty, with entire fields, bridges, highways and houses void of crowds, echoed by bookending shots of a lone desert trek. A feeling of isolation permeates, with characters hemmed in by objects. Tam's right that the clunky dialogue is at odds with the gorgeous imagery – frequent Wong Kar-Wai collaborator William Chang uses a minimal color palette of blue, red, black and white in bold geometrics to create a De Stijl world characters pose in, where staging elicits emotions, not dialogue. The incongruous tension between lowbrow plot and high art, cool palette and fiery emotion, sudden gore and quiet interludes, make LOVE MASSACRE Tam's most fascinating 'failure'.