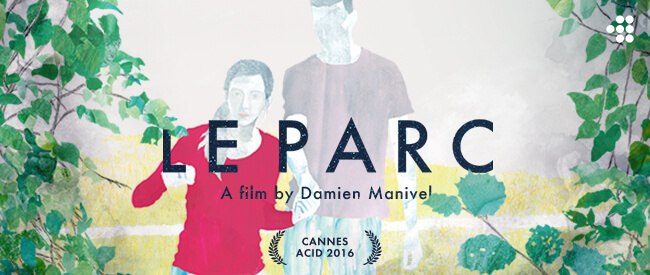 LE PARC
dir. Damien Manivel, 2016
71 minutes. France.
In French with English subtitles.
FRIDAY, FEBRUARY 10 – 7:30 PM
WEDNESDAY, FEBRUARY 22 – 7:30 PM
SATURDAY, FEBRUARY 25 – 7:30 PM
Spectacle is proud to host the New York premiere of Damien Manivel's LE PARC, the inaugural title of MUBI Discoveries – a series of festival gems curated and presented exclusively by MUBI.
A teenage boy and girl have their first date in a park. Hesitant and shy at first, they soon discover each other, get closer as they wander, and end up falling in love. But as the sun goes down, it is time to part… And a dark night begins.
Official Selection: Cannes ACID, Vienna Film Festival, Torino Film Festival, Gent Film Festival, CPH:PIX Copenhagen Film Festival, Montreal Festival du Nouveau Cinéma, Mar del Plata Film Festival and Valdivia International Film Festival

"LE PARC plays like a remake of BEFORE SUNRISE directed by Apichatpong Weerasethakul or the late Manoel de Oliveira, offering up a shred of story filled with touches of humor and bizarre occurrences that take place in some sort of dreamlike realm." – Jordan Mintzer, The Hollywood Reporter
"Infused with a kind of 'realist surrealism,' a simple magic evoked through static shots reminiscent of the work of Pedro Costa or, going back further, Robert Bresson. In the end, its whimsical notions turn out to be as appealing as they are intriguing." – David Gonzales, Cineuropa
"A beautiful labyrinth of emotions." – Liberation