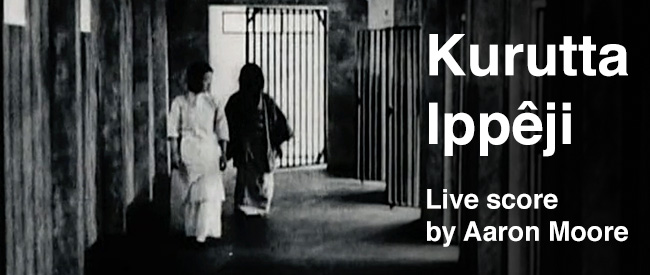 KURUTTA IPPÊJI (LIVE SCORE BY AARON MOORE)
Dir. Teinosuke Kinugasa, 1926/2016
Japan/USA, 40 min.
Silent w/ live musical accompaniment.
** ONE NIGHT ONLY! **
TUESDAY, APRIL 26 – 8:00 PM
TUESDAY, APRIL 26 – 10:00 PM
Aaron Moore (of Volcano The Bear) live scores an edit of the Japanese silent film classic KURUTTA IPPÊJI.
"The story of a man who takes a job at an insane asylum to be near his wife, who is a patient, and how their daughter's engagement affects the family, is told with no dialogue, only images … that drives the action as well as underlines the cacophony of confusion that threatens to tear the woman apart. The film's director Teinosuke Kinugasa is not as well-known in this country as his contemporaries Yasujiro Ozu and Kenji Mizoguchi, but
directed over 100 features in his native Japan, including JUJIRO (CROSSROADS, 1928), JOYU (THE ACTRESS, 1947) and JIGOKUMON (GATE OF HELL, 1954), which won the Palme d'Or at the Cannes Film Festival." —Jared Case, George Eastman Museum
AARON MOORE
As a solo performer, Moore thrives on the unpredictable. Though primarily a drummer, he generally considers any instrument or object playable in one way or another, developing his solo work using 4-track tape machines, percussion, trumpet, and voice to create methodical sonic environments, with the constant potential for chaos and collapse leading him to new territories.
Moore is a founding member of the English experimental group Volcano The Bear. Formed in 1995, VTB have been critically acclaimed as one the leading lights of the British experimental music scene, "producing some of the finest, wildest British music of the last 10 years on record & on stage" (WIRE magazine).
Moore has appeared on over 40 albums with various groups & toured extensively in Europe and North America, having collaborated/performed with Thierry Muller, Boredoms, A Hawk & A Hacksaw, and the LAFMS group Airway. Ongoing projects currently include a duo with Argentinian improvisor Alan Courtis, Brooklyn based 'notjazz' group Gospel Of Mars.