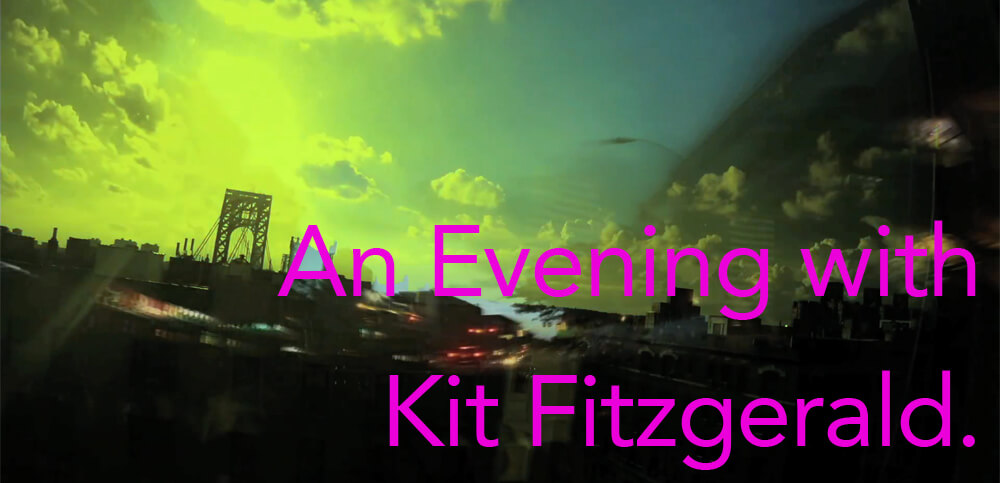 MONDAY, MARCH 18 – 7:30 PM
ONE NIGHT ONLY!
(This event is $10.)

ONLINE TICKETS
FACEBOOK EVENT

Kit Fitzgerald has had a prolific and varied career, with an output spanning avant-garde video art, music videos, live performance collaborations, documentaries on art and culture, and more. This evening will center around her collaborations with musician Peter Gordon.  Included are works shot in Havana, Japan, Ireland, and Holland; video paintings made on analog (Quantel Paintbox, Fairlight CVI) and digital technology; and music videos from Gordon's wide span of work from solo albums to recordings with his Love of Life Orchestra and recordings with Tim Burgess, David Cunningham, and Factory Floor. The evening will conclude with the US premiere of De Dode (The Deadman), based on the story by George Bataille, produced as part of a theatrical production in The Netherlands in 1992. Kit Fitzgerald will appear in person for a conversation following the screening. 
KIT FITZGERALD has collaborated with composers Max Roach, Peter Gordon, Ned Sublette, and Ryuichi Sakamoto; choreographers Donald Byrd, Bebe Miller, and Bill T. Jones; poets Sekou Sundiata and Bob Holman, and theater companies The Wooster Group and The Talking Band. She directs music videos, dance videos, video installations, video art, live performance, award-winning documentaries on art and culture, and album covers. Her work has twice been included in the Whitney Biennial. She has received commissions from Tokyo Broadcasting System, Fuji TV, SONY Japan, and Northern Netherlands Theatre. Fitzgerald is the recipient of prizes at international film and television festivals and awards from The Rockefeller Foundation, National Endowment for the Arts, New York State Council on the Arts, and Japan Foundation. Her work is distributed by Electronic Arts Intermix, New York. 
"Working in the usually hard-edged medium of video, Kit Fitzgerald is a maverick sensibility. Everything she videotapes or creates on the spot, using a computerized keyboard known as a video paint box, glows with a mysterious inner radiance." – The New York Times
"Her images are avant-garde painting of a high order." – The New Yorker