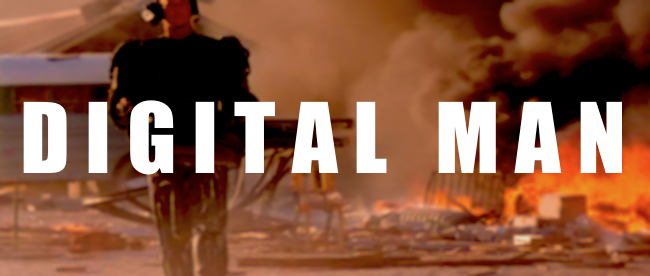 DIGITAL MAN
Dir. Philip J. Roth, 1995
Nevada, 91 min.
In English.
SATURDAY, JUNE 2 – MIDNIGHT
SUNDAY, JUNE 3 – 5 PM
FRIDAY, JUNE 8 – MIDNIGHT
In memory of Philip Roth, we are bringing back Philip J. Roth's DIGITAL MAN, all June 2018!
Spectacle offers up this late-night cyberwar curio fielded from the pixelated precipice between Atari and The Matrix. Starring an Altmanesque corps of noteworthy surnames, Philip Roth's Digital Man concerns a glitch in national security so cruel, it'd be divine if it weren't so damn digital: a time-traveling supercyborg touches down in the small-town Southwest just in time to hijack an apocalypse's worth of nuclear launch codes.
Fresh off a realm too insane in its violence and punishment for mere humans  to enter, the Digital Man must be stopped – and it's up to a motley crue of wisecracking heavyweights (some military experts, some shotgun-toting salt of the earth) to take him out, analog style. Tons and tons and tons and tons of fireball explosions (replete with slo-mo backflips and brutal, spaghetti-worthy shootouts) ensue, culminating in one night you can't merely "attend" while on your laptop.
Digital Man is a very entertaining movie, with good acting, excellent photography and outstanding F/X. It does suffer from a mediocre script however. A very good, overall effort from a bunch of actors who fall  into the category of "where have I seen them before?" A rating of 8 out of 10 was given. – VCRanger, IMDB
"lets get down to brass tax where can we get this movie someone upload cmon it cant be ilegal look at it buying it would be a magor crime" – Jamie Mcfayden, YouTube
"I've seen Digital man almost a decade ago when it came to video. My dad rented me this movie to watch over the weekend since he was leaving with my mom. I loved it so much that I've watched it five or six times in 48 hours !!!" – thebigmovieguy, IMDB
"Don't just settle for T2 ,experience this equal ,yet lower budget Sci-Fi action outing,with martial arts giant Matthias Hues in the lead." – "A Customer", Amazon
"I rented this when it came out on video. I remember thinking the special effects and costumes were pretty cool back then. And in the early-to-mid-1990s computer animation was a novelty, so that added to the movie's appeal. (And back then CGI looked cooler with those smooth surfaces.)" – felicity4711, YouTube
---

THE HANGING WOMAN (La orgía de los muertos)
Dir. José Luis Merino, 1973
Spain, 95 minutes
SATURDAY, JUNE 9 – MIDNIGHT
SATURDAY, JUNE 16- MIDNIGHT
Akin in spirit and substance to the Italian atmosphere-heavy Gothic horror of the late 60s, THE HANGING WOMAN (known in its home country as La orgia de los muertos) takes that template to Franco-era Spain. There's a genuine mystery at the heart of the film, but director José Luis Merino takes the inspector-investigating-a-crime-at-a-spooky-castle theme and adds a bit of, well, everything: a secret laboratory for the maddest of science, nightgown-clad midnight strolls by candlelight, schemes and double-crosses over the inheritance of a mysterious Count, a crypt with fog machines on full blast, devil worship, reanimated frogs and none other than El Hombre Lobo himself, Paul Naschy, in a supporting role as a necrophiliac gravedigger! In an excellent restoration thanks to our friends at Troma, THE HANGING WOMAN is the perfect film for sweaty June midnights.