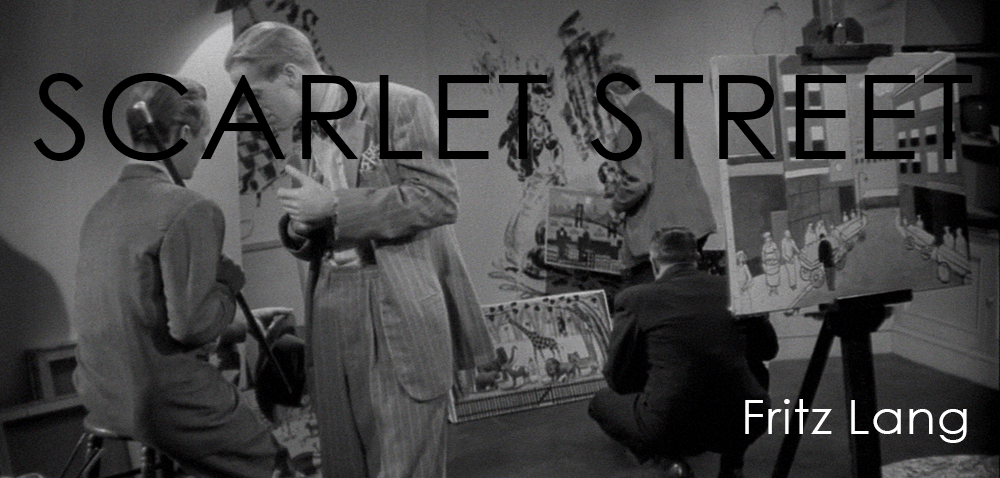 SCARLET STREET
dir. Fritz Lang, 1945.
USA, 102 min.

SATURDAY, JULY 1 – MIDNIGHT
FRIDAY, JULY 7 – MIDNIGHT
SATURDAY, JULY 22 – MIDNIGHT
"How can a man be so dumb?"
The noir and the femme fatale will forever be bound together, merrily going to Hell, dragging all suckers, chumps, marks, rubes and shills into an endless abyss of suffering and death. As well they should! Noir, at its black heart, is about tearing a (seemingly) ordinary Joe to *nothing* while the audience howls for more. We'll find that here, on SCARLET STREET, but with a director like Fritz Lang there's more than one twist on the way to the noose. Based on Georges de La Fouchardière's novel and play La Chienne (also the basis for the equally great Jean Renoir film by the same name), SCARLET STREET is, quite simply, one of the essential film noirs.
The great Edward G. Robinson plays Christopher Cross, the sap in question, at the end of a sad quarter-century of working as a cashier, enduring his wife and putting what little light still shines in him towards his painting hobby. Like most saps, Chris wants little more than to be some damsel's white knight, and that chance actually arrives when he gets between va-va-va-voom Kitty (Joan Bennett, who was in everything from BULLDOG DRUMMOND to SUSPIRIA) and cheap hood Johnny (Dan Duryea of WINCHESTER '73). Through a series of scams, lies, forgeries and tragedies, Chris and Kitty begin one of the darkest descents the screen has brought us, with Lang constantly, methodically twisting the knife, masterfully ratcheting up the tension all the way to the end. Fans of Lang's earlier, more directly Expressionistic work like SPIES and the MABUSE films will find lots to love here, Robinson truly plays one of cinema's great sad sacks, Joan Bennett is the embodiment of weaponized seduction, all combining to make a film absolutely perfect for a hot summer night when you can't sleep and your soul cries for something, *anything* but the dreary monotony of our pointless lives. Great date film, too!
---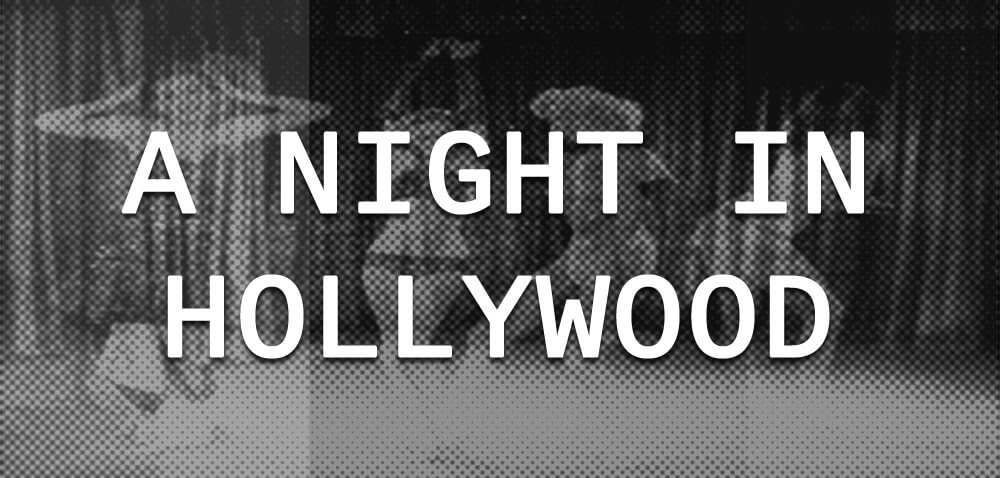 A NIGHT IN HOLLYWOOD
Dir. William C. Thompson (1953)
USA, 61 min.
FRIDAY, JULY 14 – MIDNIGHT
SATURDAY, JULY 29 – MIDNIGHT
"If YOU got what it takes, you can do the rhumba SHAKE!"
Not every city, county or province has it's own hubba-hubba theatre of the arts for lovers where a regular rube can see a real live American Burlesque show, baggy-pants comedians and all, so not a few eggheads in the film department got to thinking "What if we shoot a full burlesque show, soup to nuts, as though you were right there in the action instead of in the back hall of the American Legion?" and so the roadshow burlesque film was born. Our director here is William C. Thompson, who the hepcats out there know from the amazing DAUGHTER OF HORROR, and the goon crew know as Ed Wood's cinematographer. He does a real nice job staying out of the way, letting the show do the work, so even the dopiest mark in the theater's guaranteed laffs-a-plenty, thanks to no less than the great Jean Carroll, one of the first true female comics. We also have some big names on the Burlesque scene: Misty Ayres, who gets unjustly dismissed as a Marilyn knockoff, here in her first film (she'd later show up in the ultrascuzzy BAD GIRLS DO CRY) and one of the true queens of the art, Tempest "The 4D Girl" Storm.
With a surprise at the end (we won't spoil it, so don't you spoil it for other viewers!) it's the perfect introduction to the hurley-burley world of Burlesque in its prime. Don't forget: the password to get in is PLAY IT ON THE G-STRING!
SEE ALSO: SERIES PAGE ARE YOU NOT ENTERTAINED? FOR HERCULES, PLAYING MIDNIGHTS ALL JULY!