FRIDAY, JULY 1: NUKIE
SATURDAY, JULY 2: THE JESUS TRIP
FRIDAY, JULY 8: SPACE, the F∞KED-UP FRONTIER
SATURDAY, JULY 9: JC
FRIDAY, JULY 15: NUKIE
SATURDAY, JULY 16: GOLDEN RENDEZVOUS
FRIDAY, JULY 22: GOLDEN RENDEZVOUS
SATURDAY, JULY 23: THE JESUS TRIP
FRIDAY, JULY 29: NUKIE
SATURDAY, JULY 30: JC
---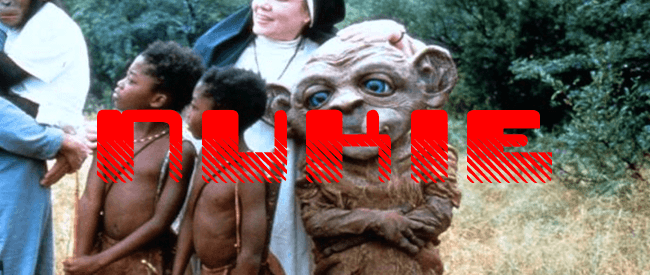 NUKIE
dir. Sias Odenaal, Michael Pakleppa
South Africa. 92 mins.
FRIDAY, JULY 1 – MIDNIGHT
FRIDAY, JULY 15 – MIDNIGHT
FRIDAY, JULY 29 – MIDNIGHT
Described by Nelson Mandela as one of his very favorite films at the end of a three-plus decade prison sentence, Michael Pakleppa and Sias Odendaal's NUKIE is a worthy contender for least-necessary motion picture experience of all time. Every DINOSAUR ISLAND has its JURASSIC PARK; there is simply no way to introduce NUKIE without invoking E.T. THE EXTRATERRESTRIAL early and often, as the film is at once a maudlin ripoff and expanded-universe spinoff of a type – if E.T. had relatives across the same galaxy with Boer accents, and/or Melissa Matheson's original screenplay kicked off with ten minutes of E.T. and Elliot screaming each other's first names, AKIRA-style. (Its approaches to 90s computer imaging technology and throbbing postcolonial tribal fantasia also harken back to Wim Wenders' UNTIL THE END OF THE WORLD.)
Last year, the cinema journal of note Film Fun put it like this: "THE REVENANT is looking for America, but can't find it." The same is true for Nukie the character, whose twin brother Miko is held hostage in a NASA black site somewhere in Florida. While the fiberglass-and-rubber duo remain connected by space telepathy, Nukie touches down in the South African savanna in search of a Hollywood ending; his quest is jarring to the rational senses, like a hellish placeholder miniaturized metaphor for what NUKIE the movie wants to accomplish but never will. Eventually our disgusting hero befriends a pair of tribal kids (Siphiwe and Sipho Mlangeni) who, along with a missionary (Glynis Johns) and a slap-happy scientist (Steve Railsbeck), help bring Nukie around to bust Miko out of the laboratory. Like its twin taglines – "A magical space adventure" and "An adventure out of this world" – NUKIE is at once generic and unsettling as all get-out, a unique post-apartheid car crash of a movie that's spent the last quarter-century with its head in the sand.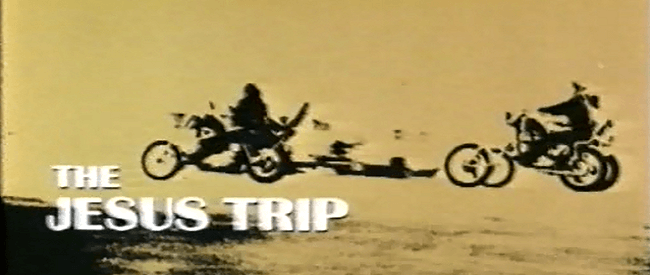 THE JESUS TRIP
Dir. Russ Mayberry, 1971.
USA, 84 min.
SATURDAY, JULY 2 – MIDNITE
THURSDAY, JULY 7 – 5:00 PM
SATURDAY, JULY 23 – MIDNITE
FRIDAY, JULY 29 – 5:00 PM
"Why did they call it THE JESUS TRIP? Because the high is Heaven, and the low is Hell…"
A bunch of drug smuggling bikers get chased down by rivals and cops, and by the grace of god manage to find shelter in an Arizona convent. This trashy bunch foul up clean linen sheets, disregard convent formalities, and beat a police officer close to death. The group flees the nunnery with a young blonde who is ultimately seduced by the earthly pleasures of shaggy haired men, desert riding, and helicopter demolition. This movie was also featured in The Jesus and Mary Chain's first video off Honey, presumably for the sun-soaked, cactus-studded Jesus Americana.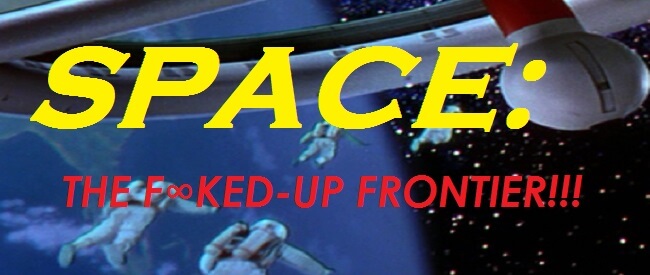 SPACE: THE F∞KED-UP FRONTIER
Dir. Various.
70 min.
FRIDAY, JULY 8 – MIDNIGHT
WEDNESDAY, JULY 20 – 7:30 PM ** 47th anniversary of the faking of the moon landing! **
SPACE: THE F∞KED-UP FRONTIER!!!!
Get HIGH with this show!
Weren't we supposed to have astronauts on Mars by now?
Where is the space wheel?
How come the U.S. and Russia don't have domed cities all across the moon?
Well, it looks that, in regards to the so-called "Conquest of Space," we sure fucked up.
Mankind's attempts to touch infinity have all failed, like legendary Icarus, and the mud of the earth will forever be our home, the stars perpetually out of reach. Even the shuttle program is dead, and all R&D is now conducted by plutocrats seeking to save themselves when our sad and pathetic Earth is finally, completely poisoned.
From genuine NASA footage to slick computer graphics to crude claymation, this series of shorts, created to celebrate the 47th Anniversary of the Faking of the Moon Landing, examines the stellar beauty just out of our reach, as well as casting a cosmic eye on the awful behavior humans are sure to take with them into the galactic void. For roughly 70 minutes, 25 short films take the viewer out of this world, sometimes calming the soul—and other times disturbing it.
See the planets dance!
See spaceships fight black holes—and lose!
See humans and aliens interact—poorly!
See how far the IRS will actually go!
See Patti Smith's secrets about flying saucer!
See more eyeball kicks than stars in the galaxy!
See more things in Heaven and Earth and Mars than are dreamt of in your philosophies!
A show that will blast you off–
It is SPACE: THE F∞KED-UP FRONTIER!!!

JC
Dir. William F. McGaha, 1972.
USA, 99 min.
SATURDAY, JULY 9 – MIDNITE
FRIDAY, JULY 15 – 5:00 PM
SATURDAY, JULY 30 – MIDNITE

After one of cinema's longer scenes of a joint being shared, biker "JC Masters" undergoes a dramatic messianic vision of himself as the second coming of Christ. Featuring the director as lead character, a group of bikers becomes a small cult energized by sermons for peace, beer and racial equality. Slim Pickins is the local sheriff, struggling to control JC and his crew due to an oft-articulated fear of national media attention and general interpersonal ineffectiveness. Small town bigotry fires up the ideals of the biker pack, causing sides to be taken, words to be said, and shots to be fired. JC feels like he has to shoulder it all, explaining the details of God's wisdom at the risk of his own peril.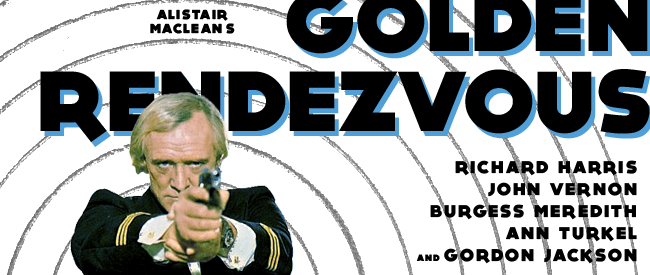 GOLDEN RENDEZVOUS
(aka NUCLEAR TERROR)
Dir. Freddie Francis / Ashley Lazarus, 1977
South African / Cayman Islands. 109 mins.
SATURDAY, JULY 16 – MIDNITE
FRIDAY, JULY 22 – MIDNITE
Special thanks to Thor Communicators LLC.
1977's doomed international coproduction GOLDEN RENDEZVOUS functions on a couple of unique registers. For one, it's an ensemble thriller in the unabashedly problematic vein of Andrew McLagen's THE WILD GEESE or FFOLKES; two, it's a page-turner in the sleepytime airport paperback tradition of Clive Cussler and Robert Ludum; three, it bears the uncanny distinction of having a plurality of drunken cast members onscreen at all times. (GOLDEN RENDEZVOUS allegedly made its hellraising star Richard Harris un-insurable for future productions, even as he rewrote the screenplay between shoots.) Harris stars as Johnny Carter, Chief Officer of the S.S. CAMPARI (appropriate for the aforementioned booze-soluble ensemble), a military cargo freighter reconverted to a luxury schooner. John Vernon (ANIMAL HOUSE, POINT BLANK) leads a crew of terrorists who hijack the Campari with an elaborate ransom scheme in mind – unless Carter gets to him first. Harris' then-wife Ann Turkel features as an ill-clad and coquette-ish love interest, appropriate to the macho wish-fulfillment milieu embodied in other MacLean adaptations (ICE STATION ZEBRA, WHERE EAGLES DARE).
Some movies are masterpieces, others are epic follies founded on good intentions; GOLDEN RENDEZVOUS is a cold-ass get-rich-eventually scheme, allegedly paid for in South African rand siphoned off of a government program intended to foment progressive, issue-driven cinema. It also suggests that a director credit for a legendary cinematographer – in this case, Freddie Francis, of DUNE and THE INNOCENTS – does not a beautiful or even pretty film make, although tales of behind-the-scenes sabotage (and a last-minute bailout from Ashley Lazarus) are many. Finally, alongside a stolid opportunity to watch old-school thespians drunkenly brandish machine guns with straight faces, RENDEZVOUS boasts a life-changing synthesizer score by Jeff Wayne – all the more inappropriate to the attendant movie for its taut imperative and toe-tapping melancholy.