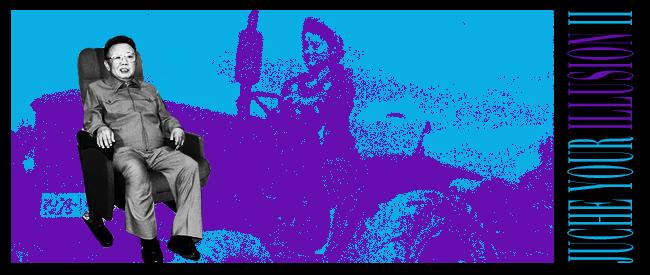 Last month's JUCHE YOUR ILLUSION I surveyed films made in North Korea. For the second part of the series, Spectacle presents three films about North Korea made by filmmakers outside the country.
North Korea's seclusion results in a peculiar dichotomy; films emerging from within reflect a disconnectedness from the outside world, while works about North Korea made elsewhere must contend with the country's deliberate attempts at obfuscation. These films largely rely upon brief glimpses, piecemeal second-hand information and, paradoxically, North Korea's own propaganda, which outside filmmakers parse according to, or in spite of, their own subjectivity. Cinema from each side, generally oppositional to the other and informed by respective biases, can obscure as much as it reveals. It can also serve as a useful reminder of our own subjectivity vis a vis the more familiar propaganda inherent in our own domestic art and discourse.
The films in JUCHE YOUR ILLUSION II both reinforce and undermine the portrait of North Korea presented in the first part of the series. JUCHE II includes a work completely indebted to propaganda (in which upstate NY stands in for NK); a meticulously redesigned vacation video by a French tourist; and the video diary of a woman conflicted by her own familial ties to North Korea.
---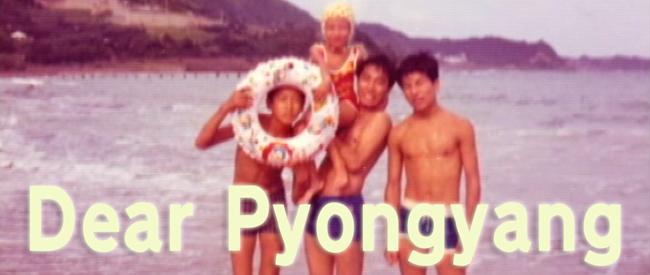 DEAR PYONGYANG
Dir. Yonghi Yang, 2005
Japan, 107 min.
In Korean and Japanese with English subtitles
WEDNESDAY, APRIL 1 – 10 PM
MONDAY, APRIL 6 – 7:30 PM
FRIDAY, APRIL 24 – 7:30 PM
TUESDAY, APRIL 28 – 7:30 PM
Yonghi Yang is one of nearly a million zainichi, Koreans living in Japan. Beginning in 1959 and lasting 20 years, many zainichi, even of South Korean nationality, left Japan for North Korea as part of a widespread repatriation movement inspired by North Korea's economic growth and the promise of Korean reunification. These returnees have never been allowed to leave.
Three of those who went were Yang's brothers, sent in the 1970s by their father, the leader of the pro-North movement in Japan. Yang documents several family trips to Pyongyang to visit her brothers, now grown and with families of their own, who survive in large part due to supplies shipped to them from Japan by their parents, who remained there along with Yang. Despite his sons' poor living standards, Yang's father remains staunchly loyal to North Korea, an ideological dilemma for Yang, who struggles to comprehend why her father broke apart his family and wishes to officially change her nationality to South Korea. Though he reproaches his daughter for what he considers her disloyalty to his life's work, over the ten-year filming period, his steadfastness gives way to indications of regret and a willingness to compromise.
DEAR PYONGYANG received prizes at Berlin and Sundance and is at once an intimate portrait of a family divided by borders and ideology, a rare firsthand glimpse into daily life in North Korea's capital and an unflinching meditation on the long shadow cast by Korea's tragic past.
Thanks to Tidepoint Pictures
---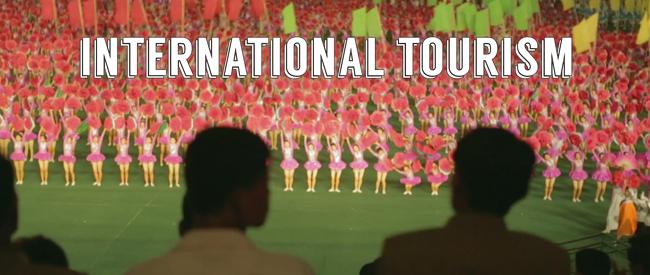 INTERNATIONAL TOURISM
aka Tourisme International
Dir. Marie Voignier
France, 48 min.
No dialogue; English intertitles
FRIDAY, APRIL 4 – 7:30 PM
TUESDAY, APRIL 7 – 10 PM
SATURDAY, APRIL 18 – 7:30 PM
WEDNESDAY, APRIL 22 – 10 PM
How does a dictatorship exhibit itself to the tourists visiting it? What kind of narration, actors, and staging does it summon? INTERNATIONAL TOURISM has been shot as a recording of a show on the scale of a whole country, North Korea. Museums, painters' studios, cinema production houses, or a chemical factory are presented to us by North Korean guides whose voices we never hear—for the film has been completely dubbed in at the editing stage in order to create anew a sonorous universe completely disconnected from the official discourses: all sounds have been rerecorded in order to restore the density of spaces, the murmur of tourists, the gestures of the guides, with the exception of the voices. The guides do speak, but we never hear them, and paradoxically, this muteness reveals in a better, enfolded way the coercion of the regime on the spaces and the bodies.
The journey is interspersed with title cards, in which we learn that the President himself is concerned with every detail, that painting seems to replace photography, that all movies are overdubbed for fear of any excess. The film questions the way the nation fabricates its images, between politics, mythology and imagination. Amidst this confrontation between the images of power and the gaze of tourists, we perceive the silent choreography of the touristic guides—those rigid but gracious actors of a country in perpetual self-representation.
Courtesy of Marie Voignier
---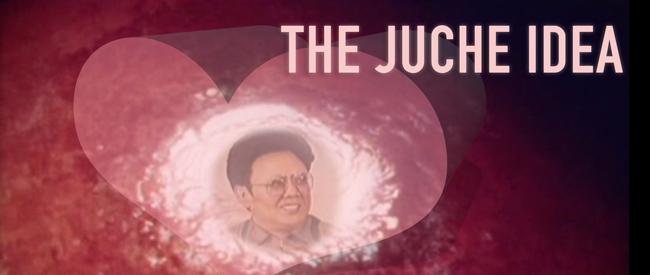 THE JUCHE IDEA
Dir. Jim Finn
USA, 62 min.
In Korean and English with English subtitles
SUNDAY, APRIL 5 – 5 PM
TUESDAY, APRIL 21 – 10 PM
SUNDAY, APRIL 26 – 5 PM
Yoon Jung, a South Korean video artist, moves to a collective farm & artist colony in North Korea with the hope of revitalizing Juche cinema for the 21st century. Jim Finn's ingenious satire THE JUCHE IDEA is told through interviews with Yoon Jung at work on the farm (actually upstate NY), the films she makes as part of her residency ("The Tiny Dentures of Imperialism", "English as a Socialist Language"), and a sampling of real North Korean propaganda and state-sanctioned films set against quotes from Kim Jong-il's "On the Art of Cinema."
THE JUCHE IDEA, one of Finn's "utopian comedies," and the final part of his Communist Trilogy, is a wildly inventive and experimental hybrid of mockumentary, satire, agitprop, science fiction and reality, which mocks and illuminates the concept of Juche and the cult of personality surrounding Kim Jong-il, while slyly pointing the finger at capitalism and America, itself a peculiar country in which movie stars, not film theorists, become beloved leaders.