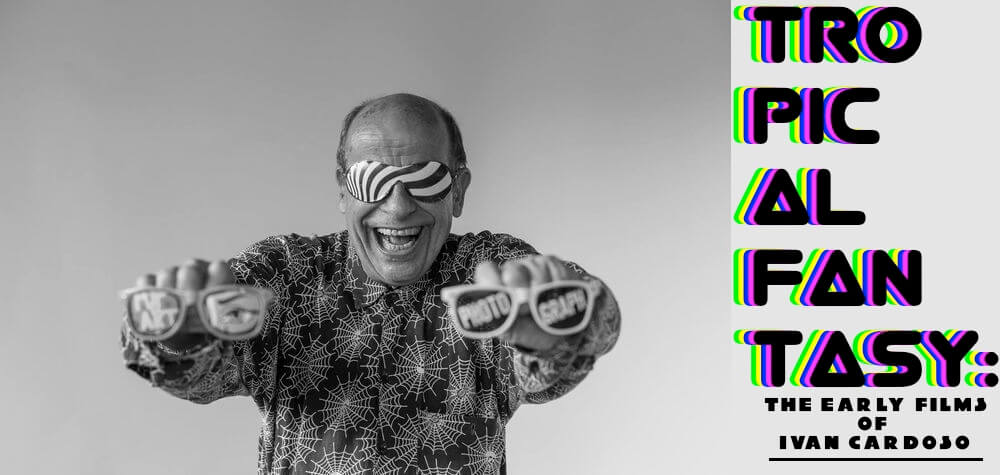 With our SOUTH OF HEAVEN: Supernatural Mexican Westerns series all but a distant rider in the sunset, Spectacle has partnered with our pals at Camp Motion Pictures to bring the early works of Brazilian basement & beach auteur Ivan Cardoso to Brooklyn's big screen. Cardoso, though champion of genre film back home, was largely unknown in these United States (outside of VHS releases by Something Weird Video) until only very recently. This July we're presenting his first four forays into film in the form of 1 short and 3 features featuring more tropes than you can shake a stake at – vampires, mummies, carnivorous plants, masked villains, radio detectives, unlicensed Alfred Hitchcock overdubs, Coffin Joe cameos, and more.
---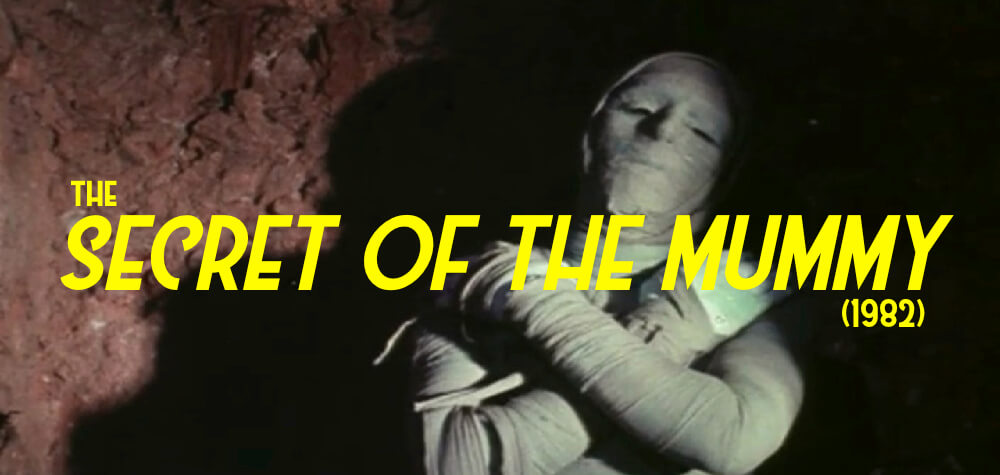 THE SECRET OF THE MUMMY (a/k/a: O Segredo da Múmia)
dir. Ivan Cardoso, 1982
85 min, Brazil
In Portuguese w/English subs.
TUESDAY, JULY 4 – 10 PM
TUESDAY, JULY 11 – 10 PM
FRIDAY, JULY 21 – MIDNIGHT
SATURDAY, JULY 29 – 5 PM
A tale as old as time: Dr. Vitus, a disgraced scientist (Wilson Grey who would go on to be one of Cardoso's go to character actors for the majority of his career) devotes his dying days to the reconstruction of a map that had been divided into 8 parts and scattered to the winds with their owners meeting most mysterious deaths.
On a trip to Egypt he finds a mummy, Runamb, and brings it with him back to Brazil. You aren't going to believe this – but it comes to life and wreaks havoc on all in his path obsessing over Nadia, a dancer who had scorned him when he was alive – well, more alive anyway.
Fleshing out his vision after NOSFERATO IN BRAZIL, Cardoso again takes advantage of the countryside and finds juicy roles for the legendary José Mojica Marins – better known as Coffin Joe – and Regina Casé (THE SECOND MOTHER).
NOSTERATO IN BRAZIL (a/k/a: Nosferato no Brasil)
dir: Ivan Cardoso, 1970
27 min, Brazil
Silent
Screening with THE SECRET OF THE MUMMY
In 19th century Budapest, the titular Nosferato roams the countryside feasting on various voluptous victims and engaging in a number of sword fights. A run in with a prince (you can tell by his hair) finds the bloodsucker on the wrong side of a crucifix. Flash forward to 1970 and Nosferato is now more groovy than ghoulie. More bloodsucking ensues.
Cardoso's 8mm short certainly sets the stage for what would become some of his more signature moves – a mutated sun kissed soundtrack, the blending of horror and comedy, showcasing the natural beauty of Brazil and it's inhabitants, and alternating between black & white and color footage.
Torquato Neto, a well known poet and composer in his native Brazil is Vlad all over in this hippy dippy send up of coffin banging alongside Scarlet Moon and a gaggle of others. Tragically, he would take his own life only 2 years later at the age of 28.
---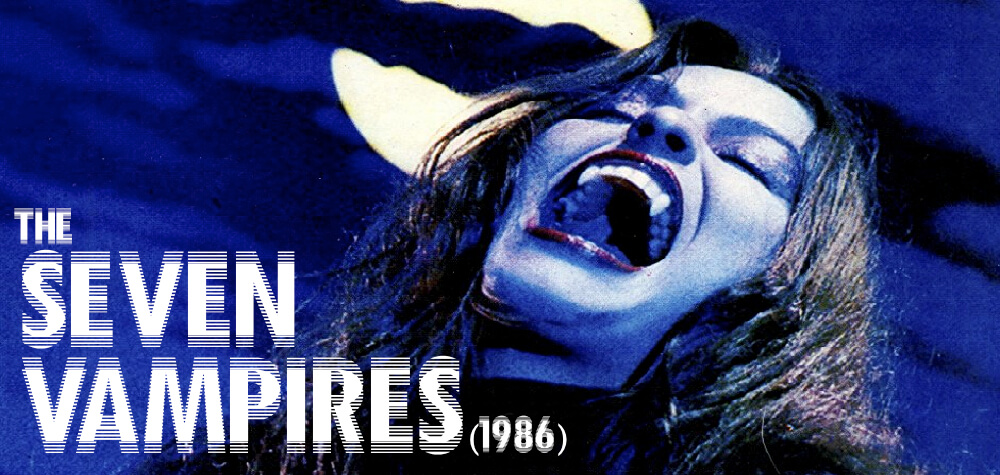 THE SEVEN VAMPIRES (a/k/a: As Sete Vampires)
dir. Ivan Cardoso, 1986
100 min, Brazil
In Portuguese w/English subs.
SATURDAY, JULY 1 – 10 PM
SUNDAY, JULY 9 – 7:30 PM
SUNDAY, JULY 17 – 5 PM
TUESDAY, JULY 25 – 10 PM
"Cardoso favors a genre he himself dubs "Terrir" – a play on "terror" and "rir" (laugh) which builds on cinematic codes already internalized by the spectator, specifically those of the classic horror film. With Cardoso we have a parody of parody since the chanchada was already parodic. In a Brazilian synthesis of Roger Corman and Mel Brooks, Ivan Cardoso gives new life to generic cliches, vampirizing, as it were, preexisting films and genres absorbing and preforming the "blood" of other texts." – Brazilian Cinema by Randal Johnson, Robert Stam.
At no point in his career is the above quote more presciant than in THE SEVEN VAMPIRES. The film is truly all over the place zigging and zagging til it seems like it could burst of out of the screen at any second.
Botanist Frederico Rossi receives a meat-loving-but-mute poisonous plant that his wife immediately dislikes. His futile attempt at making an (pl)antidote only see him devoured and Sylvia mutilated, losing not only her arm but also her interest in dance and socializing. She ages rapidly and takes the last of the antidote and though it seems to help at first it becomes apparent that all is not well…
Not long after, Sylvia is approached about essentially getting the band back together and, rekindling her love of dance combined with her newfound love of vampiric murder, creates "The Transylvanian Follies" a flock of fanged femme fatales.
Graveyard fights, the aforementioned Hitchcock overdubs, and 50's pop songs lifted straight from HELLO MARY LOU: PROM NIGHT 2 (the superior PROM NIGHT film) follow in rapid succession leaving the viewer with nary a moment to catch their breath.
---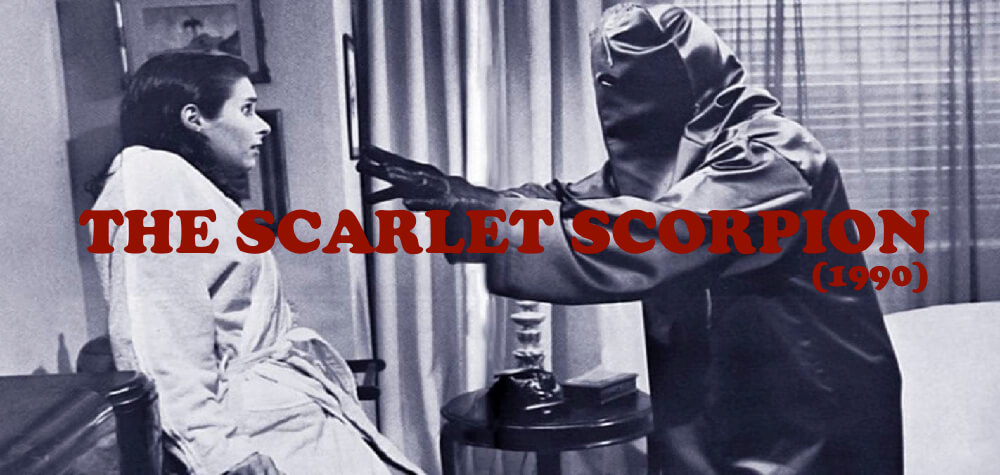 THE SCARLET SCORPION (a/k/a: O ESCORPIAO ESCARLATE)
dir. Ivan Cardoso, 1990
90 min, Brazil
In Portuguese w/English subs.
SATURDAY, JULY 8 – 7:30 PM
MONDAY, JULY 10 – 10 PM
MONDAY, JULY 17 – 7:30 PM
Opening with a faux national news reel, THE SCARLET SCORPION, is Cardoso's vision crystalized and funneled through one of the countries most beloved pop-culture icons – The Angel.
A billionaire playboy who fights crime, The Angel was all over comics and radio dramas. In fact, in THE SCARLET SCORPION, the news reel ends with the country at a standstill as the announcement of a new Angel show comes over the airwaves. As the story continues the events of the radio show inspire the work of a copycat – none other than Angel's archival – The Scarlet Scorpion himself! Angel must match wits with Scarlet Scorpion in order to save the love of his life – a fashion designer by the name of Gloria.
Though not horror by any stretch – THE SCARLET SCORPION is nothing if not thrilling (and hilarious). Cardoso would continue to make films into 2013 with one still listed at "in post-production" on IMDb but THE SCARLET SCORPION caps off our Summer series with a bang.