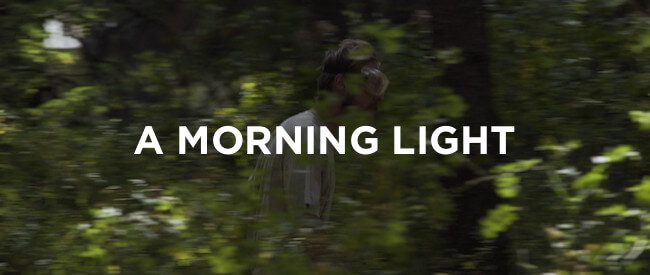 A MORNING LIGHT
dir. Ian Clark, 2016
82 minutes. USA.
THURSDAY, MARCH 16 – 7:30 PM – ONE NIGHT ONLY!
In collaboration with The Playlist's Indie Beat podcast, Spectacle is pleased to present a one-night-only special screening of Ian Clark's A MORNING LIGHT. Clark's film is an atmospheric, sci-fi thriller focused on Zach and Ellyn—who begin to sense a strange presence has embedded itself in the forest. As they immerse themselves in the surrounding wilderness their experiences become progressively more bizarre. Do the sounds and light phenomena affecting them come from somewhere else, or is this merely an invention of their perception?
Starring ZACH WEINTRAUB • CELIA ROWLSON-HALL • AUSTIN WILL • DUSTY DECKER
Music by ELEH • Colorist SEAN WELLS • Wardrobe Design BRONWYN LESLIE
Produced by BENJAMIN WIESSNER • JIM CUMMINGS • IAN CLARK
Written, Directed, Edited, Photographed by IAN CLARK
Made with Support from BORSCHT • OREGON ARTS COMMISSION • NW DOCUMENTARY • STRAHLEN • SNOWGHOST
"A cinematic approximation of the metaphysical." — Kevin Rakestraw, FILM PULSE
"Visually stunning and sonically unsettling." — ATLANTA FILM FESTIVAL