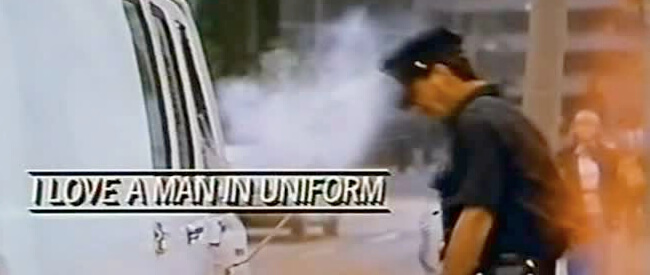 I LOVE A MAN IN UNIFORM
aka A MAN IN UNIFORM
Dir. David Wellington, 1993
Canada. 97 min.

SATURDAY, SEPTEMBER 9 – 7:30 PM
THURSDAY, SEPTMBER 14 – 7:30 PM
WEDNESDAY, SEPTEMBER 27 – 10 PM
Some ideas deserve more than one film, and more than one author, they should knock around the collective canon of cinema for awhile in work that is not so much derivative as conversational. I LOVE A MAN IN UNIFORM makes no secret of its debt to TAXI DRIVER and indeed uses the shadow of the latter work as just another border marking the alienation of its main character. In this Canadian film from 1993, Tom McCamus plays Henry Addler, a bank clerk trying to make it as a full time actor. Henry has just landed a reoccurring role on a TV police drama. To get into the part he takes his police uniform home and begins to walk the streets of Toronto looking for real life at its worst – and the goodness that only authority can sustain. Eventually, he also acquires a gun.
---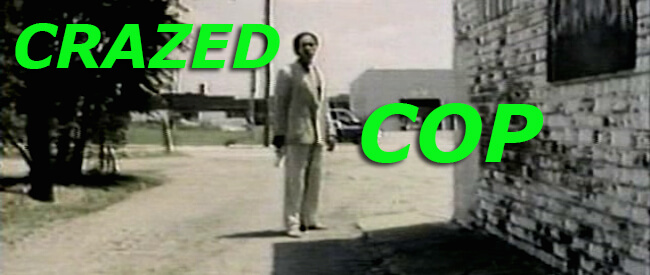 CRAZED COP(aka One Way Out)
Dir. Paul Kyriazi, 1986
United States, 83 minutes
SATURDAY, SEPTEMBER 9 – 10 PM
THURSDAY, SEPTEMBER 14 – 10 PM
WEDNESDAY, SEPTEMBER 27 – 7:30 PM
Ivan Rogers (Ballbuster, Karate Commando: Jungle Wolf 3) wrote and stars in this Indianaoplis-lensed crime flick as Detective Joe Weeks, a suicidal cops reeling from the murder of his wife while trying to take down the drug dealers who killed her. Crazed Cop (aka One Way Out) splits the balance between ultra-intense and moody psychological noir and off-the-wall insane 80's exploitation flicks, balancing Rogers' steely intensity but bizarre flourishes such as a gang of breakdancing assassins.
---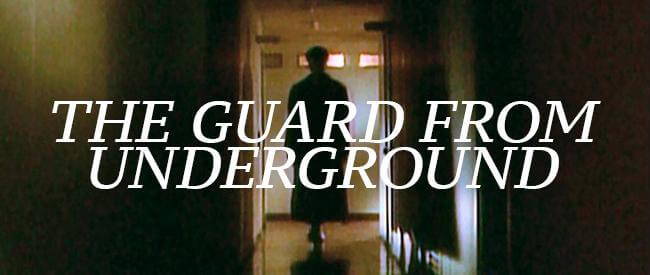 THE GUARD FROM UNDERGROUND (aka SECURITY GUARD FROM HELL)
Dir. Kiyoshi Kurosawa, 1992
Japan, 96 min.
In Japanese with English subtitles.
Back from our Tidepoint Pictures Series last October!
Unfairly derided as a generic slasher flick ground out before Kiyoshi Kurosawa moved on to better-known and -received works, including CURE and PULSE, THE GUARD FROM UNDERGROUND features all Kurosawa's signatures in nascent form – loneliness and isolation amid the everyday, dingy, banal locations made haunting, terror stemming from the gloom and nihility of human existence rather than shock or gore. Art historian Akiko begins her new job at a corporation the same day as an immense security guard, who happens to match the description of a murderous sumo wrestler released due to an insanity plea. The outsized antagonist is a true void – stating no one truly believes people like him can exist and repeatedly telling people not forget him, he's a walking warning monsters are real and around us.
Kurosawa's penchant for layering on social commentary is also present – Akiko's corporation is so large it outsources and doesn't control its own security, and her department, hastily thrown together to buy and sell art as commodity, technically doesn't exist. All this housed in a sallow, sickly building constantly trapping its occupants even without the help of a vicious killer. Kurosawa once named Hitchcock and Ozu as his influences, and GUARD FROM UNDERGROUND's direct blend of moody atmosphere and meat-and-potatoes suspense lands squarely between them.