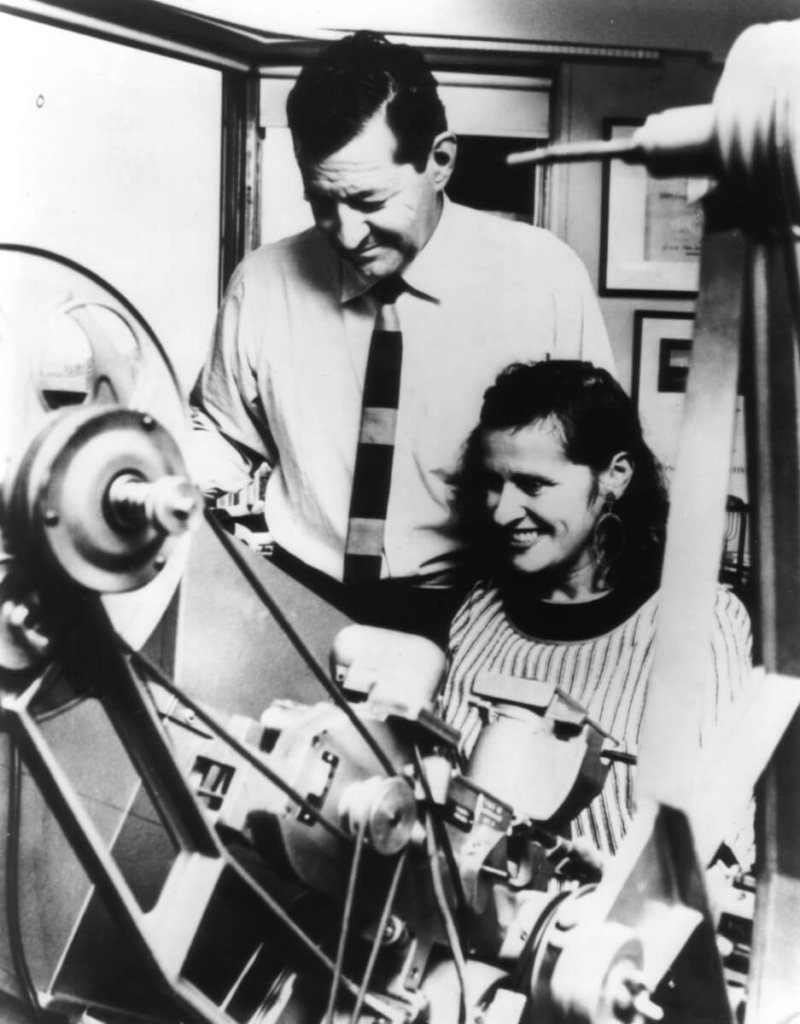 "We just wanted to make small, good films and raise a family. A terrific life." – Faith Hubley
This August, animator and filmmaker Emily Hubley will be at Spectacle for three discrete presentations of moving image work. The first is a selection of short films by her parents, the legendary animators John and Faith Hubley; the second is a survey of Faith's solo works, spanning from 1975 to 2001. Finally, Emily will present a selection of her own animations, many of them made in collaboration with her mother and siblings. All three screenings will be followed by Q&A.
John Hubley was an art director at Disney who would do innovative work in Hollywood before being blacklisted and moving East; like Theodore Geisel, he worked on some 1940s cartoons which are, in hindsight, jawdroppingly progressive: he produced and storyboarded Chuck Jones' United Automotive Workers' short HELL-BENT FOR ELECTION (1944), which features a burly laborer not dissimilar from the ones in Russian Constructivist murals, and production-designed United Productions of America (UPA)'s THE BROTHERHOOD OF MAN (1946), an anti-racism PSA that would later serve as evidence that the company was steeped in "un-American" politics. But it was Hubley's partnership with his wife Faith (herself a lifelong feminist and antifascist who had worked a number of jobs in Hollywood) that would result in some of the most beguiling alternative cartoons to emerge from the postwar period. Their careers straddled old-guard animation under the protectorates of Disney and Warner-size studios, and the emergence of avant-garde, experimental forms; their style was suffused with the kind of flat, jazzy modernism those same companies would ape in later years in order to save money on animation.
Working as a team, the Hubleys' collaborators included Dizzy Gillespie, Benny Carter, Herb Alpert, and Garry Trudeau and Ella Fitzgerald; they designed segments for Sesame Street and The Electric Workshop, and fielded a number of Academy Awards (as well as nominations.) Frequently casting their children as voice actors (notably in 1959's MOONBIRD, 1967's A WINDY DAY, and 1972's COCKABOODY – animated around audio recordings of the kids), the Hubleys strove to push animation ahead of what John called "pigs and bunnies". They continued to do that even after his untimely death at the age of 62 – in the middle of working with him on A Doonesbury Special, which would be finished by Faith and broadcast on NBC the following year. Faith Hubley would continue the family business, but with a style that broke off from the collaborations with her late husband. Her solo credits – starting with 1975's W.O.W. (WOMEN OF THE WORLD) – bundle together international forms and ancient mythologies. She would make 25 films between John's death and her own in 2001, including the metaphysical feature THE COSMIC EYE in 1986.
Much of it hand-drawn, Emily's animations pick up her parents' thread of drawing inspiration from everyday life: while her most famous work is probably the "Origin of Love" sequence in John Cameron Mitchell's HEDWIG AND THE ANGRY INCH, her 2009 feature THE TOE TACTIC toured nationwide and she has done music videos for her sister Georgia's band Yo La Tengo ("Before We Run") as well as Kate Vargas ("Call Back The Dogs"). Her shorts from the 80s and 90s betray a punk sensibility, but with a wry tenderness that's consistent with the movies she collaborated on as a child. We'll be showing a selection curated by Emily herself, plus her latest, BRAINWORM BILLY (made in collaboration with Max Rosenthal.)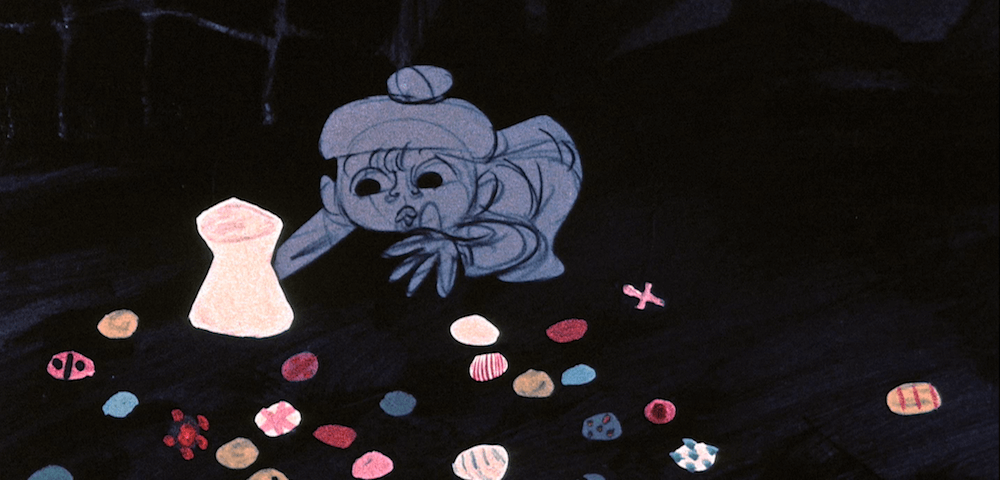 ( from MOONBIRD, 1959 )
FRIDAY, AUGUST 10 – 7:30 PM
Q&A with Emily Hubley
(This event is $10)
ADVENTURES OF AN *
10 mins. 1956.
MOONBIRD
10 mins. 1959.
COCKABOODY
9 mins. 1973.
UBRANISSIMO
6 mins. 1966.
ZUCKERKANDL
15 mins. 1969.
EGGS
10 mins. 1970.
THE HOLE
15 mins. 1962.
THE TENDER GAME
6 mins. 1958.
Total runtime: 82 mins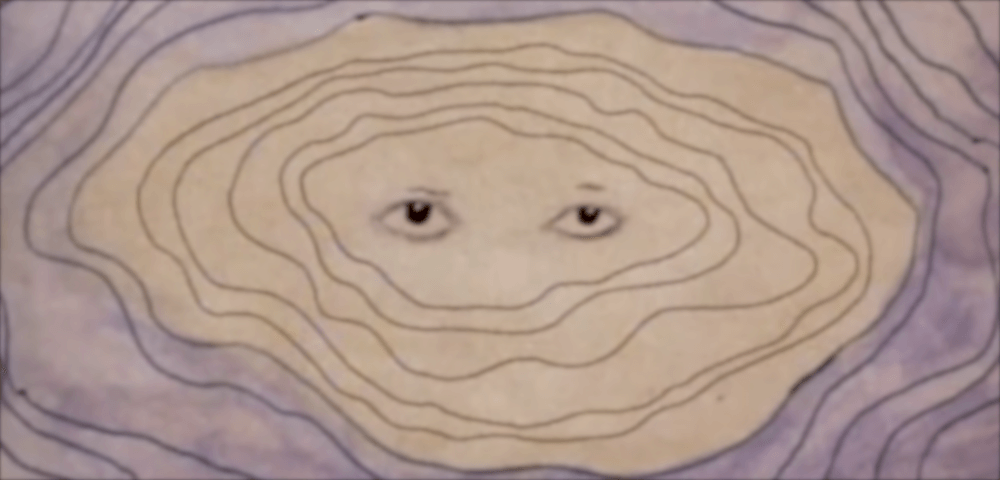 ( from MY UNIVERSE INSIDE OUT, 1996)
SHORT FILMS BY FAITH HUBLEY
SUNDAY AUGUST 19 – 5pm
Q&A with Emily Hubley
(This event is $10)
W.O.W. (WOMEN OF THE WORLD)
9 mins. 1975.
HELLO
9 mins. 1984.
TIME OF THE ANGELS
9.5 mins. 1987.
TALL TIME TALES
8 mins. 1992.
MY UNIVERSE INSIDE OUT
25 mins. 1996.
WITCH MADNESS
8.5 mins. 1999.
NORTHERN ICE GOLDEN SUN
6 mins. 2001
Total runtime: 75 mins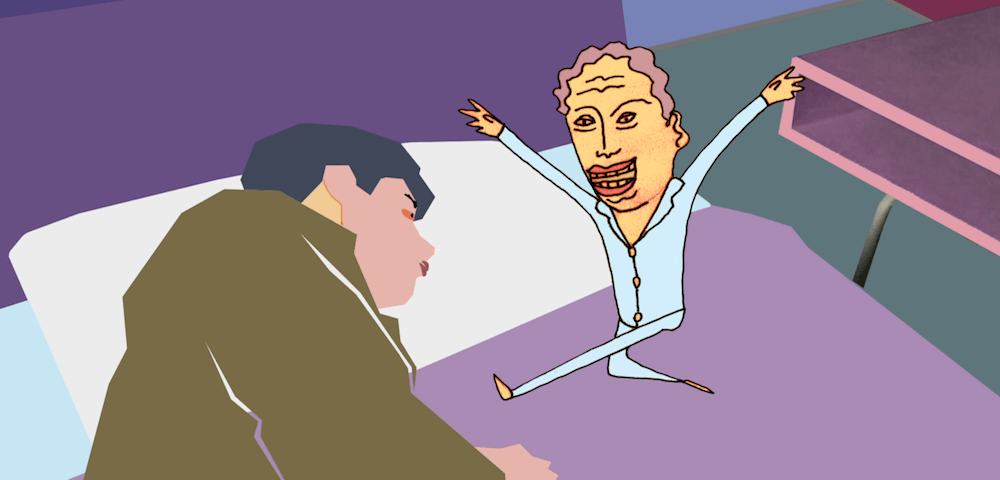 ( from BRAINWORM BILLY, 2018 )
SHORT FILMS BY EMILY HUBLEY
SUNDAY AUGUST 19 – 7:30 pm
Q&A with Emily Hubley (This event is $10)

ONLINE TICKETS HERE
DELIVERY MAN
7.5 mins. 1982.
THE TOWER
10.5 mins. 1984.
made with Georgia Hubley.
ENOUGH
5 mins. 1993.
HER GRANDMOTHER'S GIFT
4.5 mins. 1995.
ONE SELF: FISH/GIRL
10 mins. 1997.
PIGEON WITHIN
4.5 mins. 2000.
SET SET SPIKE
6 mins. 2002.
OCTAVE
7 mins. 2006.
HAIL
3 mins. 2011.
WRITE BACK
5 mins. 2013.
CALL BACK THE DOGS
4 mins. 2016.
PARAFFIN
5 mins. 2017.
AND/OR
5.5 mins. 2012.
BRAINWORM BILLY
2.5 mins. 2018. made with Max Rosenthal.