The kind of revelatory discoveries that give intrepid cinephiles faith there are always more would-be classics left to uncover, György Szomjas's so-called "goulash westerns"—perhaps the first and only examples, and a genre unto themselves—blend period-specific social realism, documentary-level research, and extreme cinematic stylization and violence into something suggesting an unlikely marriage of Sergio Leone and Miklós Jancsó. They turn the "Ostern" or "Red Western" genre — better known for its more plentiful USSR, Czech, East German, and Romanian iterations — completely inside out, representing works that make serious, sobering inquiries into historical change while artlessly reconfiguring genre tropes.
Though we had previously screened THE WIND IS WHISTLING UNDER THEIR FEET last year, subtitles for its follow-up, BAD GUYS, have only recently become available. A significant amount of work has been done by Spectacle to clean up its best-available video source, resulting in a presentation that's unlikely to be delivered anywhere else.

---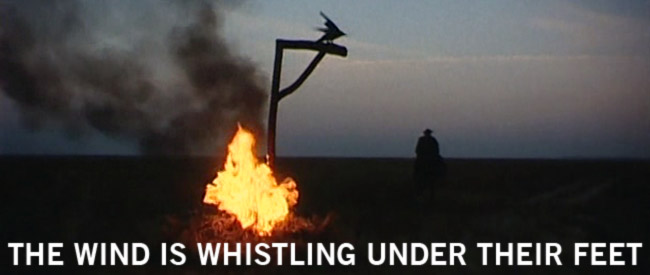 THE WIND IS WHISTLING UNDER THEIR FEET
Dir. György Szomjas, 1976.
Hungary. 95 min.
In Hungarian with English subtitles.
SUNDAY, JUNE 8 – 5:00 PM
SUNDAY, JUNE 22 – 5:00 PM
György Szomjas brings exquisite style and pacing to this elegiac gallows western about a betyár — a kind of highwayman popular in 19th century Hungarian balladry — set amid the Great Hungarian Plain in 1937. It follows the path of a brooding, aging outlaw newly escaped from prison whose personal revenge quest dovetails with the interests of the landless herdsman who oppose the state's building a canal through the fields on which they work their trade. He becomes an unlikely hero to unwashed vagabond workers while facing down a mutually-admiring adversary in the form of a forthright squire who had captured him before. Meanwhile, an opportunistic youngster attempts to work both sides to his benefit. As ditches are dug for canals and corpses alike, the state puts increasing pressure on the wistful squire, who realizes the social order is changing and his fortunes are in decline; and yet he remains dutifully attached to his mission.
Though carefully paced and based on historical documents, THE WIND IS WHISTLING UNDER THEIR FEET aims squarely for populist appeal. The autumnal palette, period imagery, and sudden outbursts of hysterical grotesquery recall Andrzej Żuławski's THE DEVILS. Yet most of all it brings to mind the unlikely grouping of Woody Guthrie, Miklós Jancsó, and Akira Kuroswawa — or maybe Béla Tarr meets Sergio Leone. Whatever the comparisons, THE WIND IS WHISTLING UNDER THEIR FEET is a stirring, forgotten gem in classic Spectacle tradition and not to be missed.
Trigger warning: Realistic animal violence 

---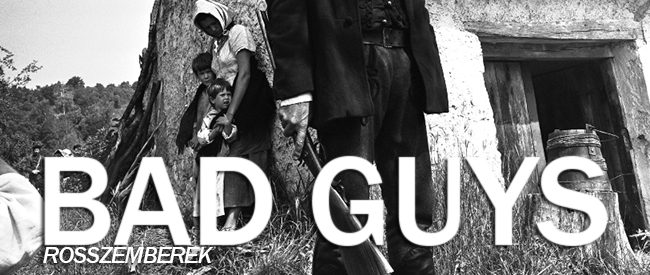 BAD GUYS
Dir. György Szomjas, 1979.
Hungary. 85 min.
In Hungarian with English subtitles.
SUNDAY, JUNE 8 – 7:30 PM
FRIDAY, JUNE 13 – 7:30 PM
SUNDAY, JUNE 22 – 7:30 PM
The year is 1864. Beginning with a brief historical treatise on the Revolution of 1848's dissolution of Hungary's feudal agriculture system and poor farmers' struggles to adapt to capitalistic reorganization of society, then followed by a violent raid that leaves a judge with a knife in his gut and a bullet through in his heart, BAD GUYS is one of the most bleak, unremittingly violent leftist westerns ever made, making Sergio Leone's DUCK, YOU SUCKER! look like QUACKBUSTERS.
THE WIND IS WHISTLING's Dzsokó Roszics plays the opposite side of the law as peacekeeper Hegyessy, who is on the trail of bandits led by the notorious peasant outlaw Jóska Gelencsér. Though Gelencsér has been evading the law in part due to his popularity with the common masses, his previously non-violent group's murder of a landowning judge has drawn increased pressure from the elite for Hegyessy to bring Gelencsér and his men to justice. And yet the lawman's efforts to deliver their wishes are reeled in at every turn for fear they might damage the elites' other capitalistic interests. Meanwhile, Gelencsér's second-in-command hatches a plan with his wife to sell the group out in a bid for clemency, carefully orchestrating each betrayal so that they appear to originate from outsiders, whom the Gelencsér begins to savagely tear through, leaving a trail of guts and spilt goulash in their wake.
The Hungarian title, Rosszemberek, could also be translated to "Bad People" or "Wrong-Doers" — it's not about "bad guys" in the stock genre sense so much as full-formed characters who are rotten to their core and determined to inflict their ugliness on decent people; the black undertow of historical sea change. There are clear villains, but no heroes—only those wise enough to accept their own helpless lot while the evil divide spoils and death.
Trigger warning: Realistic animal violence