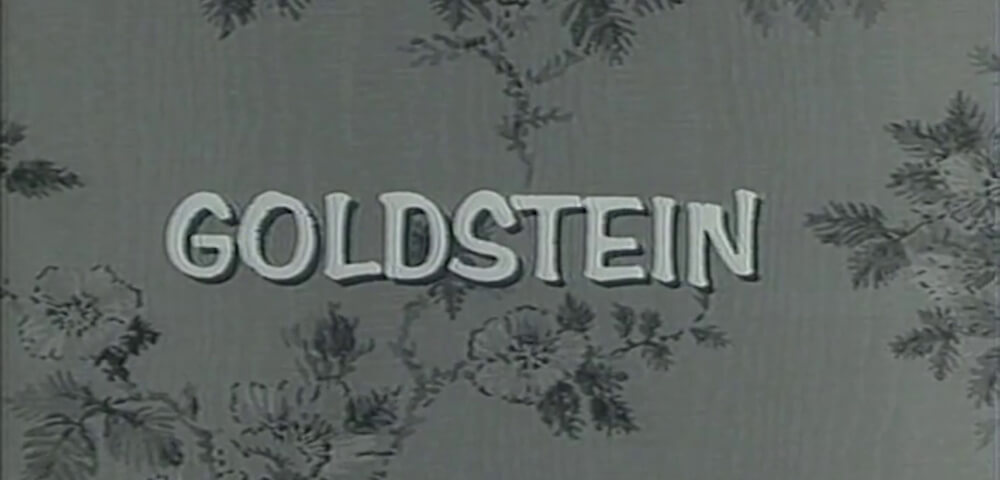 GOLDSTEIN
dirs. Philip Kaufman and Benjamin Manaster, 1964
85 mins. United States.
WEDNESDAY, JUNE 5 – 10 PM
SUNDAY, JUNE 9 – 5 PM
SATURDAY, JUNE 15 – MIDNIGHT
MONDAY, JUNE 17 – 10 PM
SUNDAY, JUNE 23 – 5 PM
WEDNESDAY, JUNE 26 – 7:30 PM
A curious document of mid-'60s low-budget filmmaking, GOLDSTEIN is the directorial debut of Philip Kaufman (THE RIGHT STUFF, INVASION OF THE BODY SNATCHERS remake, and co-creator of Indiana Jones, etc). Initially conceived as a novel inspired by Martin Buber and Yiddish folklore, Kaufman was urged by Anais Nïn to turn it into a mystical screwball film. Enlisting many of the major players of the Second City Troupe (Del Close, Viola Spolin, Severn Darden), plus comedian Jack Burns, author Nelson Algren, and a pre-SHADOWS Ben Carruthers (did you know his son was the original drummer of Megadeth?), it's a free-wheeling parade of mid-century improvisational acting and a tour of '60s Chicago. Most impressively, the film was photographed by Aldofas Mekas, whose ingenuous camera-sense shows with some very adhoc tracking shots and creative use of widescreen. It debuted at Cannes in May 1964, where it was lauded by the likes of Jean Renoir and Francois Truffaut and took home the Prix de Nouvelle Critique — though viewers expecting magisterial arthouse should look elsewhere, because GOLDSTEIN is pure American scrap.