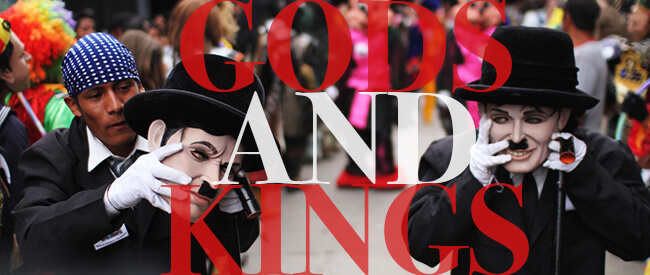 GODS AND KINGS
Dir. Robin Blotnick, 2012.
87 min.
In Spanish and English with English subtitles.
SUNDAY, JULY 17 – 7:30 PM ** Filmmaker in attendance! **
FRIDAY, JULY 22 – 7:30 PM ** Filmmaker in attendance! **
SUNDAY, JULY 31 – 5:00 PM
Momostenango, a little town in the Guatemalan highlands, is experiencing a curious cultural revival through its unique Disfraz dance, in which volunteer dancers parade through religious festivals dressed in masks and costumes inspired by villains from contemporary pop culture of mostly Western origins. GODS AND KINGS explores this bizarre new custom by dissecting the history of faith, tradition, and colonialism in Guatemala. Rich in anthropological insights, the film interweaves colorful documents of the dances with archival footage and conversations with experts and the participants themselves to provide a vivid look at the power of images on culture in today's globalized world.
This ethnographic gem has not been seen by many outside its festival runs. Spectacle is proud to present two screenings this month with filmmaker Robin Blotnick in attendance. Robin Blotnick is a Brooklyn-based filmmaker whose latest award-winning feature-length documentary The Hand That Feeds, co-directed with Rachel Lears, follows the inspiring story of a group of undocumented workers in an Upper East Side bakery fighting for fair wages and an end to abusive working conditions.