This April, Spectacle is pleased to present the first ever New York City retrospective of the films of Eric de Kuyper. Perhaps best known for co-writing Chantal Akerman's JE, TU, IL, ELLE; LA CAPTIVE and DEMAIN ON DEMENAGE, the Flemish-Belgian critic and semiologist has directed several films of his own, from 1982's CASTA DIVA to 2015's MY LIFE AS AN ACTOR. Predominately preoccupied with homosexuality, film theory, and its modes of expression, de Kuyper's oeuvre – as captured in this four film survey – is at once academic and affecting, eminently referential and utterly his own.
Special thanks to Eric de Kuyper.
---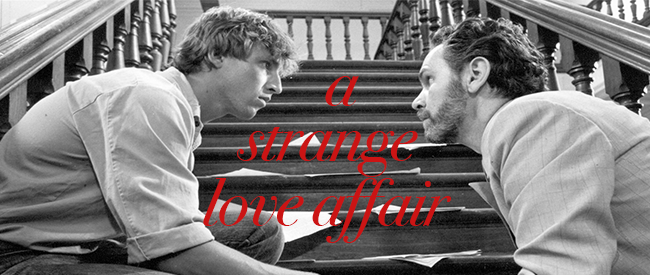 A STRANGE LOVE AFFAIR
Dirs. Eric de Kuyper & Paul Verstaten, 1985.
The Netherlands, Belgium. 95 mins.
In English with German subtitles.
TUESDAY, APRIL 5 – 7:30 PM
SUNDAY, APRIL 17 – 7:30 PM
MONDAY, APRIL 25 – 10:00 PM
Far and away the most narratively straight-forward of de Kuyper's films, A STRANGE LOVE AFFAIR is a bracing yet tender dissection of middle age and loves lost, a joint homage to BRIEF ENCOUNTER and ALL THAT HEAVEN ALLOWS. Shot by the legendary Henri Alekan (WINGS OF DESIRE, BELLE ET LA BETE), the film revisits JOHNNY GUITAR'S query as to whether or not relationships once interrupted can be revived under the right circumstances. In rather reflexive fashion, de Kuper casts Howard Hensel as Michael, a 40-something film professor, who falls in love with one of his students. When the two take off to London for a weekend, Michael uncovers that his student's father is in fact his former lover from 15 years prior. With its deliberate dialogue and restrained camerawork, A STRANGE LOVE AFFAIR captures the reticence and taboos surrounding not only gay love affairs, but also those hampered by the passage of time.
---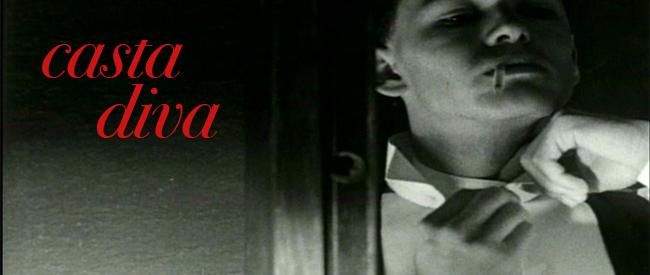 CASTA DIVA
Dir. Eric de Kuyper, 1982.
Belgium. 105 mins.
In English with some French.
SUNDAY, APRIL 3 – 7:30 PM
MONDAY, APRIL 18 – 7:30 PM
FRIDAY, APRIL 29 – 7:30 PM
With his directorial debut, de Kuyper pushed the concept of the (gay) male gaze to its zenith. Drawing from the likes of Genet, Visconti and Warhol, CASTA DIVA is composed of uninterrupted takes of men going about quotidian tasks – getting dressed, fixing their cars, going for a dip – all the while preparing for an unseen theater piece. Where his queer forerunners like Paul Morrissey and John Waters fixated on femininity as a construct, de Kuyperis keen to dissect the performativity of masculinity and the relationship between the camera and its object. At some points, de Kuyper can even be heard directing his actors to angle their heads just so, in a conspicuous break of the fourth wall.
---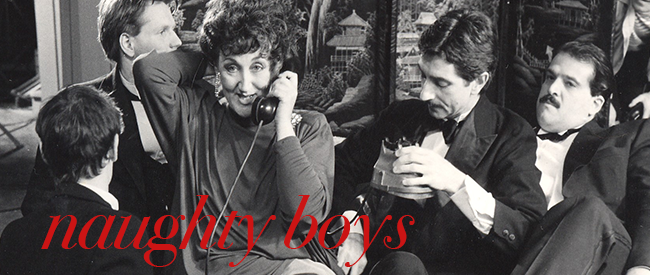 NAUGHTY BOYS
Dir. Eric de Kuyper, 1984.
The Netherlands. 105 mins.
In English with some French and German subtitles.
WEDNESDAY, APRIL 6 – 10:00 PM
TUESDAY, APRIL 12 – 7:30 PM
FRIDAY, APRIL 22 – 10:00 PM
Billed as a "sad musical comedy," NAUGHTY BOYS is more along the lines of a never-ending dinner party: less EXTERMINATING ANGEL than a revisionist, structuralist send up of old Hollywood. Using the lofty architecture of a drafty mansion, de Kuyper allows us to peer inside the distant interactions of a coterie of tuxedo clad men and their occasional "fag hags" as they pass the evening chatting, wrestling, singing, crying and cozying up in bed.
---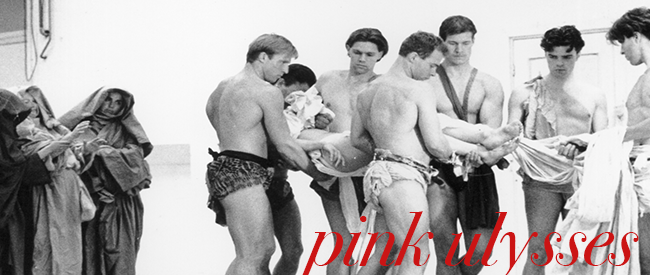 PINK ULYSSES
Dir. Eric de Kuyper, 1990.
The Netherlands. 98 mins.
In English with some Italian.
FRIDAY, APRIL 1 – 7:30 PM
THURSDAY, APRIL 7 – 7:30 PM
WEDNESDAY, APRIL 27 – 10:00 PM
De Kuyper's utterly singular exploration of the myth of Odysseus zig zags between theatrical reenactments, soused in production values, and simplistic black and white scenes of present day homoeroticism. Zeroing in on the properties of longing, and whether the object of one's desires can be supplanted by an imitation, PINK ULYSSES is a historical retelling unlike anything you've ever seen.