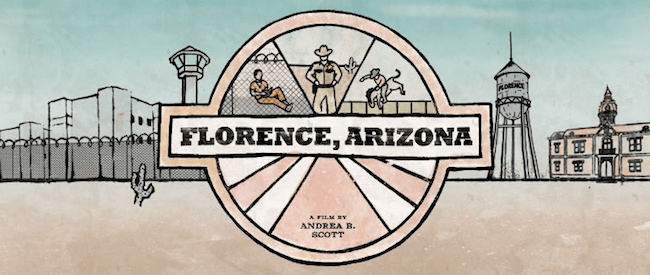 FLORENCE, ARIZONA
Dir. Andrea B. Scott, 2014
United States. 78 minutes.
TUESDAY, NOVEMBER 15 – 7:30 PM
Florence, Arizona is a cowboy town with a prison problem. Founded in 1866, this bastion of the Wild West is home to 8,500 civilians and 17,000 inmates spread over nine prisons. Through an unconventional lens, Andrea B. Scott's FLORENCE, ARIZONA weaves together the stories of four key residents, whose lives have all been shadowed in some way by the surrounding prison-industrial complex. The result is an intricately crafted cinematic tapestry, threaded through with deep strands of Americana, humor, intimacy, and pathos, revealing as much about ourselves as it does about our modern carceral state.
Festival Screenings / Awards:
DOC NYC
Camden International Film Festival
DOXA
Ashland Independent Film Festival
Collinsville Film Festival (Best Documentary)
Big Sky Documentary Film Festival
Greentopia Film Festival
Andrea B. Scott is a Brooklyn based documentary filmmaker and editor enamored with the worlds of Americana and nostalgia. Her debut feature length documentary FLORENCE, ARIZONA premiered at DOC NYC in November 2014. Her latest short film, JUST A DOG, premiered at Hot Docs in 2016 and was published online through The Nation. Andy edited the CNN documentary film, FRESH DRESSED and co-edited the Netflix documentary HOT GIRLS WANTED, both of which premiered at the Sundance Film Festival in January 2015. She was an editor and an associate producer on Participant Media's documentary A PLACE AT THE TABLE, directed by Kristi Jacobson and Lori Silverbush, which premiered at the Sundance Film Festival in January 2012 and was released nationwide by Magnolia Pictures. Andy recently edited a documentary about a bird hoarder from upstate New York, and is at work on several short films.
Q&A with the director following the screening!