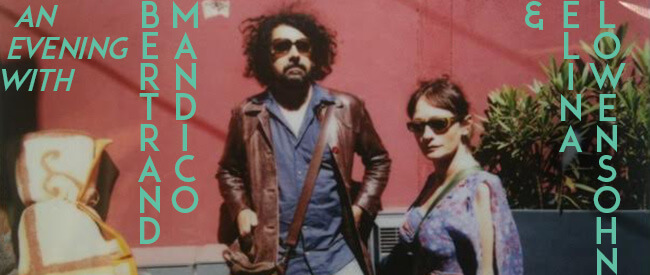 When we heard that our favorite analog film surrealist team Bertrand Mandico & Elina Löwensohn would be coming to Brooklyn for a new project this summer, we couldn't resist inviting them to host and curate their own night at Spectacle. To any who attended the two-part retrospective of their work together last fall, you already have an idea of what to expect: extreme stylization, grainy black and white or else radiant colors ripening to the edge of decay, constant invention in form and style, baroquely artificial sets, experimentation with the lurid immediacy of genre cinema, and the rich aesthetics of film as a material medium. What sets their work apart from that of many others in a similar vein is a unique sense of play in the material: these are films composed in complete joy at the possibilities of film.
Initially animation-trained director Bertrand Mandico's films are regulars on the international festival circuit, with his recent works with Löwensohn showing at festivals like Rotterdam, Venice, and Clermont-Ferrand among many others. Elina Löwensohn, whose long list of credits began wih Hal Hartley's SIMPLE MEN and AMATEUR as well as Philippe Grandrieux's SOMBRE (and even SEINFELD), isn't just the star of many of these films, but also often co-writes, hand-processes footage, and recently co-directed ODILE DANS LA VALLÉE which we'll be showing for the first time. In fact, none of the five films we'll be including this program, spanning from Mandico's earliest to the latest collaborative works co-written by the two, have been shown here before.
FRIDAY, JULY 14 – 7:30 PM
FULL PROGRAM:
IL DIT QU'IL EST MORT (Bertrand Mandico, 2006)
SOUVENIRS D'UN MONTREUR DE SEINS/ MEMORIES OF A BOOBS-FLASHER (Bertrand Mandico, 2014)
ODILE DANS LA VALLÉE / ODILE IN THE VALLEY (Bertrand Mandico & Elina Lowensohn, 2017)
Y-A T-IL UNE VIERGE ENCORE VIVANTE? / IS THERE A VIRGIN LEFT ALIVE? (Bertrand Mandico, 2015)
LE CAVALIER BLEU (Bertrand Mandico, 1998)
PLUS a selection of Bertrand Mandico's favorites and inspirations from other filmmakers, but you'll have to join us to find out what those are!