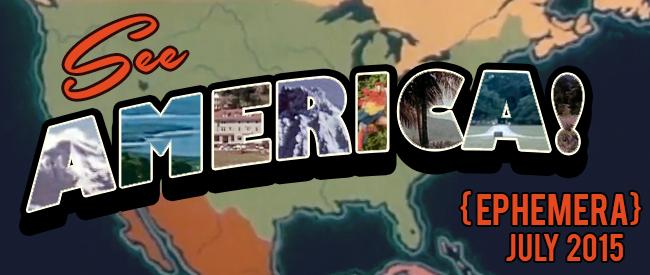 EPHEMERA: SEE AMERICA!
Dir. Various, 1939s-1970s.
USA, ~80 min., Color/B&W
SUNDAY, JULY 5 – 5:00 PM
MONDAY, JULY 13 – 7:30 PM
FRIDAY, JULY 24 – 7:30 PM
Our monthly EPHEMERA program aims to present educational films from the post-war era without the usual ironic framing, letting the films' genuine charm and dated sensibilities shine through on their own.
Stuck at work on another gorgeous day? Longing for better times and warmer climes but trapped in city grime? Hit the road (and by road I mean screen) with Spectacle in July's series, SEE AMERICA!, an optimistic trip across these United States.  
Back before they were haunted by fear and a failing economy, Americans worked hard and played even harder. Vacations weren't relaxation so much as tactical planning opportunities swayed by tourism boards, cotton corporations, car dealers and the Government itself. But the blatant commercialism was win-win: you and your family enjoyed the country's cultural capital (state fairs, museums, historic points and cities) or natural beauty (parks, beaches, well-maintained highways), and the economy was bolstered for everyone!
Today's sad state of affairs, with 'staycations', 'long-term unemployment' and the least stable leisure time for average Americans since labor laws were passed, leaves little time for relaxation, with less to enjoy the journey itself. Travel used to be half the fun, whether lounging on a cruise, enjoying a four-course seafood banquet on a luxurious modern jet, or just cruising down the highway in the family car. Nowadays cruises are floating plague ships, planes charge double for the privilege of cramming you in, and gas prices hike ever upward.
SEE AMERICA! looks back at a time when Americans' commercial capitalism and can-do attitude were harnessed on both sides of the lens to entice and enjoy the land's wondrous sites. Whether visiting a tax-built National Park or dangling a Route 66 tourist trap, there is genuine enjoyment surrounding the films. Selections include several home movies from the 40s and 50s,  visits to newly-acquired commonwealth Puerto Rico, southwestern fashion shoots and tips on long car trips. Come SEE AMERICA! with us this July!
Special thanks to the Internet Archive, Rick Prelinger and everyone at the Prelinger Archive.
Rick Prelinger began collecting "ephemeral films"— educational, industrial, amateur, advertising, or otherwise sponsored—in 1982, amassing over 60,000 on physical film before his collection was acquired by the Library of Congress in 2002. Since then, the Prelinger Archive has grown and diversified: it exists in physical library form in San Francisco and is gradually being ported online to the Internet Archive (http://archive.org), where 6,490 of its films are currently hosted (as of this writing).
The contents of the Prelinger Archive vary in accord with humanity. Historic newsreels, mid-century automobile infomercials, psychological experiments, medical procedurals, big oil advertisements, military recruitment videos, political propagandas, personal home videos, celebrity exposes, amateur narratives, scientific studies, war bulletins, instructional films, special interest op-eds, safety lessons, hobby guides, travel destination profiles and private industry productions all sit comfortably together in one marginalized category. Get both sides of it- the polished lure of tourism boards and the rough-edit and poorly focused home movies at the actual sites.