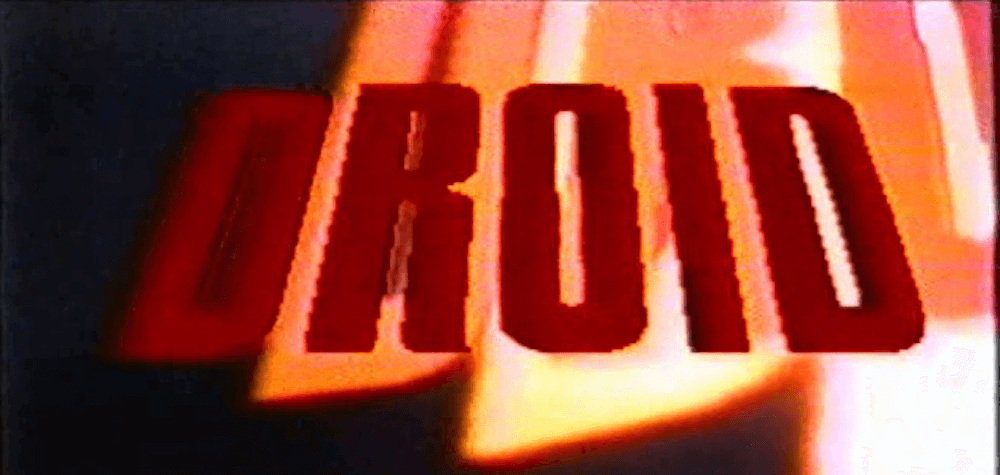 DROID
dir. Philip O'Toole
USA, 1988

FRIDAY, DECEMBER 1 – MIDNIGHT
FRIDAY, DECEMBER 8 – 10 PM
SATURDAY, DECEMBER 9 – 5 PM
For anyone who found BLADE RUNNER 2049's perfume-ad gloss just a little too savory, DROID offers up a smokey, neon underworld of trashy dive bars, virginal sex robots, and trombone masturbation. Though it masqueraded as a sci-fi feature directed by "Peter Williams" upon its VHS release, the film is actually entirely comprised of footage form two hardcore porn films by Philip O'Toole, CABARET SIN (1987) and EMPIRE OF THE SINS (1988), but with anything explicit excised. Influenced by the likes of CAFE FLESH and LIQUID SKY, and with a plot lifted wholesale from BLADE RUNNER, DROID is some admirably audacious future sleaze even as it trips all over itself to cut to disguise the fact that it originated purely as a vehicle for sex, repeatedly cutting to some totally inexplicable images along the way.
The (discernible) story takes place in a future LA overrun by leather-clad, depraved police robots called Reformers. A human cop named Taylor, brought in for one last job and somehow sounding even more hungover and world-weary than Harrison Ford in his expository voicover, is pitted against them in the search for a stolen "decoder" ("where is the dee-coder?" Taylor frequently barks). Between the film's countless lounge act interludes, there's a perfectly enjoyable Vangelis-knockoff synth score credited to the grammatically suspect "Cinema Symphony's."