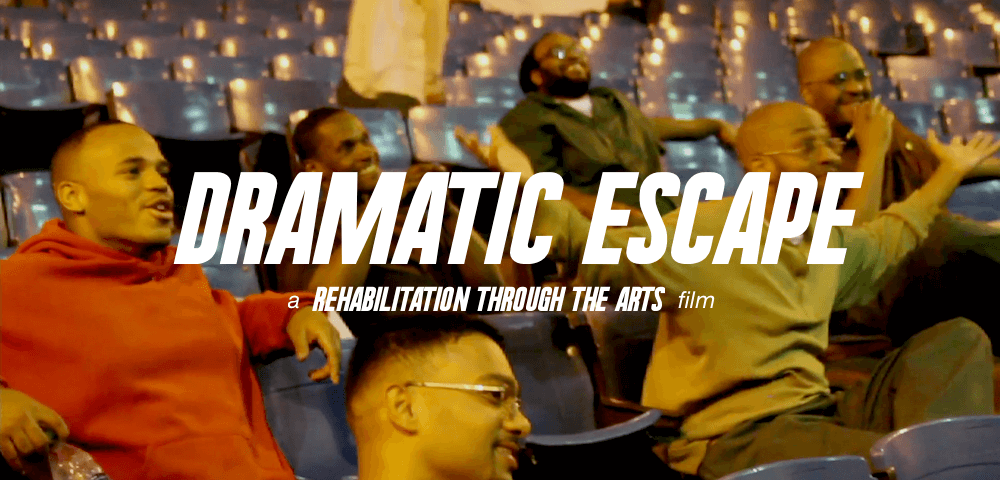 DRAMATIC ESCAPE
dir. Nick Quested, 2015
90 mins. United States.
TUESDAY, APRIL 24th – 7:30 PM
ONE NIGHT ONLY!
This event is $10.
Nick Quested's DRAMATIC ESCAPE is a documentary transporting viewers into the lives of maximum security prisoners at Sing Sing in Ossining, NY, as they mount a stage production of A Few Good Men. From auditions through curtain call, the men reveal their personal stories, their everyday struggles and the importance of the arts in their journeys. Sing Sing is a maximum security prison on the east bank of the Hudson River, 30 miles north of New York City.
The film is hopeful and inspiring, despite the gritty reality of maximum-security prison. Meet the self-described street thug in his second prison term. "Not convinced" by the short sentence in his previous bid, he immediately returned to crime, and is now serving 16 years. Meet a gang leader whose people thought he was crazy for giving up violence, or an RTA member in an "Aha!" moment, as he catches himself reacting angrily to an innocent situation and realizes that acting on impulse is exactly what landed him in prison. Witness their everyday struggle with what they have done and listen as they contemplate whether redemption is ever achievable either to themselves or to the outside world.
The mission of RTA is to use the transformative power of the arts to develop social and cognitive skills that prisoners need for successful reintegration into the community. Rehabilitation Through the Arts also seeks to raise public awareness of the humanity behind prison walls. Most importantly, RTA reduces recidivism. Nationally, the recidivism rate is more than 60%. In NY, it's 43%. With a twenty one year history behind them, RTA's is 7%!
Following DRAMATIC ESCAPE, Charles Moore and Clarence Maclin – both alumni of RTA in Sing Sing – will join the audience for a live Q&A. (Clarence is the central focus of the documentary, and Charles is RTA's first formerly incarcerated staff member.)