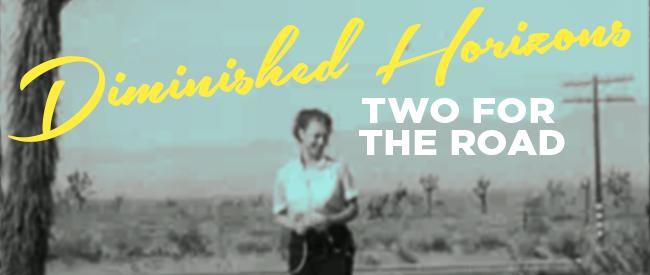 Just in time for fall's trudge back to work, SPECTACLE presents a double dose of sun-soaked open roads from a past promising novelty and excitement with every detour. These films capture types of travel and vacation nearly extinct today, when airlines have ellipsed the country to coastal spots and a few destinations between, and efficiency's eliminated small pleasures like roadside attractions and scenic views that made driving worth the effort. The two films present America as it was and as it wished to be seen: while EPHEMERA: SEE AMERICA! revels in the commercial side of travel films (and their attendant staginess), Rick Prelinger's NO MORE ROAD TRIPS? offers the inverse, imposing no outside narrative on its home movies save for arranging them into a bicoastal journey. Come see America's vast promise and dimmed hopes this September at SPECTACLE!
---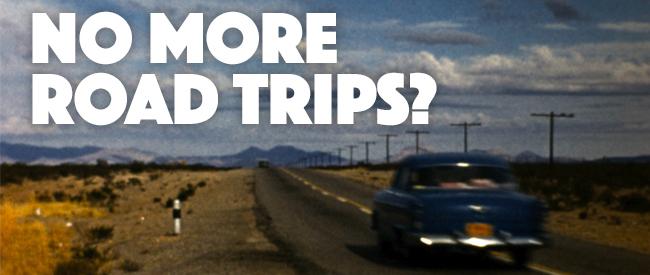 NO MORE ROAD TRIPS?
**W/ LIVE SCORE BY SULLEN PROSPECTOR**
Dir. Rick Prelinger, 2013.
USA. 70 minutes.
SATURDAY, SEPTEMBER 10 – 7:30PM & 10:00PM
Rick Prelinger's coast-to-coast compilation of "private views of the public land" takes us on a physical and temporal journey through America, captured by its own citizens enjoying their country. This is evidentiary cinema, which in Prelinger's own words:
…privileges original documents, putting them before an audience whose appreciation of the evidence completes the film. I produce a portion of the film; the audience makes the rest. Right now, this happens through questions, answers and conversations in the dark. Indeed, it could happen by many means – tweeting, remixing, call and response.
In Spectacle's case, we ask you to please join Sullen Prospector for a transcontinental journey across our great nation as Zach and Dan (formerly of Archie Pelago) perform live and inside the incredible mosaic of footage compiled in NO MORE ROAD TRIPS? Combining live saxophone, vocals, found sound and field recordings as well as choice selections of classic folk and ambient Americana, this live scoring effort will be predominantly improvised and reactionary as the film traverses a series of gorgeous and timeless recorded experiences of the American Road Trip. Emphasizing a balance of acoustics, electronics and sound design, the score will explore textural and rhythmic ideas as we hitch a few rides across this ol' United States.
---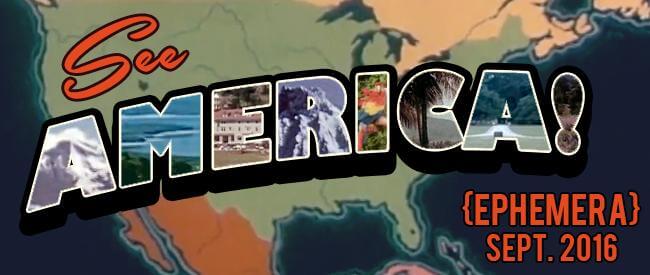 EPHEMERA: SEE AMERICA!
Dir. Various, 1939s-1970s.
USA. ~80 minutes.
SUNDAY, SEPTEMBER 4 – 5:00PM
MONDAY, SEPTEMBER 12 – 7:30PM
WEDNESDAY, SEPTEMBER 21 – 10:00PM
Our monthly EPHEMERA program aims to present educational films from the post-war era without the usual ironic framing, letting the films' genuine charm and dated sensibilities shine through on their own.
Stuck at work on another gorgeous day? Longing for better times and warmer climes but trapped in city grime? Hit the road (and by road I mean screen) with SEE AMERICA!, an optimistic trip across these United States.
Back before they were haunted by fear and a failing economy, Americans worked hard and played even harder. Vacations weren't relaxation so much as tactical planning opportunities swayed by tourism boards, cotton corporations, car dealers and the Government itself. But the blatant commercialism was win-win: you and your family enjoyed the country's cultural capital (state fairs, museums, historic points and cities) or natural beauty (parks, beaches, well-maintained highways), and the economy was bolstered for everyone!
Today's sad state of affairs, with 'staycations', 'long-term unemployment' and the least stable leisure time for average Americans since labor laws were passed, leaves little time for relaxation, with less to enjoy the journey itself. Travel used to be half the fun, whether lounging on a cruise, enjoying a four-course seafood banquet on a luxurious modern jet, or just cruising down the highway in the family car. Nowadays cruises are floating plague ships, planes charge double for the privilege of cramming you in, and gas prices hike ever upward.
SEE AMERICA! looks back at a time when Americans' commercial capitalism and can-do attitude were harnessed on both sides of the lens to entice and enjoy the land's wondrous sites. Whether visiting a tax-built National Park or dangling a Route 66 tourist trap, there is genuine enjoyment surrounding the films. Selections include several home movies from the 40s and 50s, visits to newly-acquired commonwealth Puerto Rico, southwestern fashion shoots and tips on long car trips. Come SEE AMERICA! with us this September!