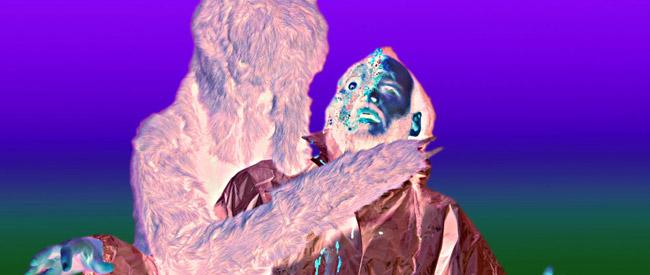 DIGNITY
Dir. James Fotopoulos, 2013
USA, 82 min.
NEW YORK CITY PREMIERE! ONE NIGHT ONLY!
James Fotopoulos in attendance
THURSDAY, MAY 22 – 7:30 and 10:00 PM
Don't miss James Fotopoulos at UnionDocs as he presents a 16mm screening of Families (2012). Fotopoulos will be joined in conversation with Rebecca Cleman of EAI.
Starring David and Nathan Zellner (filmmakers, KUMIKO THE TREASURE HUNTER, KID-THING) and featuring music by Thurston Moore (Sonic Youth)
Spectacle is pleased to host the New York City premiere of DIGNITY, the latest lo-fi sci-fi digital whatsit by prolific artist James Fotopoulos, who will be in attendance at both shows.
Agents Mr. Rainbow and Mr. Lamb (the Zellners) are sent to an alien planet fighting a civil war. Their mission to destroy a perpetual motion machine is interrupted by their capture. While their interrogations proceed the two men struggle to come to terms with their suffering and pending death.
DIGNITY uses the minimal structure of a sci-fi B-film, the high artifice of painted backdrops, prosthetic horror effects, psychedelic noise soundtrack and early digital techniques to flesh out the philosophical ideas ranging from the stoic writings Marcus Aurelius to the fantasy prison drawings of Giovanni Battista Piranesi.
"There is a strong case to be made that James Fotopoulos is the greatest experimental filmmaker of his generation. DIGNITY is a perfect example of his recent style. No body of work is more single-mindedly relentless in its programme of defamiliarising the familiar than James Fotopoulos'. This is what makes him such an essential artist."
-Maximilian Le Cain, Experimental Conversations
ABOUT THE ARTIST
The prolific and critically acclaimed work of James Fotopoulos has been screened and exhibited at many sites across the world, including the International Film Festival Rotterdam, MoMA PS1, Sundance Film Festival, Walker Art Center, 2004 Whitney Biennial, New York Museum of Modern Art, Museum of Art and Design, London Film Festival, Festival del Film Locarno, Anthology Film Archives and Andy Warhol Museum, among many others. In 1998, Fotopoulos founded Fantasma for the production of his second feature film MIGRATING FORMS (1999). In 2005 he was the recipient of a Creative Capital Grant. Primarily a feature filmmaker, Fotopoulos has worked in a wide range of mediums from video art installation to drawing and writing.