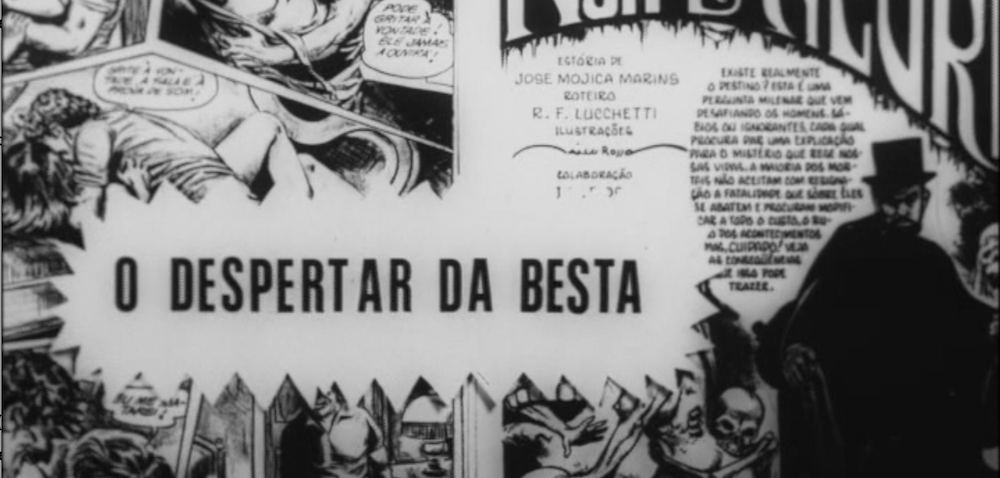 AWAKENING OF THE BEAST
Dir. José Mojica Marins, 92 mins.
Brazil, 1969
SATURDAY, DECEMBER 1 – 10 PM
FRIDAY, DECEMBER 7 – 10 PM
TUESDAY, DECEMBER 11 – 10 PM
THURSDAY, DECEMBER 20 – 7:30 PM
SATURDAY, DECEMBER 22 – 10 PM
Perhaps Awakening of the Beast is considered Marin's greatest film by many of his admirer's because it is the first film made after the establishment of Zé do Caixão's iconography in the Brazilian cultural lexicon. This familiarity allowed Marins to modulate Ze's role in the horror films featuring the character starting with and following this film, accentuating the paranormal, dreamlike quality that was achieved once Zé became the demonic puppetmaster lurking in the subconscious, rather than the focus of the narrative, constantly seeking to assert his dominance.
Indeed, we do see constant reference to and manipulation of Marins' image throughout Awakening of the Beast, as his visage appears both on TV as himself, and as Zé do Caixão across various media including comic books and a hallucinogenic-trip-inducing poster. This newfound recognition of the potential held for the proliferation of Zé's image through contemporary mass media lead Marins to probe the countercultural issues of his day in Brazil, resulting in Awakening's focus on recreational drug use, (Sadistic) sexual liberation, and the political repression carried out by the second, more severe military "coup within the coup" in the Brazilian government that occurred 1968.
Truly, Awakening of the Beast remains Marins' most potent political film, as it juxtaposes its scenes of violent repression enacted by the dictatorship upon "subversives" against a panel of condescending psychiatric figures, rejecting both physical and institutional forms of coercive despotism. Featuring both a hellacious color sequence that rivals that of This Night I'll Possess Your Corpse, and other figures from the "udigrudi" Brazilian cinematic movement (such as Ozualdo Candeias, Carlos Reichenbach, and Jairo Ferreira), the third film in the Coffin Joe saga remains a Brazilian countercultural milestone that deserves to be regarded as such.
---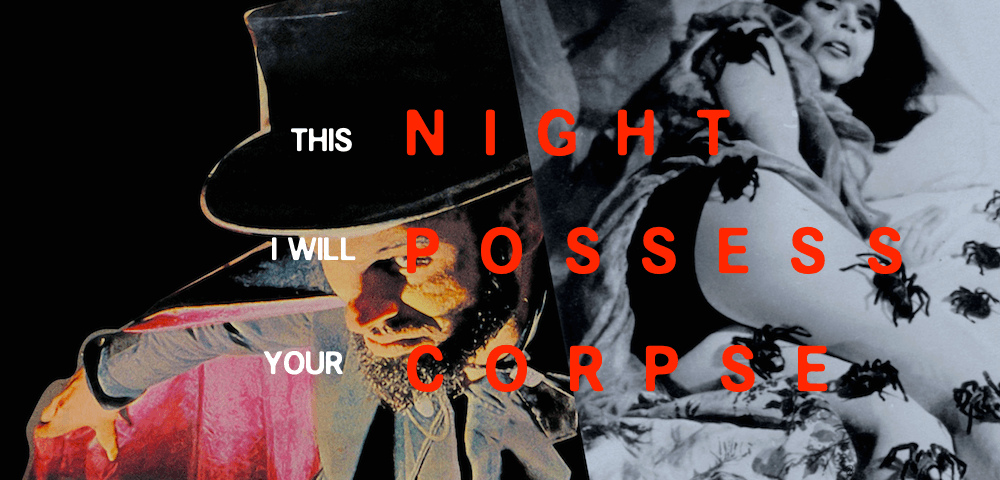 THIS NIGHT I'LL POSSESS YOUR CORPSE
Dir. José Mojica Marins, 1967
Brazil, 109 mins.
FRIDAY, NOVEMBER 2 – 10 PM
TUESDAY, NOVEMBER 6 – 10 PM
MONDAY, NOVEMBER 12 – 10 PM
SATURDAY, NOVEMBER 17 – 7:30 PM
WEDNESDAY, NOVEMBER 21 – 7:30 PM
An unsuspecting viewer need only watch the opening credits of THIS NIGHT I'LL POSSESS YOUR CORPSE to understand the tenor of what they are stepping into, if not the scope. The second installment in José Mojica Marins' instantly iconic saga chronicling of the tribulations of Zé do Caixâo (known as Coffin Joe to his international audience) begins with a concise introductory sequence that covers both the catch-up from the first film and the exposition for the current one, thrust forward by the narrative's need to reach the point where Zé resumes his quest to secure the object of his obsession: a heir to his bloodline.
Working in no less an allegorical mode than its Cinema Novo contemporaries (though Marins certainly aligned more closely with the udigrudi movement), Zé's frenzied reign of terror resemble the repressive tactics of Brazil's military regime—already three years underway by the time of THIS NIGHT's release—in no small significance. Ze's actions are nothing less than evil, both in its ideal form and its politically violent manifestations, and actions such as diving in front of an out-of-control motorcycle to save a child's life are always underpinned by the sour deliverance of conservative diatribe extolling the superiority of those who secure their lineage. Murder and torture abound, driven solely by Zé's mania. These neofascist ideals represented by the figure of Zé do Caixâo invite a critical view to the work that historically place and render its subversive values active in the radical Brazilian discourse of the 1960s and 70s.
No less a constructing factor in the analysis implied here is the underdeveloped modes of production and technical quality that is characteristic of the Brazilian underground, signaled here by many elements—not the least of which is the fact that in the negative of the film remain copious evidence of tape splicing accompanying the edits, an almost subliminal reminder of the conditions under which Marins was working. And yet, it is clear that in the small span of time between AT MIDNIGHT I'LL TAKE YOUR SOUL and THIS NIGHT I'LL POSSESS YOUR CORPSE, Marins progressed an incalculable amount in technical skill, as well as popularity, one of the elements which allowed the freer sense of experimentation in the latter film, epitomized by its mesmerizing representation of Hell, rendered in phantasmagoric color.
Content advisory – This film contains scenes of traumatic violence committed against women. While we believe these acts are dramatized with a critical perspective, we realize the adverse affect seeing such imagery potentially has on viewers.
---
PREVIOUSLY SCREENED, AS PART OF SPECTOBER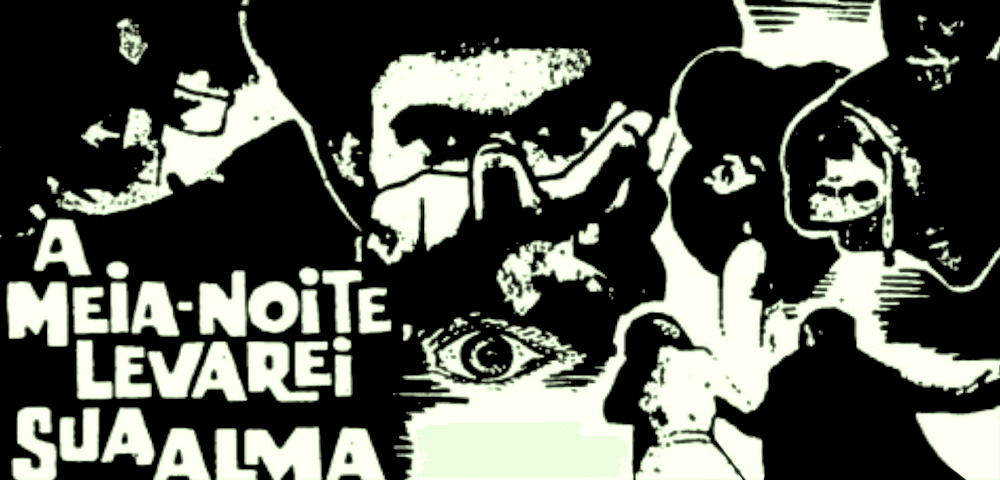 AT MIDNIGHT I'LL TAKE YOUR SOUL
(A MEIA-NOITE LEVAREI SUA ALMA)
Dir. José Mojica Marins, 1964
Brazil. 84 minutes.
In Brazilian Portuguese with English subtitles.
THURSDAY, OCTOBER 4 – 7:30 PM
SUNDAY, OCTOBER 7 – 7:30 PM
MONDAY, OCTOBER 15 – 10:00 PM
FRIDAY, OCTOBER 26 – 10:00 PM
"What is Life? It is the Beginning of Death. What is Death? It is the end of life. What is existence? It is the continuity of blood. What is blood? It is the reason to exist!" So ushers in both the twin obsessions of death and progeny in the cinema of Zé do Caixão, and the first incarnation of Brazilian horror cinema. José Mojica Marins entered into the iconographic canon a figure who is both constructed of pieces from other famous monsters and a wholly original, idiosyncratic, definitively Brazilian figure who has yet to be duplicated (possessing the most disgusting nails you're likely to come across).
With Marins' third film, AT MIDNIGHT I'LL TAKE YOUR SOUL, we are immediately familiarized with a fully-formed icon: the dreaded Zé do Caixão, whose reign of terror over the small mountain town in which he resides carries with it the certainty that the man is aided by the unnameable forces of evil.Operating on Nietzchean levels of religious irreverence and self-preservation, Zé's main concern is the securement of an heir, an end in which the fury of his conviction knows no bounds. Cruel sadism defines his interactions with nearly person he comes across, acts aided by his diverse repertoire of violent methods, including his sheer strength, fueled by disdain (more often than not in misogynistic iterations), tarantulas and other creepy crawlies, and the manipulation of fear on display in all of Zé do Caixão's appearances.While nothing in the diegesis explicitly reveals Zé's powers to be sourced in the devil, the dark surrealism of Marins' mise-en-scene never allows the film to leave the precarious position it holds on the edge of the supernatural.
Read over the years as an allegory for Brazilian military repression, a queer text, an epitome of paracinema, and countless other fields of discourse, AT MIDNIGHT I'LL TAKE YOUR SOUL undoubtedly kicks off one of cinema's most singular visions of an extended universe, held together by the essentially DIY ethic and "dirty screen" aesthetic that defines much of the Brazilian underground, a movement for which Spectacle holds nothing but whole-hearted admiration.
Content advisory – This film contains scenes of traumatic violence committed against women. While we believe these acts are dramatized with a critical perspective, we realize the adverse affect seeing such imagery potentially has on viewers.