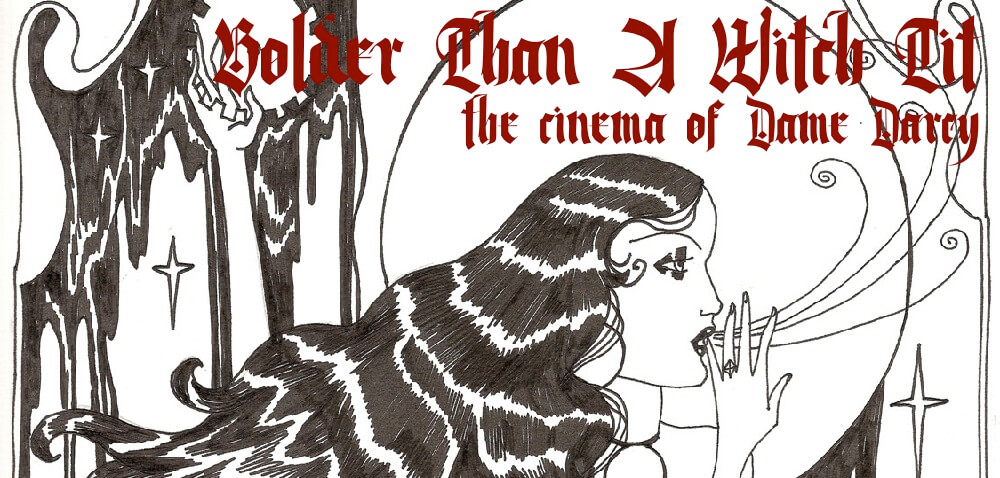 TUESDAY, JUNE 6 – 10 PM
WEDNESDAY, JUNE 7 – 7:30 PM
TUESDAY, JUNE 13 – 7:30 PM
MONDAY, JUNE 19 – 10 PM
Though best known for neo-Victorian comic series Meat Cake (RIP), Dame Darcy is a multitalented jane-of-all-trades carving a niche in the realms of music, cabaret, witchcraft, and film, as well as the world of fine art. Her path to the silver screen began while studying at the San Francisco Art Institute in the early 90's under the late George Kuchar, where Darcy began acting and creating films of her own. As the years progressed, Darcy swept up friends left and right cranking out shorts, serials, and even a variety show that
aired on New York Public Access from 1996-1999. Frequent collaborators included Lisa Hammer, Rachel Amodeo, Lisa Barnstone, and Joel Shlemowitz.
Spectacle is pleased to present a collection motley as the Dame herself, featuring REST IN PEACE, APPLE BLOSSOMS, selections from TURN OF THE CENTURY, various odds, a few ends (and beginnings). Join us as we host this roving gang of friends and family throughout the month of June, and be sure to join us on the 19th when this program coincides and collides with Darcy's birthday celebration!
REST IN PEACE
Dir. Rachel Amodeo, 1991
USA, 13 min.
APPLE BLOSSOMS
Dir. Lisa Barnstone, 2001
USA, 2 min.
TURN OF THE CENTURY (SELECTIONS)
Dir. Lisa Hammer, 1996-1999, USA.
DAME DARCY: A FILM PORTRAIT
Dir. Joel Schlemowitz, 2007, USA, 5 min.
RISQUE REVELRY
Dir. E. Steven Fried, 1996
USA, 3 min.
EXCERPT(S) FROM "78RPM"
Dir. Joel Schlemowitz, 2015
USA, 10 min.