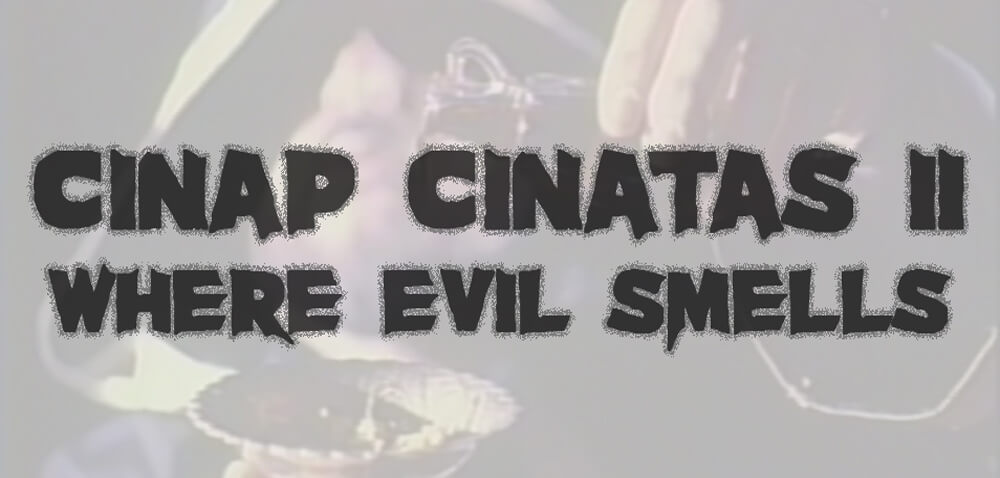 CINAP CINATAS II: WHERE EVIL SMELLS
Various directors, compiled by Darren Bauler
United States Of American Death, 50 min.
Fuck Your Secular Laws
When the original CINAP CINATAS showed in 2015, a number of viewers considered it nostalgic, a look back at a simpler time when militant Christianity was ascendant and fearmongering politicians ruled the land, a time now made somewhat quaint by our evolution into contemporary rational neoliberal humanism.
As Bobby BeauSoleil would say, ain't life peculiar.
We return to the maelstrom of thrash metal, gut-churning 80s video nasties, televangelistic rants and teenage nihilism with more clips from police training videos, VHS sermons, intercepted broadcasts and piss-yellow journalism, thrown together in a mishmash meant to recreate the mindscape of a kid weaned on 20 sided dice, Slayer bootlegs and unblocked satellite tv who took all of this as absolute fact. Intended not as a history lesson nor as a moral fable, we dismiss all attempts to contextualize this material as folly, content to mainline apocalyptic jouissance with no regard for mental health or reasonable discourse. No answers, no solutions, no thinkpieces, no escape. SMELL AWAITS.
Following Cinap Cinatas II will be two short intermission films, then the original Cinap Cinatas (which played in 2015) in its entirety.