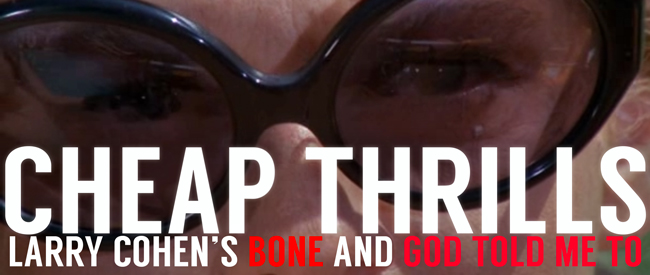 Spectacle heats things up this August with two films by one of the most daring, subversive and inventive low-budget filmmakers ever!
Special thanks to Bill Lustig of Blue Underground.
---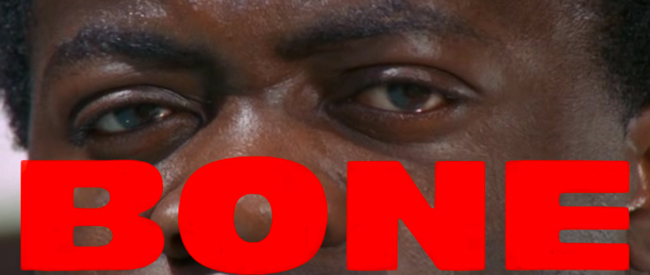 BONE
Dir. Larry Cohen, 1972
USA, 95 min.
FRIDAY, AUGUST 14 – 10:00 PM
THURSDAY, AUGUST 20 – 10:00 PM
FRIDAY, AUGUST 28 – 10:00 PM
MONDAY, AUGUST 31 – 10:00 PM
Initially titled BEVERLY HILLS NIGHTMARE, DIAL RAT FOR TERROR and HOUSEWIFE, Cohen's first feature film dives headlong into racial and sexual politics in a way that is alternately brilliant and offensive. To this day, it's difficult to imagine anyone but Cohen treading such treacherous waters so fearlessly.
Bill (Andrew Duggan) is a quintessential used car salesman, Bernadette (Joyce Van Patten) his trophy wife, and they're lounging by their pool in Beverly Hills one day when Bone (Yaphet Kotto) enters their lives. Bone describes himself as a "big, black buck doing what's expected of him", but his initial plan to rob the couple gets seriously complicated as he becomes enmeshed in their rotten bourgeois lives. The film's ostensible set-up involving the frightening nature of Blackness gradually gives way to one of the most bitterly negative portrayals of Whiteness to ever be committed to film.
---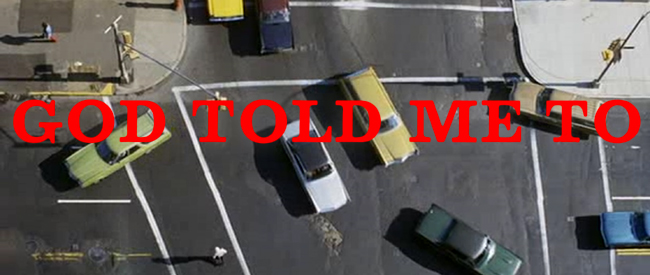 GOD TOLD ME TO
Dir. Larry Cohen, 1976
USA, 91 min.
WEDNESDAY, AUGUST 5 – 10:00 PM
FRIDAY, AUGUST 14 – 7:30 PM
SUNDAY, AUGUST 16 – 5:00 PM
THURSDAY, AUGUST 27 – 10:00 PM
In the outrageously radical GOD TOLD ME TO, NYPD Detective Peter J. Nicholas (Tony Lo Bianco) has to deal with some heavy shit when a series of ordinary New Yorkers go on senseless killing sprees, claiming that God told them to. His corrupt fellow cops are skeptical, but Nicholas, a shame-ridden closet Catholic who sneaks off to church every morning behind his girlfriend's back, has a bad feeling that the violence is, in fact, divine in nature.
Who else but Larry Cohen could make a film that posits God as a murderous bastard who wreaks havoc on a turbulent New York City, and features a messiah of sorts with a stigmata-vagina on his side who talks about his "ancestahs"? God or whatever it is communicates through a cadre of twelve Wall Street types, suggesting that he's learned a thing or two since the last time he came around to earth and got himself killed. The film's climax takes place in a burned-out Bronx tenement and involves a variation on sex between men that would make many a Catholic tremble with sacrilegious excitement.