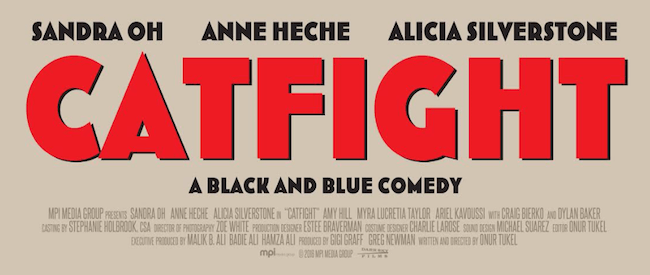 CATFIGHT
dir. Onur Tukel, 2016.
US. 96 min.
FRIDAY, MARCH 3 – 10 PM
SATURDAY, MARCH 4 – 7:30 PM
SUNDAY, MARCH 5 – 7:30 PM
MONDAY, MARCH 6 – 10 PM
TUESDAY, MARCH 7 – 7:30 PM
WEDNESDAY, MARCH 8 – 10 PM
THURSDAY, MARCH 9 – 7:30 PM
*New York Premiere!*
Q&As with Special Guests!
Spectacle is pleased to present the New York premiere and limited theatrical run of local cult filmmaker Onur Tukel's bloody satire CATFIGHT, coming off of its knockout premiere at the Toronto International Film Festival.
Two former college friends, who now find themselves in very different walks of life, meet up at a fancy cocktail party: Veronica (Sandra Oh) has become the entitled, wine-loving wife of a rich businessman, while Ashley (Anne Heche), along with her lover Lisa (Alicia Silverstone), struggles to make ends meet as an artist. As the two women reconnect, long-buried hostilities, jealousy, and anger explode into a vicious fight that leaves both of them battered and bruised – and ready for more.
CATFIGHT is a brutally hilarious story of two bitter rivals whose grudge match spans a lifetime.
"CATFIGHT blends the sublime and absurd with the concise lunacy of a Kurt Vonnegut novel."
-Eric Kohn, Indiewire