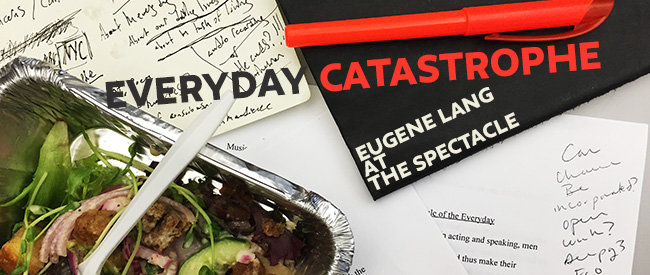 WEDNESDAY, MAY 6
8 PM – "IF A TREE FALLS"
10 PM – "CATASTROPHE"
THURSDAY, MAY 7
8 PM – "CATASTROPHE"
10 PM – "IF A TREE FALLS"
The students of Eugene Lang College at The New School present two evenings of public programming at the Spectacle Theater, as part of the experimental seminar "Collage, Collectivity and Curatorial Practice." The course considers the politics of collectivity, in theory and practice, and seeks to intervene in the society of the spectacle through performance, and visual and auditory collage.
From winter to spring 2015, the students have gorged on a diet of theory and are now ready to put their supper to practice. The course considered such theorists as Jackie Wang, Siegfried Kracauer, Hannah Arendt, Guy Debord, and Umberto Eco, the paintings of Kihende Wiley, the films of Maya Deren and Jean-Luc Godard, the music of John Osborne and Pussy Riot, and the movements of Occupy, Arab Spring, and Black Lives Matter — all with an eye for the radical ideals of collectivity in art and action. Having divided into two groups (A and B), and working closely with Spectacle volunteers, each night will be dedicated to two distinct presentations programmed and created by the students, themed around Walter Benjamin's notions of "Tradition" and "Catastrophe."
Present at all screenings will be co-teachers Dr. Julie Beth Napolin, Assistant Professor at Eugene Lang, C. Spencer Yeh, artist and volunteer at Spectacle Theater, and student fellows Liam Battat and Thea Sass-Ainsworth.
Admission is $5.  To ensure a space RSVP by May 5th to everydaycatastrophe@gmail.com, or take your chances at the door.
This project is a collaboration with the Civic Arts and Humanities Program at Eugene Lang College, The New School for Liberal Arts.
---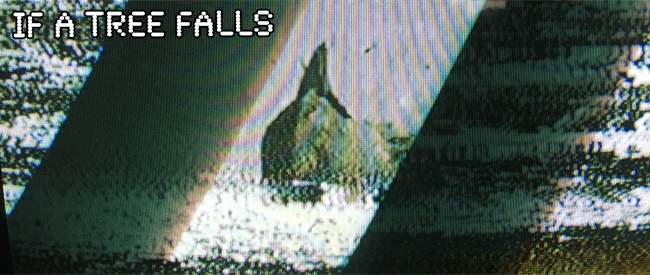 IF A TREE FALLS
Dir. Various, 2015
USA, ? min.
WEDNESDAY, MAY 6 – 8 PM
THURSDAY, MAY 7 – 10 PM
IF A TREE FALLS is an approach to countering both societal and cinematic hypnotism. An assault of the senses will theoretically wake the audience from the slumber induced by the conditions of spectacle. Abstract approaches to soundtrack i.e. live scoring, counterintuitive editing techniques and other creative uses of audible reality should temporarily make the unrealism of reality both more apparent and less appealing. Some of the materials we use are a Sony handycam and a Panasonic handheld camcorder, both from the 1990s, that take 8mm videocassettes. We invoke older technology in order to remind the audience of the beginning of digital recording and the nostalgia that is now associated with VHS film, reminding the viewer that vision has always been mediated.
This will not be an entertaining experience. But it is that distinction that we're attempting to capture in an effort to break from the hypnosis of industrial film, which seeks to entertain and condition. This project isn't an effort to entertain anyone. Running at thirty minutes, the film is meant to magnify the agony of hyper-stimuli/monotony as a way of intervening in the everyday haze of the Spectacle. If a tree fell, and no one was there to witness it, did it really happen? And if it happened, was it only real because someone was there to document it?
The project was created by Liam Battat (project leader), Amanda Bernhardt, Jahmal B Golden, Michele Manor Eric Bayless-Hall, Anna Papadimitriou, Mikaela Crelin, Sacha Kreitman, Andrew Poirier and Naomi Khanukayev
---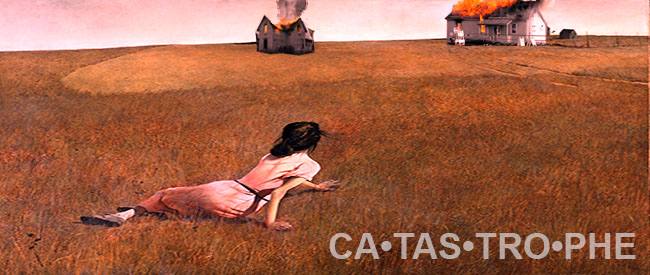 CATASTROPHE
Dir. Various, 2015
USA, 40 min.
WEDNESDAY, MAY 6 – 10 PM
THURSDAY, MAY 7 – 8 PM
Catastrophe – An event causing great and often sudden damage or suffering, a disaster.
Acts of catastrophe are totalizing—they destroy, conquer and ruin. It is our duty as humans to collectively and collaboratively deal with the aftermaths of these events. What do we do when disaster happens? How do we react? How can we rebound?
When Brian Williams reported live from Joplin, Missouri after the town was destroyed by a tornado, he brought catastrophe into American homes, exposing the world to the tragic aftermath of natural disaster. As Adam Curtis commented, Williams left the world in a state of "oh dear" by presenting them with the grave circumstances of disaster, and making it clear that there was nothing they could do about it.
Today, catastrophe is constant. Wars are being fought, wildfires are raging and Marco Rubio has announced he's running for president. The everyday catastrophes of the world have heightened our perceptions into a state of constant fear, anguish and questioning. The media has changed catastrophe into a game of fear as opposed to a game of community. What is catastrophe? What are its effects? What does it do? And what does Brian Williams have to do with it?
Join us for a night of engaging audio-visual spectacle. This four-part event discusses catastrophe and its worldly effects. Encompassing personal catastrophe, natural disaster, mass incarceration and genocide, this event retells the history of catastrophe and the history of its influence. Using a mirage of audio-visual effects, two short films and a sonic exploration, this event will deconstruct "the spectacle of 'the catastrophe.'"