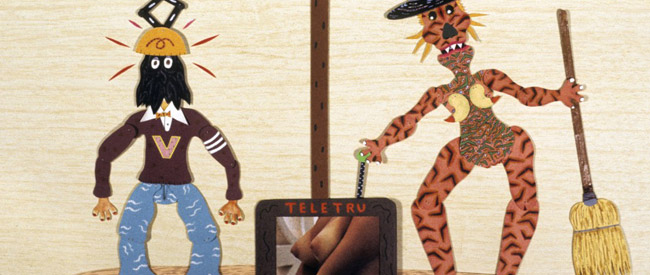 A SHEEP WITHOUT A SHEPHERD: THE FILMS OF VICTOR FACCINTO
Dir. Victor Faccinto, 1972-2010
USA, 52 min.
Presented on HDV and 16mm
SUNDAY APRIL 19 – 7:00 PM
Victor Faccinto will be present for a discussion / Q & A!
Co-presented by MONO NO AWARE
Special thanks to Victor Faccinto!
BE ADVISED : FILMS HAVE ADULT CONTENT
This special program will present a selection of Victor Faccinto's film works made between 1972-2010. The influence of underground comics in the 60's and the television in the 50's, help to shape his innocent yet horrifying stories. His delicate animation skills make his unforgettable characters adorable, comic and vicious. Faccinto is not afraid of connecting his reality, imagination, and our reality together to remind us of the rawness in the countless desires of humans. He remains playful, using his own character 'Video Vic' to say, "You see? It's all just simple."
Screening program includes:
MR. SANDMAN – 1973 (16mm to DV, 1min 30sec, B/W)
FILET OF SOUL – 1972 (16mm to DV, 16min, color)
VISUAL REMAINS – 2001 (16mm to DV, 6min, color)
SHAMELESS, – 1974 (16mm film print, 14min)
NIGHTMARE – 2009 (DV 7:35min)
FLOWER STUDIES – 2010 (DV 6:43pm)
Faccinto's never-ending passion for his innocent moving image techniques has evolved through cut-out animation, to 16mm film, and now to digital video. He uses simple objects and patterns to create raw and lively settings where the characters can playfully travel through time and space. The various methods utilized are visually simple yet masterful. As the audience is enticed into the vibrant world of Victor Faccinto, they are shocked as well by the darkness. In Filet of Soul, Shameless and Nightmare, he created the character named Video Vic. This iconic personality is psychologically tangled in the complexity of countless human desires. Video Vic maneuvers through worlds of love, lust, violence and sex. There is a palpable gap between Faccinto's cheerful visual style and the brutal imagery. His films have the innate power to capture the characters' vast inner conflicts, which then reflect our own humanity. The films may be painful to watch, but that is the celebration of human life that Faccinto offers us. Faccinto's current work-in-progress is a digital video visually interpreting selected Japanese Tanka poems."My creative decisions are made in real time during execution and directed by an instinctive visual perception that decides right from wrong and guides my next move forward. What it may mean or reference once completed, is always a surprise to me." – V.F.