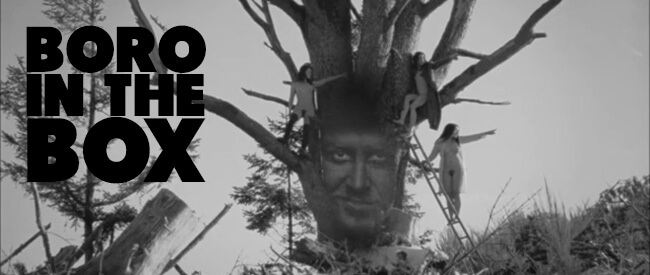 BORO IN THE BOX
Dir. Bertrand Mandico, 2011.
France. 40 min.
In French with English subs.
LIVING STILL LIFE
Dir. Bertrand Mandico, 2012.
France/Belgium/Germany. 15 min.
In French with English subs.
SUNDAY, OCTOBER 9 – 7:30PM
THURSDAY, OCTOBER 20 – 10PM
WEDNESDAY, OCTOBER 29 – 7:30PM
Bertrand Mandico might be one of the last great surrealist filmmakers in operation. His films occupy a unique area of the fantastic uncanny, where babies may be born encased in wooden crates, and artificial natural environments erupt into the colors and signs of deepest dreams. But the look and feel of his world is all his own. His "Incoherence Manifesto" sheds some light on a methodology which favors all manner of the unnatural and anti-real, along with all in-camera effects shot on expired film stock and a refusal of the cinematographic rationality of narrative and genre. And yet his films are far from abstract or storyless. Instead, they tell entrancing stories of twilight lives spent in pursuit of macabre marvels.
BORO IN THE BOX is Mandico's ostensible biopic of Polish animator-turned-eroticist Walerian Borowczyk. But where we might expect a biopic to dramatize the rough facts of a life, Mandico's, instead, seems to express only the seething subconscious of Borowczyk's speculative formative experiences and artistic impulses. The results may be the only biography that's truly up to a filmmaker as singular as Borowczyk: an alphabetical series of phantasmagoric tableaux on the voyeurism of film, psychosexually-fraught familial relationships, and the struggle to create. O, of course, is for Obscene, but that doesn't even begin to cover it.
The film will be accompanied by one of Mandico's finest shorts to date, LIVING STILL LIFE, also taking on the story of an idiosyncratic artist. Frequent collaborator Elina Lowensohn (who also plays Borowczyk's mother) appears as an outsider animator who uses her art to briefly resurrect dead animals recovered from a virulently-colorful wilderness of autumnal decay. Like BORO, the film follows a determined structure, a progressive increase in stakes as she pursues larger and more serious subjects. Meanwhile, a stranger looks on, awaiting the moment to precipitate a haunting final act.