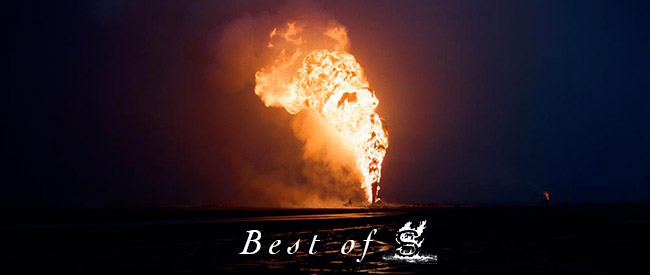 FRIDAY, JANUARY 1: DON'T GO IN THE HOUSE
SATURDAY, JANUARY 2: TURKISH PARANORMAL ACTIVITY
FRIDAY, JANUARY 9: AMERICAN COMMANDOS
SATURDAY, JANUARY 10: LITTLE MARINES
FRIDAY, JANUARY 16: LILLIAN THE PERVERTED VIRGIN
SATURDAY, JANUARY 17: BACK STREET JANE
FRIDAY, JANUARY 23: WEREWOLF IN A GIRLS DORMITORY
SATURDAY, JANUARY 24: ANIMAL PROTECTOR
FRIDAY, JANUARY 30: DIGITAL MAN
SATURDAY, JANUARY 31: LASER MISSION
---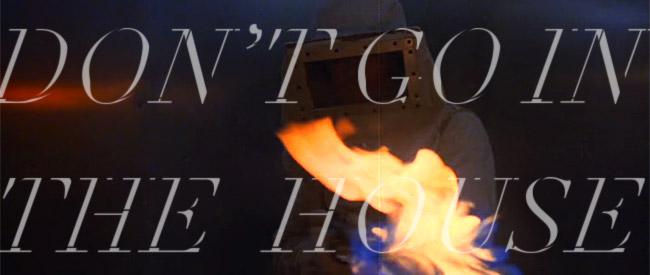 DON'T GO IN THE HOUSE
Dir. Joseph Ellison, 1979.
USA. 82 min.
FRIDAY, JANUARY 1 – MIDNIGHT
D. Boon asked, "What makes a man start fires?" Donny's coworkers at the garbage disposal plant call him a fag and a sicko when he stands coldly transfixed as the incinerator envelops a co-worker in flames. He returns home to find his mother dead: his long-suffering guardian, who punished him as a child by holding his arms over the stove's open flames. The curdled scars on his arms say nothing of the hideous psychological brand on his brain. His homicidal passion ignited, Donny does what any frustrated man would do: buys a flamethrower, builds a steel room, and lures women home so he can set them ablaze then arrange their charred corpses in his sitting room.
A decidedly sick ripoff of PSYCHO, DON'T GO IN THE HOUSE is perhaps less along the lines of a cheapie slasher than a film that seems to at least some extent be legitimately interested in creating a character portrait around a disturbed mind. (When Donny decides he's been cured and changes from his working class duds into a new leisure suit, you almost want to believe he's going to find true love at the discotheque instead of lighting a bunch of people on fire.) Consider it TAXI DRIVER with a blowtorch and the grindhouse version of a Scorsesean Catholic guilt complex. Future SOPRANOS wiseguy Dan Grimaldi turns in a memorable performance as Donny, and the film has some truly creepy moments and shocking scares.
---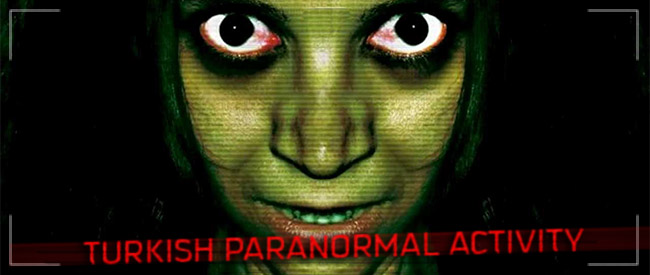 ARTIFACT VIDEO CLUB PRESENTS:
TURKISH PARANORMAL ACTIVITY
Dir. Hasan Karacadağ, 2012
Turkey, 119 min.
SATURDAY, JANUARY 2 – MIDNIGHT
Nodding to our international colleagues running Nollywood movie clubs, VCD videotheques, and illicit storefront cinemas, this year Spectacle inaugurates ARTIFACT VIDEO CLUB, a new monthly midnight series of bootlegged contemporary pop cinema from around the world. Pitched between armchair anthropology, misapplied critical theory, and superfried midnight madness, ARTIFACT VIDEO CLUB is an intrepid exploration of vernacular cinema from around the globe: things from countries whose film industries' stateside visibility is generally restricted to annual consulate-sponsored showcases touting prestige productions. These are not such films.
Purposefully half-baked, the series is conceptually aligned with Ghana's bootleg Hollywood video screenings, virus-infested Russian piracy sites, taxi stand televisions, Crown Heights bodegas DVD selections, the nether-reaches of YouTube trailer shows, and movies from two years ago that have an 8.7 IMDb rating based on tens of thousands of votes, yet of which apparently nothing has been written in English. Like the films it presents, it has been authorized by no one.
We begin with what we are calling TURKISH PARANORMAL ACTIVITY. Though the seasoned Z-grade movie explorer is no doubt familiar with Turkey's circa-1980 mockbusters like TURKISH STAR WARS, TURKISH WIZARD OF OZ, TURKISH E.T., TURKISH BATMAN, TURKISH STRAW DOGS, et al, one might believe this practice has been displaced by such contemporary arthouse darlings such as Nuri Bridge Ceylan, Rasit Celikezer, and Fatih Aiken. And yet it continues through the efforts of those such as Islamic Turkish horror filmmaker Hasan Karacadağ, who over the last decade has produced a steady stream of remarkably effective (and truly scary) unofficial horror remakes that unabashedly reinterpret hits from trend genres like J-horror, found footage, and torture porn via the The Quran — sort of like if Hollywood worshipped Allah instead of Mammon.
The plot of this one is simple: after a young woman experiences intensified sleepwalking episodes, her husband places cameras around the house to monitor her activity. As more unexplained, increasingly malevolent experiences occur during the night, including those which threaten their young daughters, the couple consult with a holy man and learn that they are being persecuted by the Quranic spirits of the Dabbe and Jinn — and may be under possession themselves. Because the PARANORMAL ACTIVITY films are so quintessentially formulaic, the well-studied, brazen appropriation of TURKISH PARANORMAL ACTIVITY renders it, at minimum, exactly as good as its North American counterparts (and, pleasantly, more gory). Only by framing its consumer-tech-steeped narrative in Islamic belief and folklore, it also presents a dialectic between tradition and modernization, portending grim consequences of secular living. The simple virtue of it's existence amid a revitalized, international appreciation for Turkish arthouse cinema also suggests something of the country's uneasy, unreconciled relationship to its history of exploitation cinema.
But maybe we're over-explaining ourselves: TURKISH PARANORMAL ACTIVITY is totally awesome and scary as fuck.
---

AMERICAN COMMANDOS
Dir. Bobby A. Suarez, 1989
Philippines, 89 min.
In English.
FRIDAY, JANUARY 9 – MIDNIGHT
Trigger Warning: Sexual Assault
Envelop yourself in our patented FUZZ-O-VISION VHS tape technology!
What's deadlier than an American Hunter? An AMERICAN COMMANDO(S). Christopher Mitchum, our second or third favorite action star-turned-California politician, returns as an American commando in this high-stakes Southeast Asian shoot-'em-up directed by the legendary Bobby A. Suarez (AMERICAN COMMANDOS).
At the outset, as a gas station attendant in the outskirts of Philippines, Dean Mitchell (Mitchum) bravely kills a bunch of druggie scum by flipping over their car with bullets. Nice! But the problem with killing doper thugs with guns is they have doper thug friends with guns. When these human vermin exterminate Mitchell's wife and child, they tell him they've settled the score – but really, they've only upped the stakes. Mitchell is a Vietnam vet, and, reuniting with his fellow war buddies, he traces the group to Saigon before going – that is, returning – deep into the dark heart of the jungle. And once there, he learns that the truth of who is behind the drug killings is far more criminal than he could have imagined.
AMERICAN COMMANDOS is a bleak, brute force actioner relieved only by non-stop moments of extreme unintentional humor, usually in the form of meaningless, blank expressions of loss, anguish, and victimhood. It's the American right's most constipated attempt to reconcile (or circumvent) the lessons of Vietnam. As the Bond-esque end credits song states: "He lost everything he had / He came close to going mad / He's so good / But he is also bad."
Mm. Anyway: explosions, Filipino-Italo soundtrack, righteous fist shaking toward an absentee God, rocket-firing motorcycle, and squibs galore. What's not to like?
---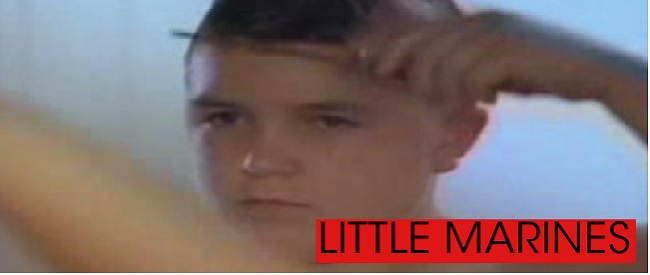 LITTLE MARINES
Dir. A.J. Hixon, 1991
USA, 87 min.
SATURDAY, JANUARY 10 – MIDNIGHT
Awkwardly shot like a pervert peaking on these kids in the woods, A.J. Hixon's LITTLE MARINES is the story of three turds that go camping. It's not really an adventure film since it is mostly just a series of mishaps and fuck-ups and offers no resolutions to these kids problems. Most famous for its really long shaving scene featured at the Found Footage Film Festival, LITTLE MARINES has many more precious moments including bizarre flashbacks to their friend who died of cancer, a cool dude that tries to give them a handful of joints, a not so cool dude that is probably a child molester, a bully that has a gun, and a moment when the fatty admits that his father never said he loved him and the fatty's friends say nothing. Its what you can expect from good ol' Christian entertainment.
For this screening, the Spectacle will be screening the VHS tape that features the original music they probably couldn't get the rights to when it came out on DVD!
---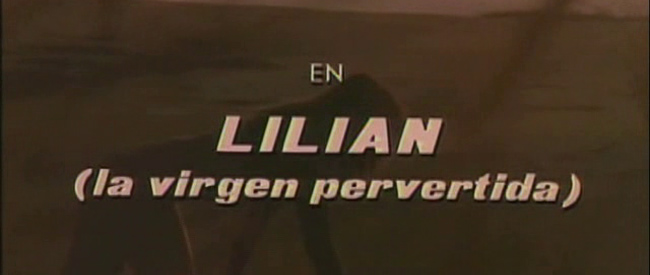 The Franco Files Presents:
LILIAN THE PERVERTED VIRGIN (Lilian la virgen pervertida)
Dir. Jess Franco (as Cliford Braun), 1984
Spain, 79 min.
FRIDAY, JANUARY 16 – MIDNIGHT
It's fitting that as soon as Spain lifted the ban on pornography, Jess was the first through the hardcore gate with Lilian, The Perverted Virgin.
It's the 13th of the 19 films he'd do with Golden Productions, so Lina Romay and Antonio Mayans are there of course, but the star here is Katja Bienert, who plays Lilian, found on the beach by Mario (Mayans), who listens to her tell the story of her abduction and torture at the hands of two wealthy perverts (Romay, naturally, and Emilio Linder). Betrayal, manipulation, wigged-out drug scenes, Jess as a drunk police official (again), freaky stage acts — it's got everything you'd hope for in a Franco film.
With an excellent score by Pablo Villa and some excellent cinematography by Juan Soler, it's an excellent introduction to Franco's 80s classics.
WARNING: Hardcore pornography, including bondage.
---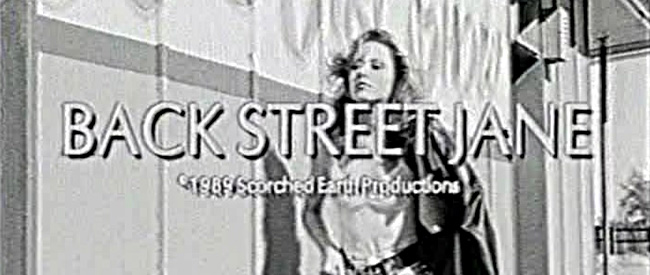 BACK STREET JANE
Dir. Ronnie Cramer, 1989
USA, Runtime N/A
SATURDAY, JANUARY 17 – MIDNIGHT
"Yesterday she was a thief … today she's an extortionist … tomorrow she'll be rich … or dead!"
Screamed the tagline of BACK STREET JANE, the first stand-alone feature from musician, visual artist and filmmaker Ronnie Cramer. Shot in lurid 16mm, BACK STREET JANE is the rare Film Noir-inspired film that doesn't come off as imitation. This is genuine, bare-knuckle low-budget filmmaking, as gritty as it gets. A tough-as-Hell jaunt to the wrong side of town so packed with drugs, violence, sex and vengeance that upon release it garnished high praise from scores of indie review zines and mags across the country; including Psychotronic Video, who said: "Non-stop double-crosses and plot surprises in the tradition of movies like 'The Killing' and 'The Asphalt Jungle'!" – Psychotronic Video
---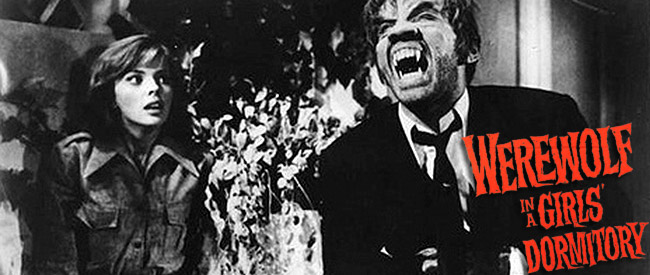 WEREWOLF IN A GIRLS DORMITORY
(aka: LYCANTHROPUS)
Dir. Paolo Heusch, 1961
Italy, 83 min.
FRIDAY, JANUARY 23 – MIDNIGHT
"Mary has a marvelous ability for always being in trouble."
Spectacle Midnights are about to give going back to college the old college try. There's a ghoul in school and it's a wonder anyone can even get a quality education amidst all the blackmail, seduction, and carnage.
A new professor, with a murky past, arrives at school for troubled girls outside of a quiet little town besieged by wolf attacks. On his first night there, a young girl is savagely torn apart just outside of the school. With the mile long suspect list growing ever shorter as the stack of bodies grows taller, the film – penned by the legendary scribe Ernesto Gastaldi (The Long Hair of Death, The Horrible Dr. Hitchcock, Torso, My Name is Nobody, Your Vice is a Locked Room and Only I Have the Key, The Case of the Bloody Iris, etc.) this film keeps you guessing til the end. Featuring a snappy theme song and a soundtrack peppered with bassoons and flutes and presented UNCUT with footage TOO SHOCKING FOR SIXTIES CENSORS!
"I saw. You're a beast not a man my dear so go to the Devil.
I haven't done anything.
I haven't done anything."
---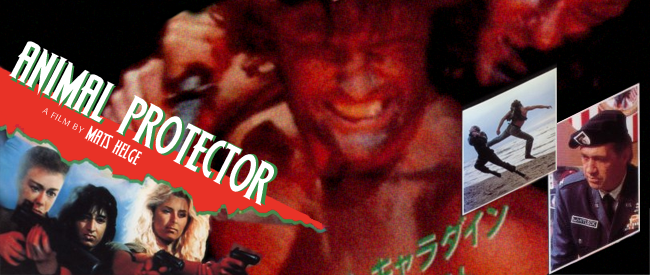 ANIMAL PROTECTOR
Dir. Mats Helge, 1988
Sweden/USA, 96 min.
SATURDAY, JANUARY 24 – MIDNIGHT
Like Spectacle after-dark idols Godfrey Ho (HARD BASTARD) and Arizal (AMERICAN HUNTER), Swedish filmmaker Mats Helge singlehandedly helmed dozens of cornea-crushing Z-grade action pictures in the 70s and 80s, only a fistful of which are accounted for today. Perhaps second-famous after his much-whispered-about THE NINJA MISSION, ANIMAL PROTECTOR sees Helge standing at the cynosure of 80s late-night movie financing. Shooting in and around a Scottish castle, Helge's camera betrays a magnetic pull towards David Carradine's demented hardass Colonel Whitlock. Lording over an operation guarded by special ops, infantrymen and non-American Green Berets, Whitlock is no mere animal-experimenting megavillain but a damn Reagan-era Doctor Moreau.
For a time, Helge's bleak vision is like watching a powerful Bond villain with no comeuppance anywhere near to the horizon. But justice does indeed touch down at Whitlock's doorsteeple in the hands of C.I.A. agent Santino (A.R. Hellquist), plus a bevy of uzi-gun toting blondes in shredded jeans and camo. Impassioned to free Whitlock's mammalian victims (if without an escape plan beyond the island), the crew chews up scores of foot soldiers and flunkies before running smack into its greatest obstacle: Whitlock. Carradine the order-barker suddenly morphs into Carradine the wild man of kung fu, exploding out of the castle and onto the beach. There, Santino's mission vanishes into the sunrise in a one-on-one deathmatch that can only define both men as animal.
---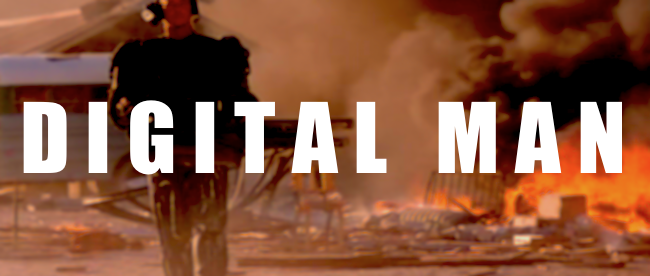 DIGITAL MAN
Dir. Philip J. Roth, 1995
Nevada. 91 min.
In English.
FRIDAY, JANUARY 30 – MIDNIGHT
Hot on the heels of 2013's sold-out screenings of Richard J. Pepin's Hologram Man, Spectacle offers up this late-night cyberwar curio fielded from the pixelated precipice between Atari and The Matrix. Starring an Altmanesque corps of noteworthy surnames, Philip Roth's Digital Man concerns a glitch in national security so cruel, it'd be divine if it weren't so damn digital: a time-traveling supercyborg touches down in the small-town Southwest just in time to hijack an apocalypse's worth of nuclear launch codes.
Fresh off a realm too insane in its violence and punishment for mere humans  to enter, the Digital Man must be stopped – and it's up to a motley crue of wisecracking heavyweights (some military experts, some shotgun-toting salt of the earth) to take him out, analog style. Tons and tons and tons and tons of fireball explosions (replete with slo-mo backflips and brutal, spaghetti-worthy shootouts) ensue, culminating in one night you can't merely "attend" while on your laptop.
Digital Man is a very entertaining movie, with good acting, excellent photography and outstanding F/X. It does suffer from a mediocre script however. A very good, overall effort from a bunch of actors who fall  into the category of "where have I seen them before?" A rating of 8 out of 10 was given. – VCRanger, IMDB
lets get down to brass tax where can we get this movie someone upload cmon it cant be ilegal look at it buying it would be a magor crime – Jamie Mcfayden, YouTube
I've seen Digital man almost a decade ago when it came to video. My dad rented me this movie to watch over the weekend since he was leaving with my mom. I loved it so much that I've watched it five or six times in 48 hours !!! – thebigmovieguy, IMDB
Don't just settle for T2 ,experience this equal ,yet lower budget Sci-Fi action outing,with martial arts giant Matthias Hues in the lead. – "A Customer", Amazon
I rented this when it came out on video. I remember thinking the special effects and costumes were pretty cool back then. And in the early-to-mid-1990s computer animation was a novelty, so that added to the movie's appeal. (And back then CGI looked cooler with those smooth surfaces.) – felicity4711, YouTube
---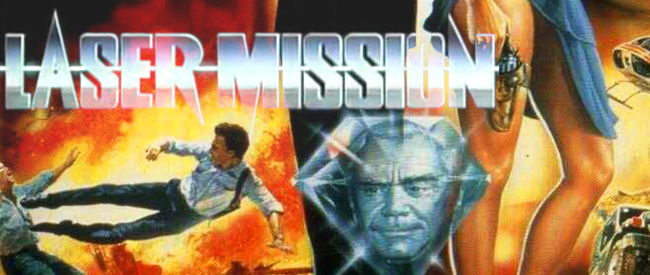 LASER MISSION
Dir. BJ Davis, 1989
USA, 84 min.
SATURDAY, JANUARY 31 – MIDNIGHT
On Saturday February 1st at MIDNIGHT, we are celebrating what would have been the 49th birthday of BRANDON LEE. Who is that, you ask? You're reading this on a computer, right?
Before he was THE CROW (but definitely after his LEGACY OF RAGE), Lee was Michael Gold – a cocky, self-righteous asshole who upends his fully free agent status and chooses to accept a LASER MISSION on offer from the CIA (but, like, eschewing CASH MONEY USA in favor of action man SWAGGER ethics). There's something about the WORLD'S LARGEST DIAMOND gone missing, along with some LASER expert (expertly lazied by ERNEST BORGNINE) being held in Angola (or somewhere) by the KGB (or Cuban military or some Austrian madman or something). All this adds up to is TROUBLE and the potential END of the WESTERN WORLD as we KNOW IT. When not donning gross disguises to fool bumbling cartoon humans, Gold is totes in NEGGING WAR III with terminal television episoder DEBI MONAHAN (who may or may not be portraying a daughter or a double agent or whatever).
Even if you HAVE seen LASER MISSION, you won't want to MISS our special WIDESCREEN presentation, with all the EXPLOSIVE action (and sometimes admittedly great wide tracking shots) as NEVER BEFORE SEEN in domestic US BARGAIN BINS and FIFTY-FILM DVD collections. Unfortunately we weren't able to get our hands on the legendary FULLY UNCUT version on GERMAN VHS, but if you come by SATURDAY FEBRUARY 1ST, maybe we'll SHOW you some STILLS AND talk you THROUGH THE cuts.
If you HAVEN'T seen LASER MISSION, then grab your favorite brand of adult diapers and head the hell over here. Sounds appealing? Then make like an ORANGE and GET JUICED.