JACK H. HARRIS: November 28, 1918 – March 14, 2017
As Jack Harris passed away last month at the grand age of 98, Spectacle is bringing back EQUINOX and presenting UNKISSED BRIDE. The latter is the only directing credit from the producer, actor, and champion of things blobby, creatury, and other-worldly. See below for thorough synopses and context.
Spectacle is also excited to announce a special double feature on Saturday 4/22 with Harris' granddaughter and others to present!!
---

EQUINOX
(a/k/a: The Beast, The Equinox… A Journey Into the Supernatural)
Dir. Dennis Muren / Jack Woods, 1970
80 mins, USA
THURSDAY, APRIL 13 – 7:30 PM
MONDAY, APRIL 17 – 10 PM
SATURDAY, APRIL 22 – *7:00 PM* (SPECIAL Q&A!)
TUESDAY, APRIL 25 – 10 PM
In 1965 a young Dennis Muren had a choice to make. He was 17 and could use the money his grandfather had set aside for him to either go to college or do something sensible and make a feature length genre defining, effects pioneering film. Having made the right choice, Muren and friends David Allen and Mark McGee set about making their vision come to life and over the course of the next two and a half years THE EQUINOX…A JOURNEY INTO THE SUPERNATURAL was born. Among their support group was none other than Forrest J. Ackerman (famed/revered/beloved editor of FAMOUS MONSTERS – who would also lend his voice to the film in an uncredited cameo!) who helped the gang to snag Fritz Leiber in the role of Dr. Waterman. Muren and Allen headed up the technical side and dove headfirst into the special effects. Monsters abounded, winged demons poured out the ether, and giants stomped around the screen with terrifying voracity. And all reportedly to the tune of less than $7,000!
With the film completed, Muren set out to show it to the world but that proved to be difficult. Initially trying for a TV release, Muren ended up shopping it around Hollywood. The premise and eye popping special effects grabbed the attention of Jack H. Harris. Harris had been the man who picked up THE BLOB (and later DARK STAR, SCHLOCK, FEAR OF A BLOB PLANET, DINOSAURUS, 4D MAN, etc). He shortened the title to EQUINOX and hired Jack Woods to beef up the run-time. Rehiring the original actors and casting himself as in the role of Asmodeus, Woods (with Ed Begley Jr on ass't camera duties) retooled the creature feature and soon 35mm prints were stuck! The film was unleashed on the world and in the coming years would help mold the very essence of the "cabin in the woods" subgenre. Without EQUINOX arguably, there would be no EVIL DEAD series.
In the wake of EQUINOX many of it's creators would flourish. Dennis Muren continued down the path of effects work and would soon have a wheelbarrow full of Acdemy Awards for his efforts on films like the STAR WARS trilogy, ET, JURASSIC PARK, DRAGONSLAYER, CAPTAIN EO, and more recently SUPER 8. David Allen also pretty much changed the game in terms of effects while working on films like WILLOW, HONEY I SHRUNK THE KIDS and became responsible for all things good in the world of Full Moon features with work on DOLLS, OBLIVION, and the PUPPET MASTER films to name a few. While this is Jack Woods only directing credit, he would end up with a lengthy sound department resume with titles like PHANTASM II and the STAR TREK franchise.
Spectacle is humbled and honored to (re)present this film (a favorite around the Goth Bodega) with the kind permission of Jack H. Harris's granddaughter, who will be in attendance on April 22nd.

---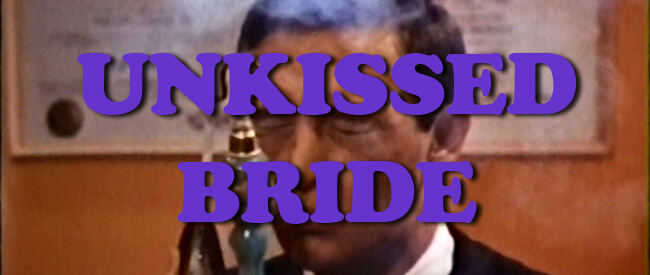 THE UNKISSED BRIDE
(a/k/a: Mother Goose A-Go-Go)
Dir. Jack Harris, 1966
USA, 82 min.
WEDNESDAY, APRIL 5 – 10 PM
SATURDAY, APRIL 15 – MIDNIGHT
SATURDAY, APRIL 22 – 10 PM
The almighty Jack H. Harris's only turn as director, UNKISSED BRIDE is the age-old story of a young couple named Ted and Margi (Tommy Kirk and Anne Helm) who have been saving it for their honeymoon, only to discover Ted has erectile dysfunction at the suggestion of nursery rhymes. It may seem like that's an easy thing to avoid, but no matter how our randy paramours try, Mother Goose is always there to block the proverbial shot. Instead of turning that into a kink, Ted visits a psychiatrist (the great Danica D'Hondt in one of her last roles) who prescribes a hallucinogenic spray (I'm not kidding) and we're off to the races.
It's important to note Tommy Kirk (here tellingly billed as Tom Kirk) was trying to break free from his history as a child star (SWISS FAMILY ROBINSON, OLD YELLER, the Mickey Mouse Club Hardy Boys series), mostly via a bunch of beach movies (MST3K fans know him from CATALINA CAPER and VILLAGE OF THE GIANTS). As a star who was fairly unceremoniously released from Disney (presumably but not officially due to Kirk's homosexuality), he might seem an odd choice for a film about a man having difficulties having sex with a woman.
This is compounded when Ted squares off against ultra-lothario Jacques Bergerac (LES GIRLS, GIGI, but *especially* THE HYPNOTIC EYE!) who, as a guy married to both Dorothy Malone and Ginger Rogers, has little trouble flinging some woo. Madcap hijinx ensue (some of which are pretty much guaranteed to offend), and it'd be a mistake to give away the plot, but you just know this is a film with featured songs (including Kirk singing one himself), lots of great LA locations (our couple go to the Troubador at one point), speeding-up-the-film Benny Hill style, Henny Youngman AND Joe Pyne: to put it simply, it's a gas.