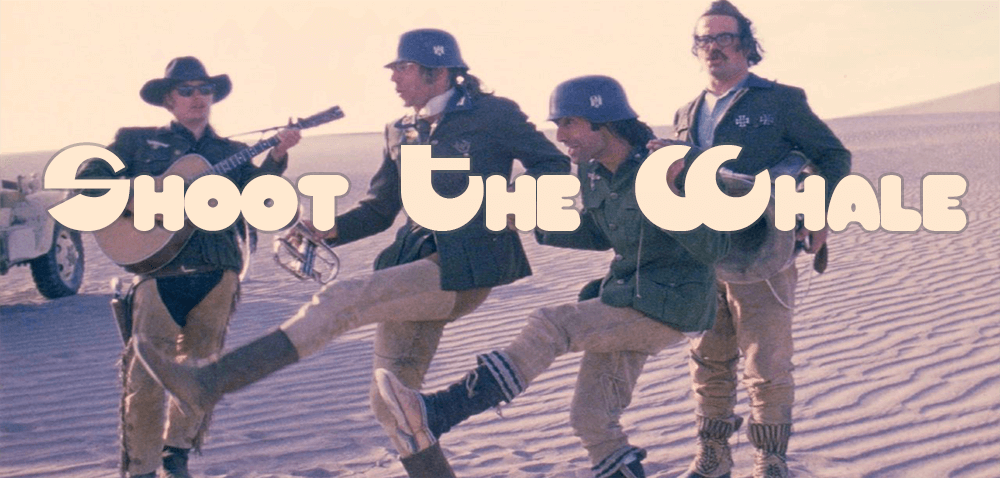 SHOOT THE WHALE
dir. Philip Makanna
1972, USA
78 minutes
Filmed throughout 1970-72 around Death Valley and Mono Lake, Shoot the Whale follows a madcap troupe of hippies, philosophers, outlaws, and Nazis in something like an endless American purgatory. Dubbed by the filmmaker as "the one and only WWII Cowboy Circus Electronic Musical Comedy," it's a gonzo street-theater take on Alejandro Jodorowsky and Sergei Parajanov by detour of midnight movie.
Philip Makanna came to filmmaking through sculpture, teaching a spectacularly early course on fine arts approach to TV/video at the California College of Arts and Crafts in Oakland in the late '60s. He was commissioned by Jim Newman of the Dilexi Foundation to make his first foray into broadcast television, The Empire of Things for KQED, described by Gene Youngblood as an "Expressionist painting of green shadows and purple highlights quivering in a liquid mosaic of hues." In Shoot the Whale, Makanna continues to experiment with de-beamed video and other film chain manipulations, interspersing the fully-improvised action with pointilist footage of circus performance.
The film enlists an intriguing array of Bay Area counter-culture fixtures. Performing duties are taken up by the East Bay Sharks, an acting troupe that includes Darryl Henriques (later of Jumanji and Star Trek VI) and members of the infamous Greil Marcus Masked Marauders hoax. The score was composed by Robert Ashley and "Blue" Gene Tyranny of the nearby Mills College. Jim Newman, its producer, followed up Shoot the Whale with Sun Ra's Space is the Place the next year.
Though the film was screened at Cannes and enjoyed some rabble-rousing midnight screenings around the Bay Area, it's largely gone unseen until the recent re-discovery of its masters from the American Zoetrope archive–this marks the NYC debut of its restoration.
Special thanks to Unseen Worlds.