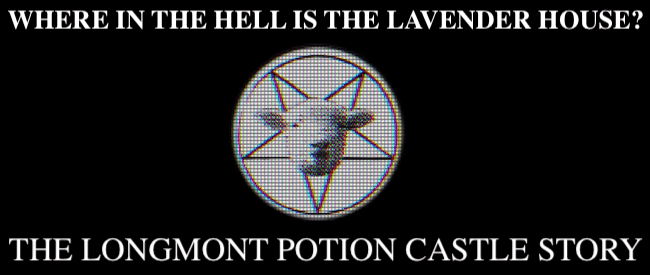 WHERE IN THE HELL IS THE LAVENDER HOUSE? THE LONGMONT POTION CASTLE STORY
Dirs. David Hall and Thomas D. Rotenberg, 2019 Canada, 95 min.
In English
TUESDAY, MARCH 19 – 7:30PM & 10PM
DIRECTOR Q&A AND SPECIAL SKYPE CALLS  
10PM followed by afterparty at Un**n P**l ($5 for Spectacle Theater ticket holders)
WORLD PREMIERE!
LIVE PRANK CALLS BY LONGMONT POTION CASTLE! FILMMAKERS IN ATTENDANCE!
For over 30 years, the artist known only as Longmont Potion Castle has been beguiling and bedeviling random victims across the country with the most avant-garde prank calls ever recorded. Throughout it all he has remained completely anonymous, released over 16 original albums, and become a cult favorite, notably amongst musicians. LPC describes the albums as his "phone work," or "absurdist art" rather than the clumsy label "prank phone calls." The recordings combine prank calls with sound collages, often filtering his voice through a Digitech RDS 8000 delay unit to produce odd sound effects, thus making whoever he has called even more confused.
This March, Spectacle is proud to host the world premiere of the very first Longmont Potion Castle documentary, "Where In The Hell Is The Lavender House? The Longmont Potion Castle Story." Directed by David Hall & Thomas D. Rotenberg, the film includes interviews with Rainn Wilson, Andrew Bujalski, Pissed Jeans, Municipal Waste, NBS Electronics, Twist and Shout, Pig Destroyer, Weyes Blood, Cattle Decapitation, Pinback, and a variety of hard-core fans, the film peeks behind the curtain of America's Underground Prank Call King.
Both screenings at this historic event will feature the filmmakers in attendance, and Longmont Potion Castle himself will be calling in to conduct live prank calls from the theater. You don't want to miss this.
And don't forget the AFTER PARTY! After the 10PM screening, head to Union Pool with your ticket stub for a discounted ticket to the after party. ($5 for ticket holder, $10 for non-ticket holders.)