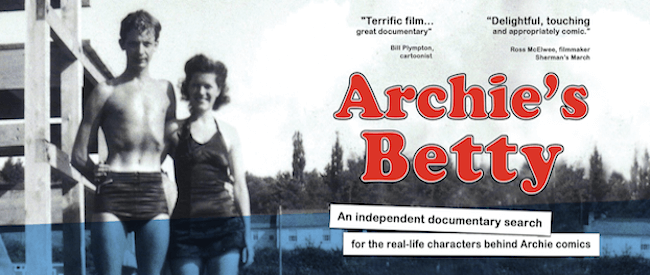 ARCHIE'S BETTY
dir. Gerald Peary, 2015
US. 70 minutes.
FRIDAY, MARCH 10 – 7:30 PM – w/introduction from comic book artist Robin Chapman
SUNDAY, MARCH 12 – 5 PM
FRIDAY, MARCH 24 – 10 PM
MONDAY, MARCH 27 – 7:30 PM
A kaleidoscope of compulsion, comics history, and passionate fandom, ARCHIE'S BETTY starts as a light and straightforward documentary on the origins of the Archie Comics gang.  But soon, the story twists into a strange small town mystery when director Gerald Peary discovers that his well-known, 25-year-old, article on the subject might have been a little inaccurate.  Original Archie artist Bob Montana left more loose ends than clues as to who Archie, Betty, Veronica, Moose, Jughead – and even Mr. Weatherbee and Ms Grundy – might have been inspired by. Naturally, the residents of Montana's hometown of Haverhill seem to all be sure that they know the real story.  But … who's right?
Packed with interviews from Archie Comics writers and artists, Archie historians, Montana's classmates, and Peary himself, ARCHIE'S BETTY is the culmination of the director's lifelong obsession with the Riverdale gang.
Robyn Chapman is an editor, a publisher, and (sometimes) a cartoonist. She is  the proprietor of Paper Rocket Minicomics and The Tiny Report, and she has had many different jobs in comics. She spent five years at The Center for Cartoon Studies, initially as their first fellow and later as their program coordinator and a faculty member. During her time at CCS she earned her MFA, having previously earned her BFA at the Savannah College of Art and Design. For a time she worked at Brooklyn's best comic shop, Desert Island. Previously she worked as an assistant editor at Graphic Universe, the graphic novel imprint of Lerner Publishing Group. Currently she is an associate editor at First Second.
She is the editor/publisher of the Micro-Press Yearbook and the author of Drawing Comics Lab (Quarry Books). In the spring of 2016 she debuted Twin Bed, her first solo comic in a long, long time.
"Delightful, touching, and appropriately comic." – Ross McElwhee
"It's such a fun and touching personal documentary. Highly recommended
for viewers of all ages from birth to beyond the infinite. Even if you are not
a comic book fan, you will love the story this movie tells. If you are nostalgic
for the 1950s, you will be in seventh heaven." – Joseph McBride, film historian and biographer