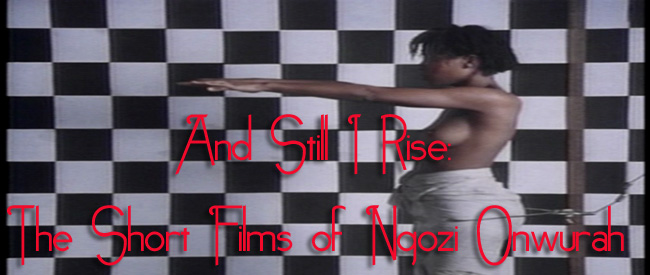 AND STILL I RISE: THE SHORT FILMS OF NGOZI ONWURAH
Dir. Ngozi Onwurah
1988-1993, 70 min
THURSDAY, SEPTEMBER 3 – 10:00 PM
SUNDAY, SEPTEMBER 6 – 5:00 PM
FRIDAY, SEPTEMBER 25 – 10:00 PM
TUESDAY, SEPTEMBER 29 – 7:30 PM
Born in Nigeria in 1966 to a Nigerian father and white British mother, Ngozi Onwurah migrated with her mother and brother to England as a child to avoid civil war. In her groundbreaking work as a filmmaker – Onwurah was the first black British woman to have a film theatrically released in Britain, 1995's WELCOME II THE TERRORDOME – this tension is palpable: the tension between her black and white heritages, the tension between violence and peace, the tension of simply being a black woman in hostile territory.
Spectacle is proud to present three of Ngozi Onwurah's early short works, to bring her sorely underseen films into the light.
Special thanks to Ashley Clark and Women Make Movies
COFFEE COLORED CHILDREN
Dir. Ngozi Onwurah, 1988
15 minutes
A raw, unmitigated portrait of Onwurah's childhood fears regarding her race, COFFEE COLORED CHILDREN portrays a young black girl and her brother who will go to any lengths to be white. The film is a stark portrayal of what happens when children of color internalize racism, and how it damages a young psyche.
---
THE BODY BEAUTIFUL
Dir. Ngozi Onwurah, 1991
23 minutes
THE BODY BEAUTIFUL is another stunning piece of autobiographical filmmaking from Onwurah. Starring the director herself, alongside her mother Madge, the film is a devastating story about a young biracial model whose white mother undergoes a radical mastectomy. The film is a tribute to Madge, as well as an exploration of black and white bodies within traditional feminine beauty standards.
---
AND STILL I RISE
Dir. Ngozi Onwurah, 1993
30 minutes
Named after, and inspired by, a Maya Angelou poem, AND STILL I RISE is a searing exploration of popular culture's fetishization of, and hatred for, black women's sexuality. Rather than the dramatization of the other two films, Onwurah created a documentary portrait of mass media's representations of black women, and the real, detrimental effects that these representations have on the lives of actual black women.