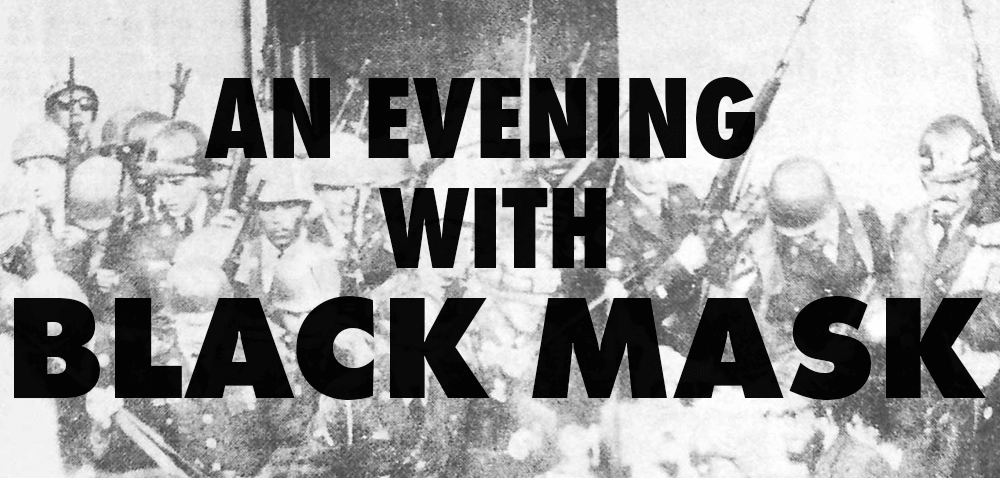 SATURDAY, MAY 5TH – 7:30 PM
BEN MOREA IN ATTENDANCE
(This event is $10)
In October 1966, a group calling itself Black Mask appeared in New York City with the vitriolic statement: "DESTROY THE MUSEUMS — our struggle cannot be hung on walls… Goddamn your culture, your science, your art… The industrialist, the banker, the bourgeoisie, with their unlimited pretense and vulgarity, continue to stockpile art while they slaughter humanity."
Accompanying this statement was a press release, explaining the group's intentions: "On Monday, October 10 at 12:30 p.m. we will close the Museum of Modern Art. This symbolic action is taken at a time when America is on a path of total destruction, and signals the opening of another front in the world-wide struggle against suppression. We seek a total revolution, cultural as well as social and political — LET THE STRUGGLE BEGIN."
This was the first appearance of the Black Mask group, a small collective who sought "to turn art into an instrument of revolution." Founded by artists Ben Morea and Ron Hahne, Black Mask centered around the publication of a broadsheet, Black Mask, and a series of increasingly radical politico-artistic actions, directed primarily against cultural institutions in New York City. The group shut down the MoMA, picketed Wall Street, occupied Columbia University, dumped garbage on Lincoln Center as part of a "culture exchange," and successfully broke into the Pentagon.
By 1968, the group was moving in away from symbolic actions and moving towards more direct political action. In May 1968, after 10 issues, Black Mask ceased publication of its broadsheet and reconstituted itself as a dedicated revolutionary group, Up Against the Wall Motherfucker. UAW-MF disbanded and went underground in 1969.
Despite their short combined existence, the groups' writings and aesthetics echoed out into the wider radical political sphere. The English radical group King Mob dedicated the third issue of its self-titled publication to Black Mask and UAW-MF, and two of the group's co-founders, David and Stuart Wise, were contributors to Black Mask. One of the few American members of the Situationist International, Tony Verlaan, was also a contributor to Black Mask. Additionally, the Strasbourg AFGES who played a significant role in the events of May '68 in France, republished Black Mask's writings in 1966. The Black Mask / UAW-MF group even had some influence on The Weathermen, whose co-founders had intermingled with its members and borrowed from their "militant style and attitude."
In commemoration of the 50th anniversary of May '68, Spectacle will be welcoming artist & revolutionary Ben Morea to introduce three films that captured the radical political gestures of the Black Mask / UAW-MF crew.
---
THE CASE AGAINST LINCOLN CENTER
Dir. Newsreel, 1968
USA, 12 min.
Spanish with English Subtitles.
GARBAGE
Dir. Newsreel, 1968
USA, 10 min.
English.
THE SIXTH SIDE OF THE PENTAGON
Dir. Chris Marker & François Reichenbach, 1968
USA, 26 min.
English.
Special thanks to Ben Morea, Third World Newsreel, & Icarus Films.