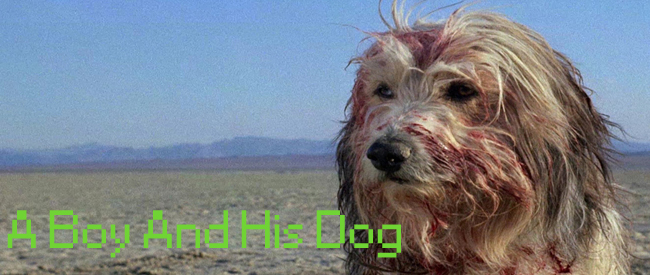 A BOY AND HIS DOG
Dir. L.Q. Jones, 1975.
USA, 91 min.
FRIDAY, SEPTEMBER 5 – 7:30 PM
THURSDAY, SEPTEMBER 11 – 10:OO PM
SATURDAY, SEPTEMBER 20 – 10:00 PM
SUNDAY, SEPTEMBER 28 – 5:00 PM
Each screening will be followed by a video Q&A with director L.Q. Jones recorded exclusively for Spectacle!
In 1975, Harlan Ellison's award-winning short story, "A Boy and His Dog" (featured in the 1969 collection called The Beast that Shouted Love at the Heart of the World) was adapted to film by actor L.Q. Jones, a relatively novice director. A BOY AND HIS DOG stars a very, very young Don Johnson as Vic, an impulsive and callow scavenger living in a ruined, post-apocalyptic Arizona circa 2024 A.D. Vic is accompanied on his journeys by Blood (Tiger from THE BRADY BUNCH), a canine with whom the lad shares a most unusual telepathic link.
A BOY AND HIS DOG may be the weirdest "buddy" movie ever made, thanks to the fact that one of the pals is a telepathic mutt who uses his psychic abilities to help his human friend satisfy his carnal desires in exchange for food. This dsytopian film takes a strange turn when Vic follows a beautiful woman whom he recently rescued, Quilla June Holmes (Susanne Benton), back to her underground "suburban" home called Topeka.  This civilization, of a satirical sort, has survived the holocaust underground, where what appear to be a band of Lutheran farmers have recreated Norman Rockwell's "America" in an eternal twilight.