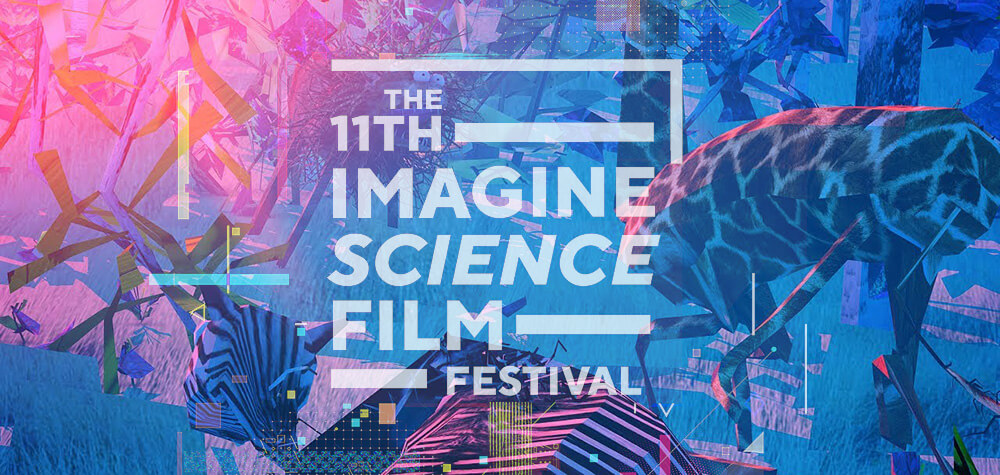 TUESDAY OCTOBER 16 – 7:30 AND 10 PM (Ticket info below)
FB EVENT
The Imagine Science Film Festival returns for the third year with an evening at Spectacle. The theme of the 11th ISFF is SURVIVAL:
Crisis. Entropy. Extinction. Last year we celebrated the past ten years of the Imagine Science Film Festival's existence, but this year we take a hard look ahead at the high stakes for all life on an Earth facing climate change, species loss, nuclear proliferation, the imminent exhaustion of our energy resources. Existence itself is not assured.
But wherever we consider such direly high stakes, we can also aspire to a better world. New technologies constantly open new possibilities and sociopolitical change opens the way for new ideas to take hold. For every dystopia, a corresponding utopia may be within reach. It may be a struggle, but the record of all life is that of an eon-spanning fight to stay alive.
This year, send us your speculative hopes and fears, your studies of tumultuous natural history and startling feats of adaptation, all your endings and new beginnings. Apoptosis versus immortal cell lines. Half-lives and radical life extension. Obsolete inventions inspiring crucial breakthroughs. Illness and regeneration. The deaths of stars and the necessary paths to SURVIVAL.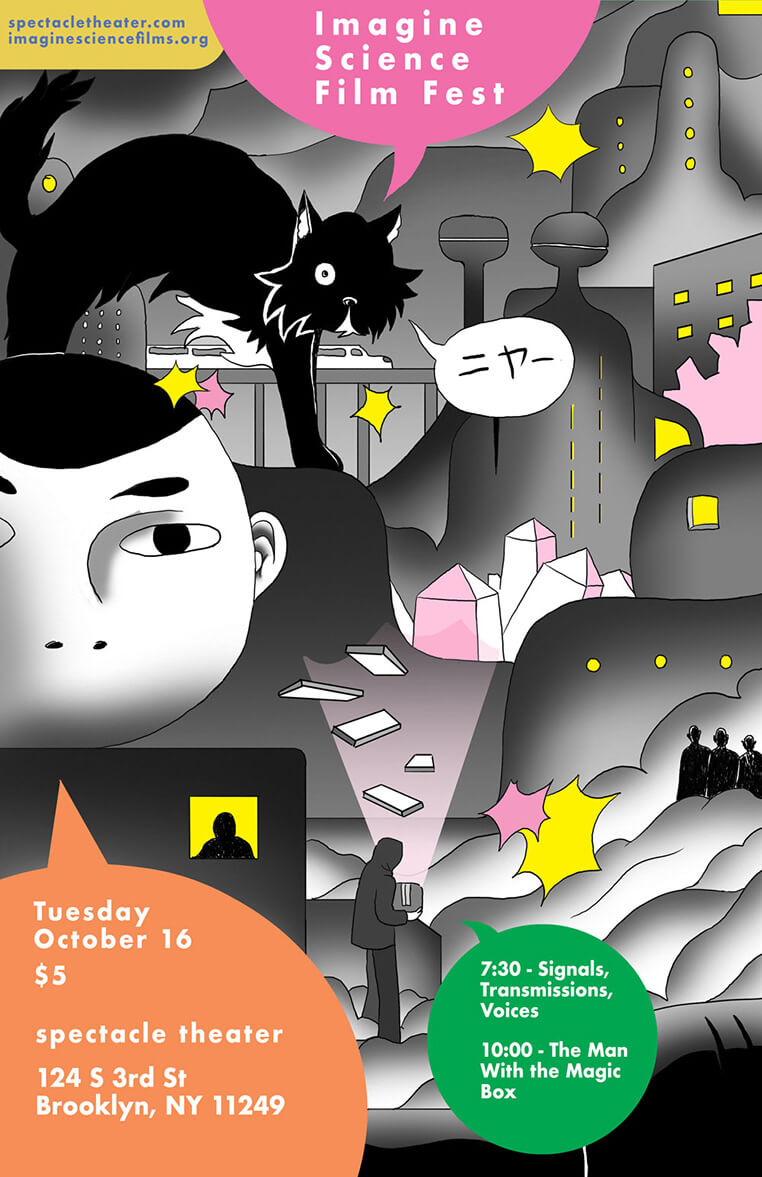 ---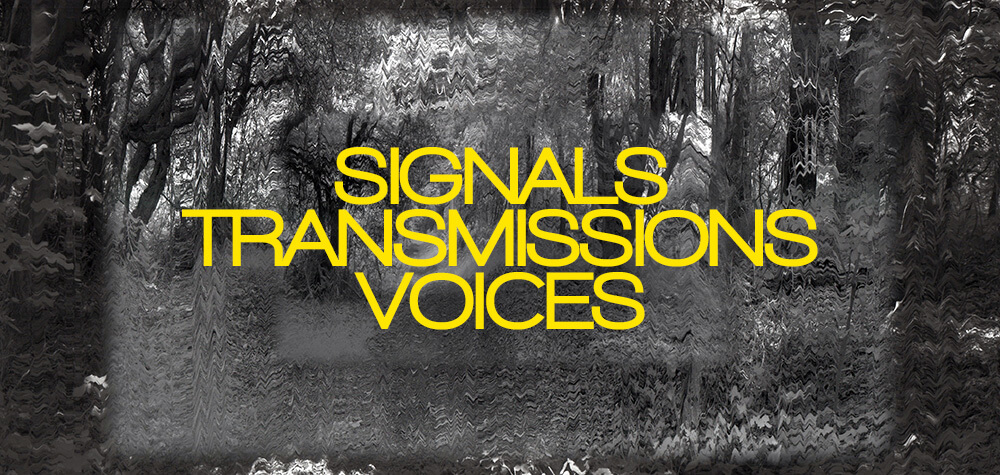 SHORT FILM PROGRAM: SIGNALS, TRANSMISSIONS, VOICES
Various directors, 2016 – 2018.
85 min.
TUESDAY, OCTOBER 16 – 7:30 PM
Glitching cats, phone sex with aliens, crystal healing, the mysterious universe. Each year, ISF reserves some of the wildest and most outré takes on scientific filmmaking for a recurring program at Spectacle Theater. Not so incidentally, many become favorites. These films, though rooted in scientific principles, transform traditional sci-film expectations with abstracted narratives, form-breaking documentary concepts, mind-bending visuals, and other essential experiments at the outer edges of our festival program. These techniques are no rarity in the rest of the festival, but never in such a concentration as here. This year's program investigates communication in all its forms.
Somnium Lapidum
Dir. Emily Pelstring, 2017.
Canada, 3 min.
A stop-motion 16mm audiovisual meditation on the material animation of stones. Inspired by pseudo-scientific texts of the 15th and 16th centuries, when it was believed that a given gem's powers could be absorbed through focused viewing, the film proposes an analogy between this belief and attraction of cinema. The title, Somnium Lapidum, or Dream Stones, is a reference to the imaginative content of the "Speculum Lapidum" and the dreamlike experience of cinematic viewership.
Long Distance Relationship
Dir. Carolina Markowicz, 2017.
Brazil, 5 min.
In Brazil, where all things are possible, a man takes part in an extraterrestrial phone sex operation.
In Glass Houses
Dir. Ariana Gerstein, 2017.
USA, 8 min.
An interview is conducted exploring methods used to facilitate a real research project whose aim it is to capture and analyze human micro-expressions for use by a variety of industries (including lie detection and entertainment/animation). But the particular research or the use of human subjects is really just a point of departure. This film takes a moment to touch on our use of technology and vice versa.
Persistence of Memory
Dir. Natalie Tsui, 2016.
Canada, 15 min.
A skilled programmer commences work for Galatea, a robotics company launching the next generation of personal companions. Unlike generic robot companions, the C-1000 is made to a client's precise specifications, which either give the companion a unique personality and complex individuality, or replicate those of someone else. Against the backdrop of activist protests over outsourcing emotional connection, the programmer brings a C-1000 "to life" through trial and error.
Wherever You Go There We Are
Dir. Jesse McLean, 2017.
USA, 12 min.
In this experimental travelogue, efforts to sound human and look natural instead become artificial. The scenery is provided through photo-chromed vintage postcards, displaying not only scenic North American landscapes but also the rise of infrastructure and industry. Aspiring to look more realistic by adding color to a black and white image, the postcards (already a vulnerable method of correspondence caught between private and public) are instead documents of the fantastic. The road trip is narrated by an automated correspondent (all dialogue is taken from spam emails) who is both seductive and mercurial, his entreaties becoming increasingly foreboding and obtuse, in a relentless effort to capture our attentions.
Forest Paths
Dir. Michiel van Bakel, 2018.
Netherlands, 3 min.
A warped stroll through a forest. Animated still photographs reveal movement and light on the forest paths that are otherwise invisible to the human eye. Van Bakel made a 'scanner-camera' that extends human vision to near-infrared light in an other-worldly way. What's this thing called vision? What's the fundamental difference between what a robot discerns, what a flying insect detects or man's observation?
Ugly
Dir. Nikita Diakur, 2017.
Germany, 12 min.
An ugly cat struggles to coexist in a fragmented and broken world, eventually finding a soulmate in a mystical chief. Choreographed in digital simulation errors and inspired by a story found on the internet, this could be the definitive melodrama of our times.
Phototaxis
Dir. Melissa Ferrari, 2017.
USA, 7 min.
Phototaxis draws parallels between Mothman, a prophetic and demonized creature in West Virginia lore, and Narcotics Anonymous, the primary treatment program in West Virginia's addiction epidemic. Rooted in nonfiction, this experimental animated documentary contemplates synchronicity and the role of belief systems in perception and pseudoscience; the tendency to assign supernatural meaning to tragedy and the unknowable; anonymous and apocryphal oral histories; and the moth to the flame. To visualize these narratives, natural materials and pastel-on-paper palimpsest animation are woven together using a multiplane and analog overhead projection.
Sore Eyes for Infinity
Dir. Elli Vuorinen, 2016.
Finland, 12 min.
An optician's workday is filled by a line of extraordinary customers, who, one by one, use the optical equipments in suspicious ways.
Poliangular
Dir. Alexandra Castellanos Solis, 2018.
Mexico, 8 min.
Searchers pursue mysterious and seemingly unreachable objects. And what will happen if they are found?
---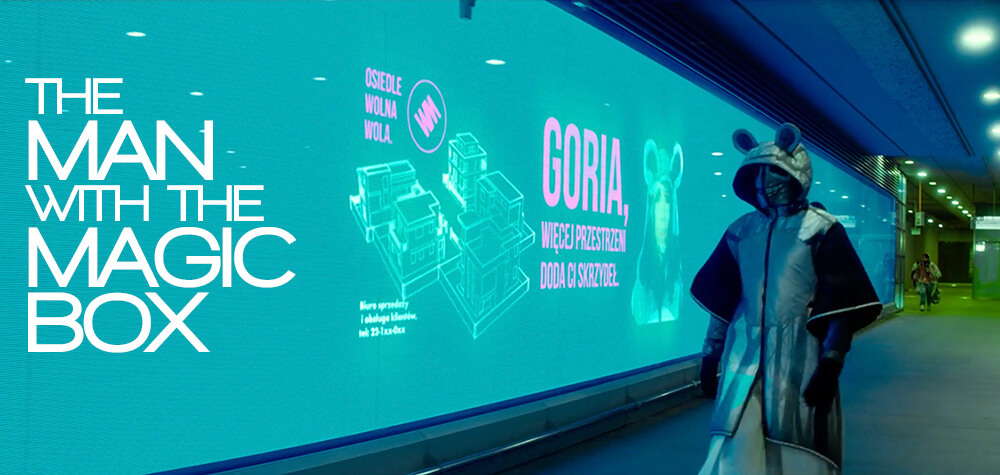 THE MAN WITH THE MAGIC BOX
Dir. Bodo Kox, 2017.
Poland. 103 min.
NEW YORK PREMIERE
TUESDAY, OCTOBER 16 – 10 PM
A man without a memory and a woman seeking more than contemporary life seems to offer grapple with a dystopian future Warsaw and are drawn into the 20th-century past. But such an escape may not be allowed. A unique love story unfolding under omnipresent crisis and totalitarian oversight, crossing between collapsing near future and Soviet history, The Man with the Magic Box nods to genre classics while remaining very much itself. The pleasure of viewing, as much as in the mysterious storyline and strange, perfectly strange performances by the leads, is in the subtle, meticulous detail of the world. Here, people are relentlessly cut off from one another, terrorism is either inescapable or a real-estate development tool, advertising uncomfortably personal, and all aspects of life metered by a credit chip implanted in the hand — all so unfortunately plausible as to flash by as almost-familiar background texture here. At turns bleak, absurd, unsettling, and oddly affecting, the film defies synopsis while advancing with effortless imagination.
Preceded by:
Expire
Magali Magistry, 2017.
France, 14 min.
A toxic fog blankets the planet forcing people to live confined. But when you are fifteen like Juliette, real life truly begins outside.